GIGABYTE Z77X-UP7 Intel Z77 Motherboard Review
By
Final Thoughts and Conclusion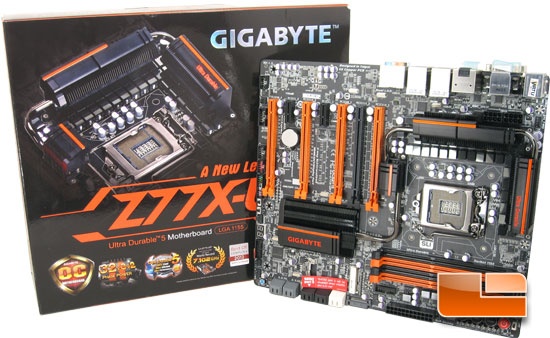 The GIGABYTE Z77X-UP7 is by no means a board for the entry level user. It currently carries a street price of a measly $399.99. So the measly is a bit sarcastic, but the GIGABYTE Z77X-UP7 is certainly worth it. If you're looking for a motherboard with all the bells and whistles, there's really no need to look any further. The only feature that the GIGABYTE Z77X-UP7 doesn't come with is the kitchen sink.
The performance between the GIGABYTE Z77X-UP7 and the ASUS P8Z77-V seems off by a little too much. Upon doing a little bit of digging and retesting it seems that the ASUS P8Z77-V is running out of the Intel specifications for turbo mode. The way that the turbo mode is supposed to work is under a heavily threaded application the CPU, in our case the Intel Core i7 3770K will run at 3.5GHz. If we are running a lightly threaded or single threaded application the Intel Turbo can enable and increase the processor frequency up to as much as 3.9GHz. The ASUS P8Z77-V was running at 3.9GHz under everything regardless of processor load. Essentially the ASUS system was running as an overclocked system out of the box. Some may consider this cheating, some may not. I'm not here to argue that point one way or the other, it simply is what it is. It certainly does make for a tough comparison.
Overclocking is always an adventure around here. Each board we get has different quirks and tricks that need to be learned in order to hit the highest possible frequency with our Intel Core i7 3770K. We have learned that 4.8GHz is just about the limit of our processor unless we use sub-ambient cooling. Today we were able to get to our typical limit without having to adjust any of the settings in the 3D BIOS other than the CPU multiplier. We simply started to increase the multiplier on the Intel Core i7 3770K, checked stability and moved up some more. Once we hit 4.8GHz on auto settings we knew the GIGABYTE Z77X-UP7 was an overclocking beast. Sadly our particular Intel Core i7 3770K isn't as much of a beast when it comes to overclocking. We were unable to bring any system stability past 4.8GHz. Getting into Windows wasn't an issue at 4.9GHz, but once we did anything processor intensive we would get the infamous BSOD which is common in overclocking.
All in all I have to say that the GIGABYTE Z77X-UP7 is a great board and it's been a pleasure to work with over the past couple of weeks. The synthetic benchmark numbers may be a little low compared to the ASUS P8Z77-V, but the real world gaming was a dead heat. Both systems were within ~.1 frames per second in Battlefield 3. Despite having the rather high price tag of $399.99 I would easily recommend the Z77X-UP7 to anyone looking for a top of the line motherboard. Right now Newegg is running a promotion for the GIGABYTE Z77X-UP7 which includes a $30.00 mail in rebate, this brings the price down to $369.99. If you happen to push your system just a little to hard and cause some damage to your board GIGABYTE has a three year warranty on the Z77X-UP7.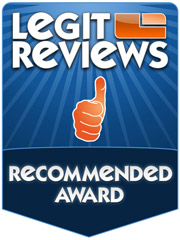 Legit Bottom Line: If you're looking for a top of the line motherboard and budget isn't a concern, the GIGABYTE Z77X-UP7 may just be the board for you. The performance is solid, overclocking is a joy and was extremely easy and all in all was a rock solid Intel Z77 motherboard!