Gigabyte Aorus AX370-Gaming 5 Motherboard Review
By
Overclocking
There are two methods to overclocking on the Gigabyte AX370-Gaming 5 motherboard. First, within the UEFI you can manually adjust the Core Clock Ratio in .25 increments. Second, you can use the EZ Tune application within Windows to test it. In addition, with both methods there are both an automatic mode and a manual tuning mode. There are a lot of factors to take into consideration when trying to get a maximum overclock. The quality of your components, their maximum capabilities, your skill and how much patience you have.
For those that are new to overclocking, Gigabyte has a nice document that walks you through overclocking the Aorus AX370-Gaming 5 motherboard. It covers the basics of overclocking, but also covers stability testing, thermal evaluation and some sample benchmark results. For those that are more experienced overclockers, they have a short section to help you push your system a little further. You can find the Gigabyte AM4 Overclocking guide here; be sure to sign up to be notified of revisions.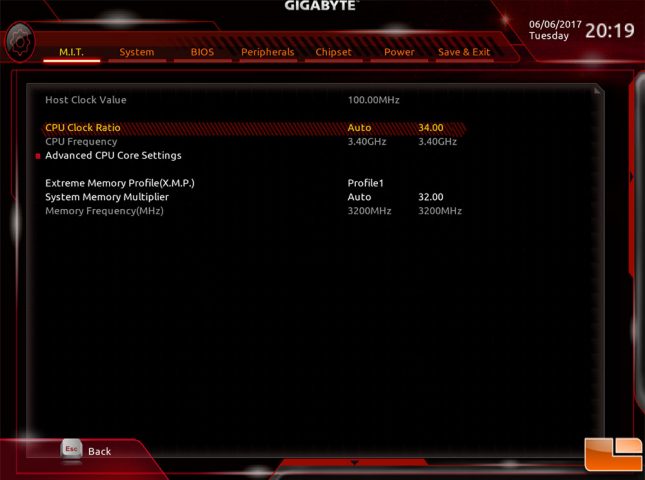 For our overclocking, we will focus on the manual settings within the UEFI. For this, we will start increasing the Core Clock Ratio from the default 34 in 1.0 increments until we get a failure to boot. From there, we will then drop it down .25 until we find the best possible overclock without increasing the voltage. For this portion of the overclocking test, we will leave the voltage setting on Auto. After we find the maximum overclock on this mode, we will then try pushing the overclock further by increasing the voltage up to a maximum of 1.45V.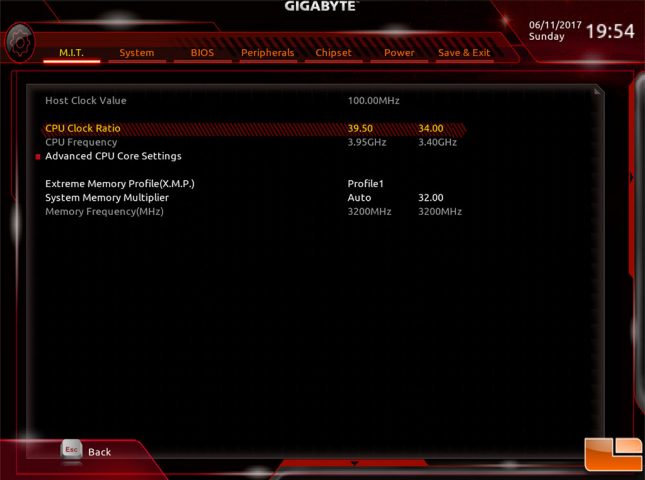 For our first overclock, we were able to successfully boot with a Core Clock Ratio of 39, but failed at 40. Following our previously stated methodology, we found that we were able to boot with a Core Clock Ratio of 39.5 but that was the limit.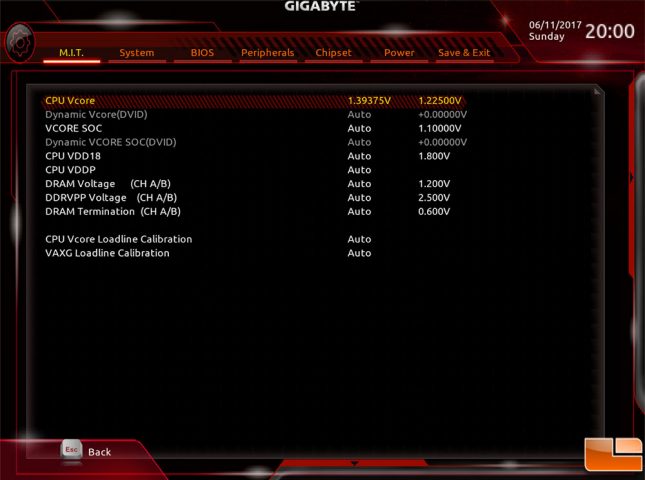 Adjusting the voltage to 1.39V we were able to get a stable overclock of 40.0 but no further. Taking the Core Voltage to 1.45 we were able to boot at 40.5 Core Clock Ratio, but it wasn't 100% stable. So we will take the overclock back to 1.39V and a Core Clock Ratio of 40.0 for our testing.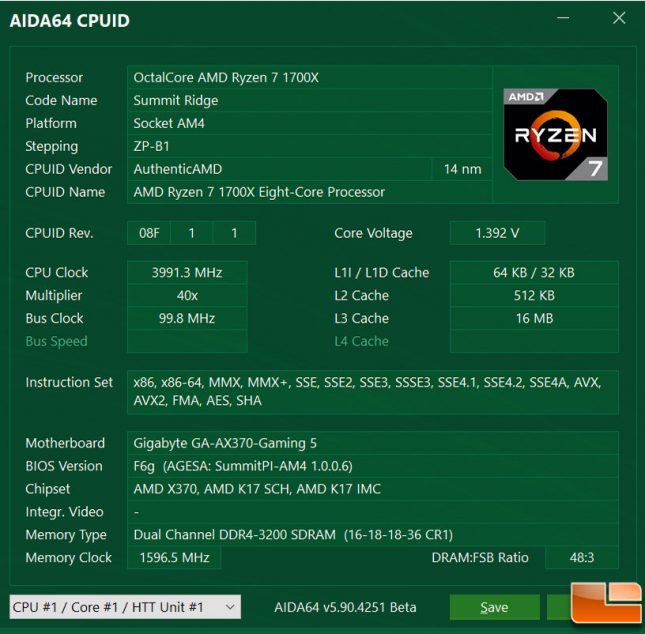 So we were able to take the Ryzen 7 1700X from it's base clock speed of 3.4GHz with a turbo of 3.8GHz to running at 4.0GHz on the Gigabyte AX370-Gaming 5 motherboard. That comes to a 15% boost over the base clock speed, and a 5% boost over the turbo clock speed. Let's get to doing some testing and see if that truely provides a good boost in performance.