EVGA GeForce GTX 1080 SC Gaming ACX 3.0 Video Card Review
By
The GeForce GTX 1080 You've Been Dreaming About?
The NVIDIA GeForce GTX 1080 video card is currently the most powerful graphics card in the world according to our own benchmarks. The GeForce GTX 1080 Founders Edition is a great card, but many are waiting for custom board partner cards that feature higher clock frequencies and custom cooling solutions to become readily available. NVIDIA GeForce GTX 1080 and GeForce GTX 1070 cards are still hard to find, but supply is slowly getting better. The GeForce GTX 1080 Founders Edition costs $100 more than the GeForce GTX 1080 $599 MSRP, so it's safe to say that most gamers will be looking at custom cards from companies like EVGA as they are going to be faster, run cooler while gaming and more than likely cost less. The heart of all GeForce GTX 1080 cards is the same GP104 'Pascal' GPU build on the 16nm FinFET process, so for most the choice is simple.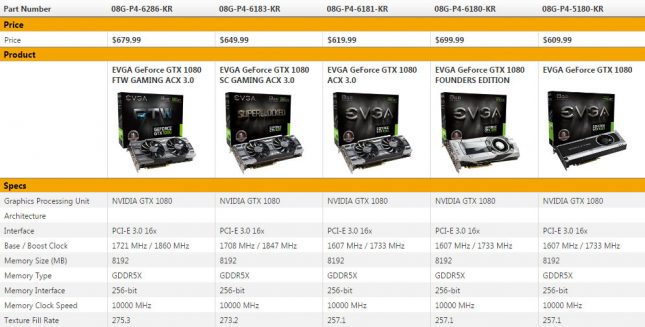 EVGA currently offers five different EVGA GeForce GTX 1080 models ranging in price from $609.99 for their base model all the way up to $699.99 for the Founders Edition. Today, we'll be looking at the EVGA GTX 1080 SC Gaming that sports a pretty decent overclock straight out of the box and is priced right in the middle. When it comes to clock speeds the GeForce GTX 1080 FE features a 1607MHz base and 1733MHz boost clock for $699.99. The EVGA GeForce GTX SuperClock (SC) has a 1708 MHz base clock and an 1847MHz boost clock for $649.99 and then there is the EVGA GeForce GTX FTW Gaming that has slightly higher clock speeds of 1721MHz base and boost of 1860MHz. and boosts up to 1,860MHz for $679.99. The EVGA GeForce GTX 1080 FTW and GeForce GTX 1080 SC cards both have clock speeds greater than the Founders Edition. Notice that the 8GB of GDDR5X memory that runs at a default 10,000MHz on all of the cards!
GTX 1080
GTX 1070
GTX 980 Ti
GTX 980
GTX 780
GTX 680
GTX 580
Microarchitecture
Pascal
Pascal
Maxwell
Maxwell
Kepler Refresh
Kepler
Fermi
Stream Processors
2560
1920
2816
2048
2304
1536
512
Texture Units
160
120
176
128
192
128
64
ROPs
64
64
96
64
48
32
48
Core Clock
1607MHz
1506MHz
1000MHz
1126MHz
863MHz
1006MHz
772MHz
Shader Clock
N/A
N/A
N/A
N/A
N/A
N/A
1544MHz
Boost Clock
1733MHz
1683MHz
1075MHz
1216MHz
900MHz
1058MHz
N/A
Frame Buffer
8GB
8GB
6GB
4GB
3GB
2GB
1.5GB
Effective Memory Clock
10,010MHz
GDDR5X
8,012MHz
GDDR5
7,010MHz
GDDR5
7,000MHz
GDDR5
6,008MHz
GDDR5
6,008MHz
GDDR5
4,008MHz
GDDR5
Memory Bus Width
256-bit
256-bit
384-bit
256-bit
384-bit
256-bit
384-bit
Memory Bandwidth
320
256
336.5
224
288
192.3
192.4
FP64
1/32
1/32
1/32
1/32 FP32
1/24 FP32
1/24 FP32
1/8 FP32
TFLOPS
8.9 – Peak
8.2 – Base
6.5 – Peak
5.8 – Base
5.6
5
4
3
1.5
GFLOPS/Watt
49
43
22
30
15
15
6
TDP
180W
150W
250W
165W
250W
195W
244W
Transistor Count
7.2B
7.2B
8.0B
5.2B
7.1B
3.5B
3B
Manufacturing Process
TSMC 16nm
TSMC 16nm
TSMC 28nm
TSMC 28nm
TSMC 28nm
TSMC 28nm
TSMC 40nm
Release Date
05/2016
05/2016
05/2015
09/2014
05/2013
03/2012
11/2010
Launch Price
$699
$449
$649
$549
$649
$499
$499
Here is a table that compares NVIDIA's current models against those that have been released in the past half decade.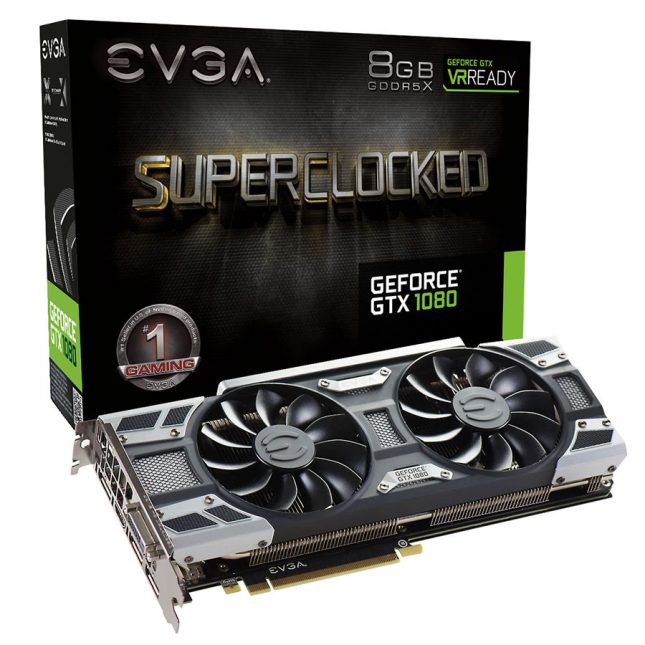 The EVGA GeForce GTX 1080 SC Gaming ACX 3.0 is a dual-slot form factor card that measures in at 267mm in length and 128mm in height. The ACX 3.0 GPU cooler is more than enough for the 180W TDP GPU and believe it or not the two 100mm fans switch off completely when temperature is below 60C, so this is a 0dB card when at idle. The ACX 3.0 cooler has radical new looks and EVGA claims it will allow the GeForce GTX 1080 to run up to 10% cooler and up to 13% quieter than the Founder Edition.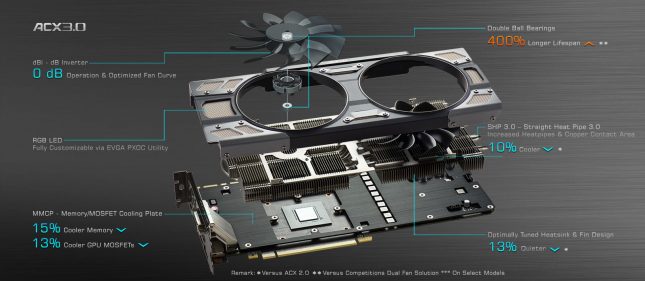 We like the new look, but on our card there was protective plastic film on each silver metal piece and then another layer across the top of the card. The top layer peeled right off, but the folks on the assembly line put the screws on the silver metal pieces over the film. That meant we had to unscrew nearly each and every one to get tiny plastic pieces off the card.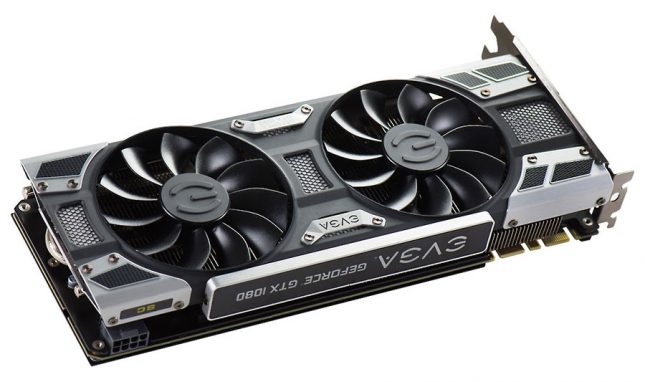 EVGA used just a single 8-pin power connector for this model and there is just one BIOS on it. The honeycombed screens on the face of the cards has white LED lights. If you wanted a dual-BIOS card with two 8-pin connectors and full RGB lighting (controlled by EVGA's Precision X OC utility) you'll need to spend the extra $20 and get the EVGA GTX 1080 FTW model.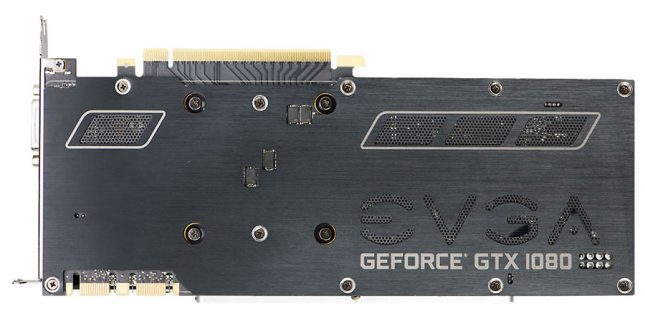 The back of the card has a full-coverage backplate with some mesh screens in a number of spots for improved airflow and heat dissipation.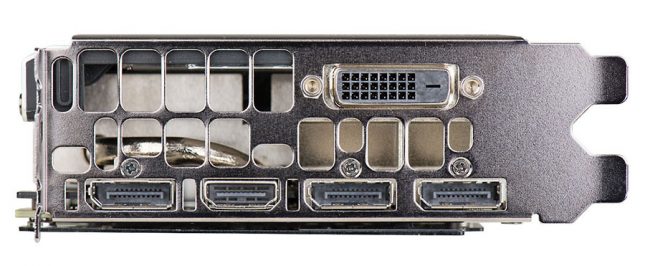 The video outputs on the EVGA GeForce GTX 1080 SC video card include three DisplayPort connectors, an HDMI 2.0b connector (supporting [email protected]) and a single dual-link DVI output. While there are a total of five video connections, only four can be used simultaneously. The DisplayPort outputs are 1.2 certified and spec DP 1.3/1.4-ready, which means it supports 4K screens at 120Hz or 5K at 60Hz from a single cable and an 8K display at 60Hz if you are using two cables.
Let's move along to the test system overview and then get straight on to the benchmark results!