ECS LIVA X 64GB Mini PC Kit Review
By
ECS LIVA X Final Thoughts and Conclusions
When we looked at the ECS LIVA MINI PC Kit we were pretty easy on it because it was a first generation product and we expected there to be some growing pains. When we concluded our review on the ECS LIVA in August 2014 we ended it with a list of things we dislike about the ECS LIVA Mini PC Kit. Here is that list:
It comes un-assembled and the case can be tricky to get back apart
It only works with Microsoft Windows 8.1 or you can try the Beta Linux drivers
The lower USB 3.0 port wont work with wide USB Flash Drives due to the power and HDMI ports being so close
Only has two total USB ports
No VESA Mounting Solution
No Kensington lock
Inability to increase the memory or storage drive sizes
Limited M.2 SDIO wireless cards for those wanting to upgrade to 802.11ac
No adapter included for simultaneous audio in/out
The ECS LIVA X fixed eight of the nine issues that we highlighted on the original model, which is pretty damn impressive. The only gripe that we had on the first generation LVIA was that ECS does not include the combo audio adapter (audio out/mic in) as that will be something some folks will need to buy if they plan on using skype or something needing two way audio. These adapters are relatively inexpensive though, so if one is need you can likely find it locally for under $5. On top of solving many of the initial gripes we had, the ECS LIVA X was found to be slightly more powerful than the original ECS LIVA, so we like the fact that many of the rough edges have been smoothed out.
We are happy to report that the drivers are much better this time around as you can run Windows 8/8.1 and Linux right out of the box due to the fact that ECS moved from SanDisk eMMC to Toshiba eMMC. If you wanted to run Windows 7 you'll need to install a mSATA drive, but at least the LIVA X has expandable storage. The only bad thing about the mSATA slot is that is uses dated SATA II interface. If you plan on buying a mSATA drive for this system you dont need to go out and get the fastest SATA III 6Gbps drive as youll be bottlenecked by the SATA II 3Gbps interface.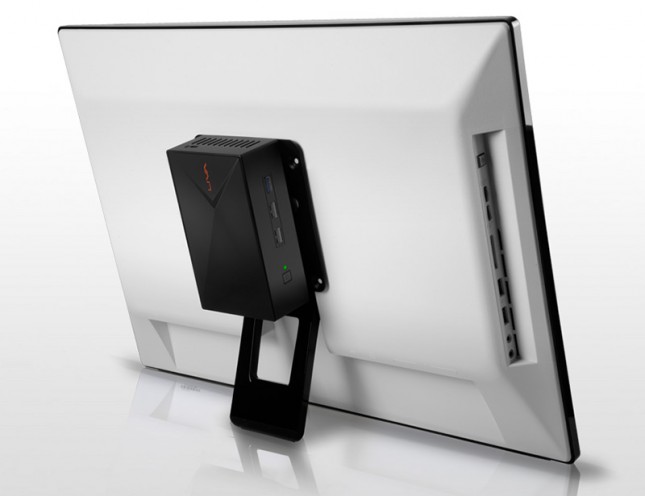 That said we did run into two very obvious quality control issues with the LIVA X that are unacceptable. The first being the fact that the thermal pad over the CPU was not properly aligned with the CPU. We experienced CPU throttling during our torture testing since the CPU was overheating. We aren't sure if the system would have still throttled if the pad was in properly covering the CPU, but it certainly isnt helping matters. The second area of concern was the fact that the mSATA SSD standoff came without the hold down screw. We were unable to find a screw to fit and had to run to a hardware store and waist an hour of time just to buy a 10 cent screw. Both of these issues deal with quality control and can be easily fixed by ECS Taiwan. Our sample was sent to us by ECS and was an early production sample. We're crossing our fingers crossed and will give ECS the benefit of the doubt that none of the retail models have these issues, but it might be worth checking your model if you buy one of these.
Just hours before this review was posted we received this response from ECS on the thermal pad issue:
"About the overheating issue, only first media sample have this issue, because the thermal pads are not on right place. They need to shift a little bit then the issue will be resolved. Factory already checked that all thermal pads are in the correct place. So it won't be an issue anymore." – ECS Taiwan
Legit Reviews has asked for a new heatsink with the thermal pads properly aligned before we confirm the overheating issue has been fixed. ECS said that they would look into getting us another heatsink and we will update accordingly.
Overall performance of the ECS LIVA X 64GB was right where we expected it to be and it was similar to the ECS LIVA that we reviewed earlier this year with the older Intel Celeron N2807 processor. It is able to do normal web surfing, light gaming and general office productivity tasks with the LIVA and wed classify it as an everyday system for the average person. When playing Youtube videos at both 720p and 1080p quality settings we did experience some stuttering while the video was loading on our 200Mbps internet connection, but once it was loaded we didn't have any issues. The original ECS LIVA didnt have this issue, so we think the wireless card that ECS is using on the LIVA X has something to do with it. ECS includes the AzureWave AW-NB087H-LE 802.11n half size mini PCIe wireless solution and it is not impressive. You are looking at a single-band (2.4 GHz network only) single stream solution (1×1) and we were able to get at best 50Mbps on our 802.11ac wireless network with the devices in line of site just 12 feet apart from one another. If you are interested in getting an ECS LIVA X we highly suggest purchasing a higher-end Intel wireless card to get 802.11ac support in a nice 2×2 card.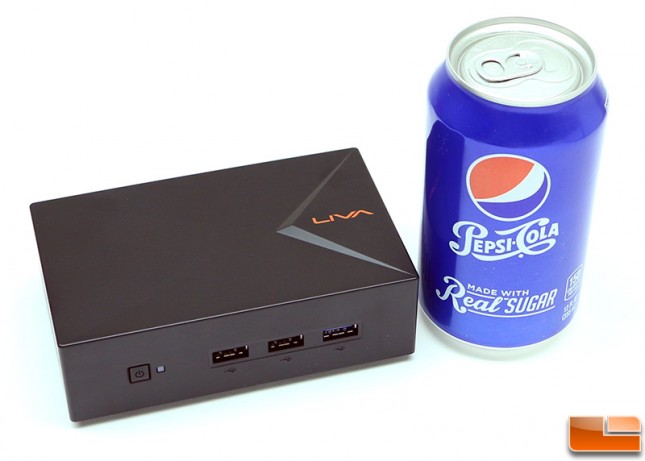 With respect to power consumption the ECS LIVA X did very well. It uses just 4 Watts idle and at most 13.3 Watts at load (without an mSATA drive)! Who wouldnt love the power efficiency numbers of the ECS LIVA X. This is one of those systems you can use without feeling guilty about the electric bill. When it comes to temperatures the Intel Celeron N2808 has a tJunction rating of 100C. We were able to reach 94C on our test system when it was put under heavy load thanks to Prime95 and Furmark. This was enough to cause the CPU to overheat and throttle. This is not ideal and we think it had to do with the fact that our thermal pad wasn't covering the entire CPU.
When it comes to pricing the ECS LIVA X is available for $189.99 shipped for the version with 32GB of eMMC storage and $229.99 shipped for the model with 64GB of eMMC. We feel that the additional $40 for an extra 32GB of eMMC storage is justifiable for most people. ECS expects retail availablity of the Liva X on 1/15/2015, but when we checked Amazon and Newegg neither online retailer had the LIVA X listed. ECS will not be phasing out the original LIVA so you'll be able to get that at retailers like Amazon for $125 shipped after a $25 instant coupon. That is a pretty solid price point if that system can do what you need it to do (see our review here). We are certain that ECS will eventually run promotions on the ECS LIVA X just like they have done from the start with the LIVA Mini PC Kit and that will make it a really interesting solution.
At the end of the day the ECS LIVA X is a pretty nice little MINI PC and it is hands down better than the original LIVA. Between the two we would easily pick the LIVA X if money wasn't an issue. We can't wait to see what ECS does with the third generation of the LIVA family as they have the basic design down now and can start to get innovative with the features!
Legit Bottom Line: The ECS LIVA X is a much more refined system and we can't wait to see what ECS can do with the third generation 6+ months down the road.