ECS LIVA Mini PC Kit Review – Intel Bay Trail-M System For Under $135
By
ECS LIVA Mini PC Kit – World's Smallest Windows Based Mini PC
ECS ELITEGROUP has been around for nearly three decades and over that period of time the company has become one of the leading OEM corporations, but they also have a consumer side of the product line where they make mostly motherboards along with other items like All-In-One PCs and even tiny little mini PCs. Legit Reviews recently got a chance to sit down with ECS and was able to discuss a recent internal changes, learn where the company is headed and take a look at some of the recently released products along with some brand new ones.
We learned that ECS did some fairly significant restructuring due to the fact that the glory days of motherboards is gone and that they need to diversify beyond just motherboards. ECS was late to market with Intel Z97 based motherboards and has no immediate plans to release any Intel X99 boards, so read into that as you like. ECS noted that PCs are still here and still being used as people still need a computing machine, but needs have changed. In June 2014 ECS introduced the LIVA Mini PC Kit, which is being marketed as being the worlds smallest Windows based mini PC kit and is the system that we are reviewing today. ECS also has launched a renewed focus on channel branding and is going to make a push to make ECS known as the company with the best cost versus performance products.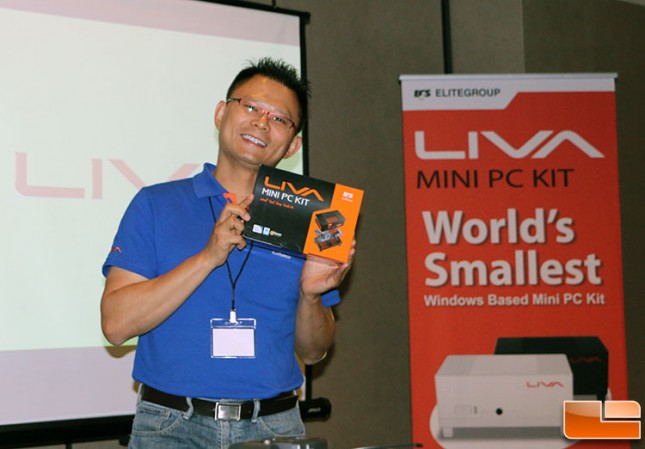 One of the products that ECS hopes to take off is the LIVA MINI PC Kit. People love miniature PCs and the Intel NUC and Gigabyte BRIX series has been selling like hot cakes with thousands of units shipping a month. ECS saw this as an emerging market with potential and wanted to come out with an affordable build-it-yourself mini PC that still has enough power to do what you want to do when you are on the PC without breaking the bank. That is no easy task, but it looks like ECS did a fairly good job on the hardware and configured the system with an Intel BayTrail-M SoC (Intel Celeron Processor N2807), 2GB 1333MHz DDR3L memory, 32GB or 64GB of eMMC memory and a M.2 form factor combo wireless card that supports 802.11b/g/n wireless and Bluetooth 4.0. All the hardware you need to install Windows 8.1 or Linux comes with the kit, so you just need to assemble the pieces and slap on the OS. It should be noted that no driver support is available for any other Windows OS due to fact there is no storage driver available for the SanDisk eMMC storage solution for Windows 7.
The ECS LIVA 32GB model runs $164.99 shipped on Newegg, but right now it is just $132 with a special promo code. When it comes to pricing it looks like ECS has taken a pretty aggressive approach as the vast majority of tiny Intel Bay Trail-M mini PCs cost more and come without memory and the storage drive. For example the Intel has the NUC DE3815TYBE board by itself with a less powerful Intel Atom E3815 1.46GHz processor and 4GB of eMMC memory, which is good for just OpenELEC or Linux and they are asking just under $145 shipped. ECS is giving you a better processor and eight times the storage capacity along with the DRAM, case and power adapter.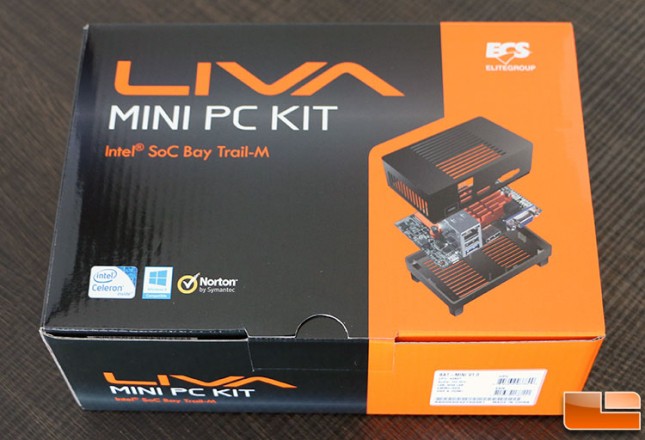 Today well be taking a look at the ECS LIVA MINI PC KIT with 32GB of eMMC for storage needs. ECS is currently using the Intel Celeron N2807 22nm dual-core processor, which has a base clock of 1.58GHz and a turbo clock of 2.16 GHz for this kit. This processor just came out in Q1 2014 and is a solid little 4.3W TDP processor with Intel HD Graphics that can support dual displays and even Intel Quick Sync Video. When the ECS LIVA MINI PC Kit came out just two months ago it was powered by the Intel Celeron N2806, which is 10MHz slower on the CPU, has slower 1066MHz DDR3L memory support and didnt have Intel Quick Sync Video support. If you are looking at reviews of the ECS LIVA MINI PC please keep that in mind as the ones written in June, July and early August all were likely powered by a slightly different processor.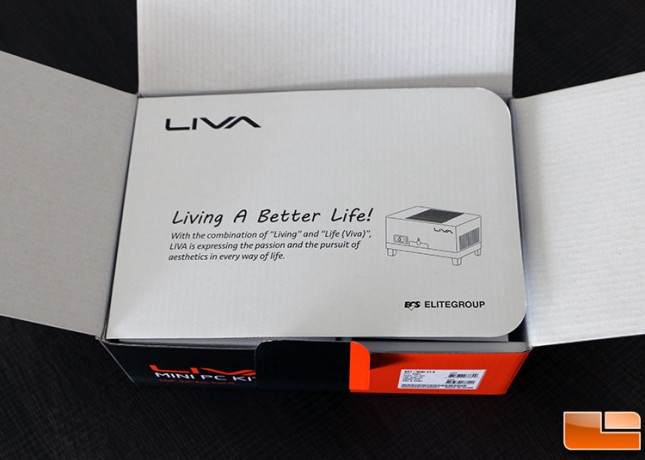 The ECS retail packaging it well-crafted and made from environmentally friendly materials with soy ink used for the color. When you open up the box youll find a somewhat odd inner flap that explains how ECS came up with the name LIVA for this product. It looks like ECS combined the words living and life (Viva) to come up with LIVA and hopes that this product will help you live a better life.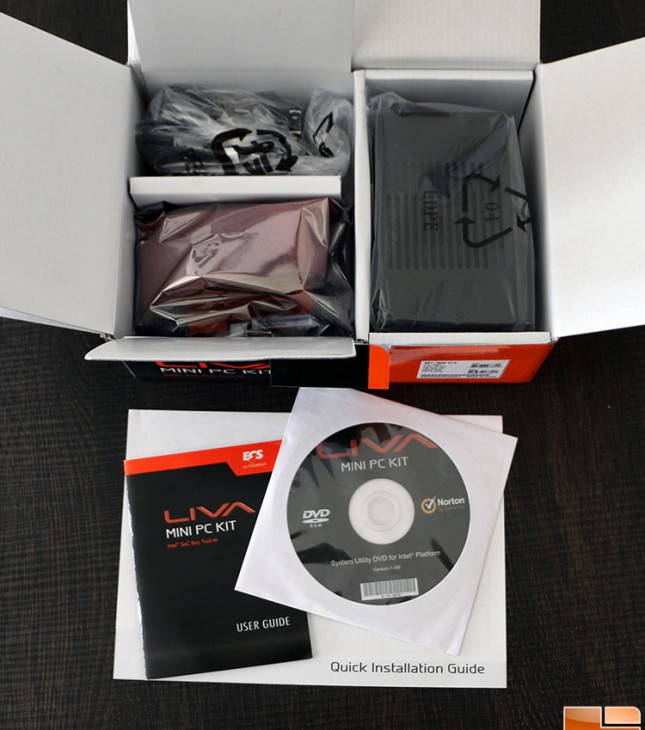 When you lift up all the flaps youll quickly remember that the ECS LIVA Mini PC Kit is a kit that you have to assemble. ECS includes everything needed inside the box, minus the Operating System. For this review well be installing Windows 8.1 x64, but you can install Linux, OpenELEC or whatever else youd like. ECS designed the LIVA for Windows 8.1 x64, so we highly suggest using the OS that this platform was designed to run on for the very best user experience possible.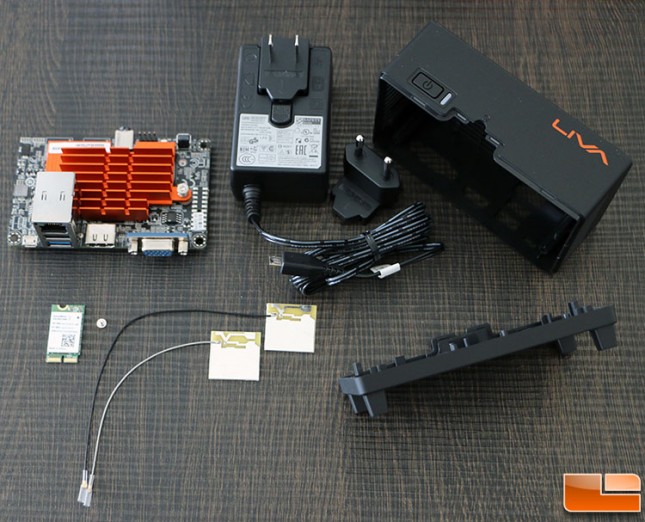 Here are all the hardware pieces that youll find inside the retail box. There are eight pieces that you must assemble together and a small Philips screwdriver is needed to tighten down the Wi-Fi card. ECS claims that you can assemble the LIVA in 40 seconds. Certainly you could, but we suggest taking your time as you dont want to break anything and the two wireless antenna connectors are extremely small and need to be carefully connects. That said, we feel confident saying that most anyone could assemble the LIVA and do is successfully in just a few minutes. The most difficult thing is attaching the wireless antennas to the inside of the case with the double sided tape and connecting them to the actual wireless card. The motherboard is held in with plastic tabs, so you just mount the antennas, hold the wires aside, pop the ECS BAT-MINI board in and then install the wireless card and connect the antennas. Simple right? Why didnt ECS do this at the factory? ECS said they felt people would want to have the Do-It-Yourself (DIY) experience, but we think it comes down to money and that by doing it this way ECS doesnt have to pay employees to assemble it.
Lets move along and take a closer look at the ECS BAT-MINI motherboard that is the heart and soul of this mini PC.