ECS LIVA X 64GB Mini PC Kit Review
By
ECS LIVA X BIOS Settings and Setup
When we first turned on the ECS LIVA X we went into the UEFI/BIOS and found there wasn't too much that could be tinkered with. ECS is using an American Megatrends BIOS and you can go in and adjust things like how much memory the Intel HD Graphics has access to and enable/disable a fairly decent amount of items. There is a menu called 'tweak' that got us excited, but there are no editable options under that tab. You can see 15 different menu screens in the gallery above that should give you a fairly good idea of the layout of this particular BIOS.
Under boot configuration there are options for Windows 7 or other OS, Windows 8.X, Windows 8.X with CSM and Manual. We has no issues geting into the UEFI/BIOS after we installed Microsoft Windows 8.1 with all the updates, but in the event you do here is a what ECS supports suggest doing.
"There are new steps to go to the BIOS for Windows 8.1. Since they are designed to start the system in a faster speed, they dont accept any inputs from keyboard while the system is turning on. To go to the BIOS, please refer to the following website for more information: http://windows.wonderhowto.com/how-to/access-boot-menu-and-bios-windows-8-0139059/" – ECS Technical Support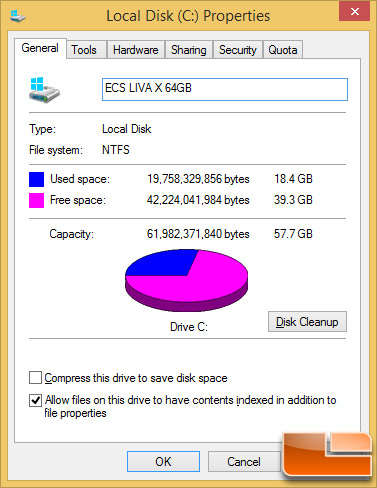 After installing Windows 8.1 Enterprise with all available updates we were left with 39.3GB of free space with 18.4GB being used by the OS. That doesn't leave you with much space, but there are ways to free up space with Windows tricks and hacks if you really wanted to do so.
Now that we got the ECS LIVA X built and working with Windows 8.1 installed we can finally get around to benchmarking!