ECS LIVA X 64GB Mini PC Kit Review
By
ECS LIVA X Mini PC Performance Testing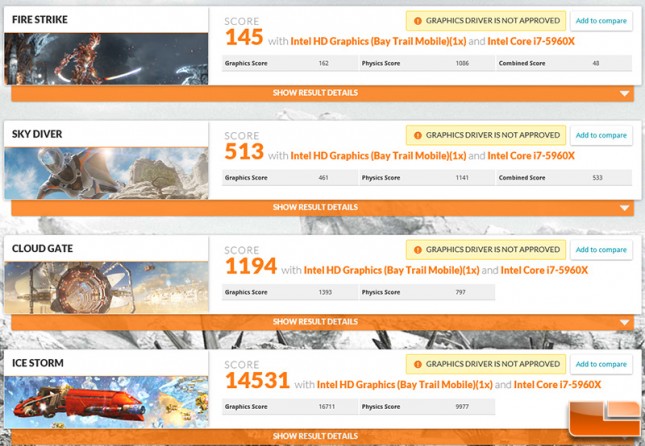 In the latest build of 3DMark we found scores of 14,531 in Ice Storm, 1,194 in Cloud Gate, 513 in the new Sky Driver test suite and finally 145 in 3DMark First Strike.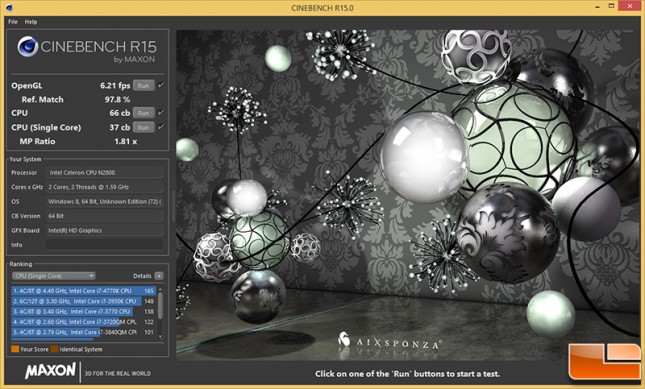 Moving along to Cinebench R15 we found the ECS LIVA X with the Intel Celeron 2808 processor scored 6.21 FPS on the OpenGL benchmark and then 66 points on the multi-core CPU test and 37 pointa on the single CPU test.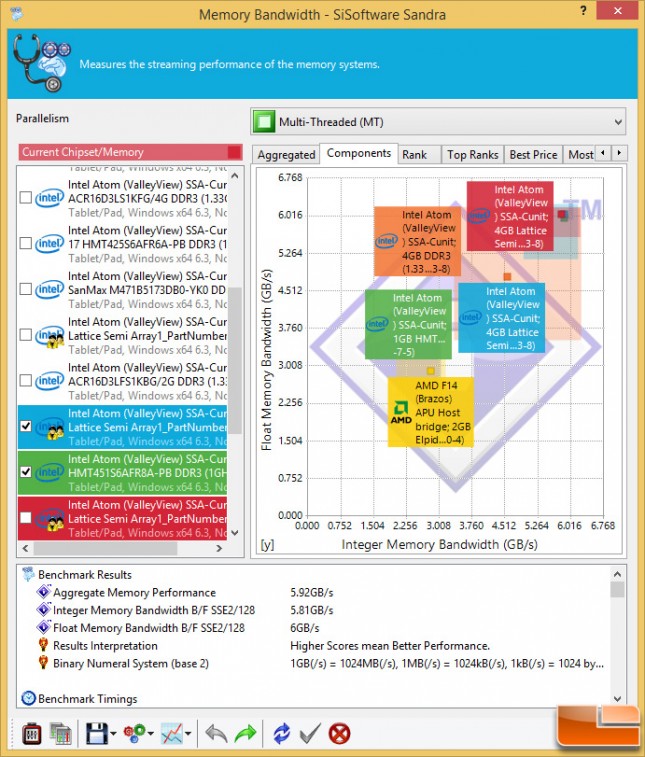 A quick look at the memory performance showed 5.92 GB/s of bandwidth. This sounds about right for a single channel DDR3 memory solution running at 1333MHz with CL9 timings.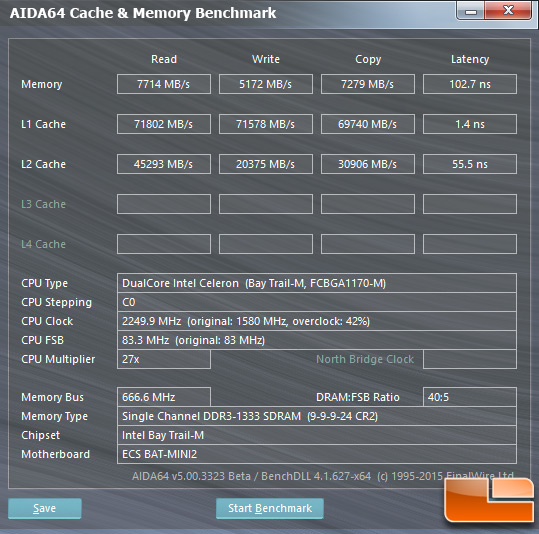 AIDA64 v5.00.3323 Beta showed memory read speeds of ~7,700 MB/s and write speeds of ~5,200 MB/s with a memory latency of 102.7ns.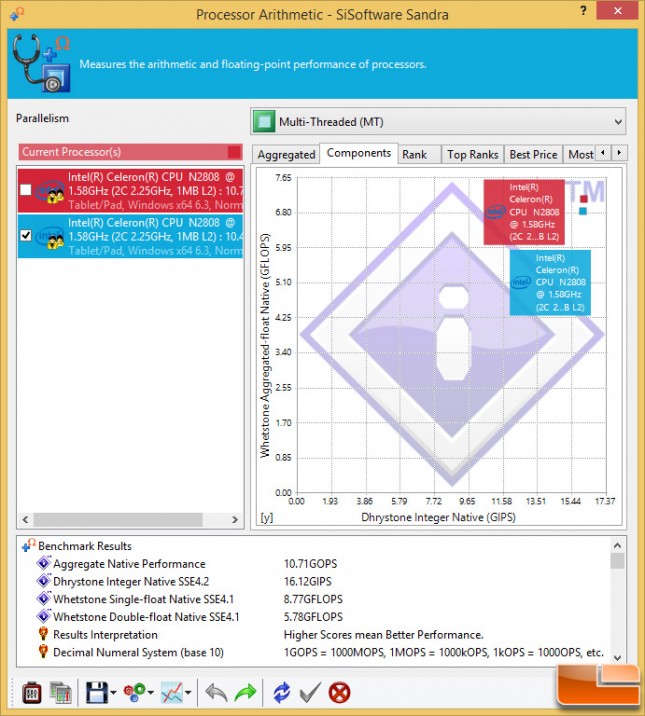 In Sandra Processor Arithmetic the aggregate native performance score was 10.71 GOPS.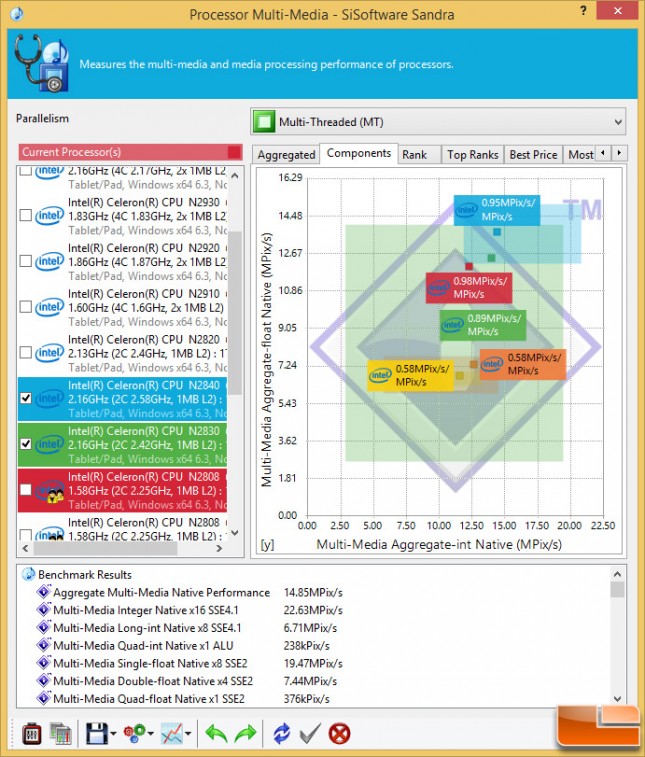 The Sandra Processor Multi-Media aggregate performance score was 14.85 MPix/s.
We ran the SunSpider 1.0.2 JavaScript Benchmark on Google Chrome 39 and received a score of 604.9ms.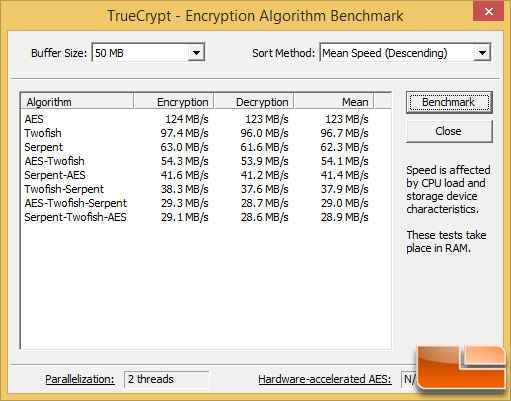 In the Encryption Algorithm Benchmark that comes inside TrueCrypt we found an AES mean score of 123 MB/s.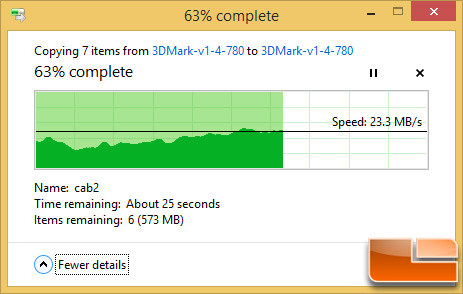 When unzipping a folder we found speeds of up to 25MB/s on the ECS LIVA X.
A quick run of CrystalDiskMark v3.0.3b showed the sequential read speed to be around 153 MB/s and the sequential write speed was right around 65MB/s! The Random 4K read speed was 12.7MB/s and the 4K random write speed was 11.6MB/s. Not bad scores for the fixed 64GB of eMMC memory by SanDisk!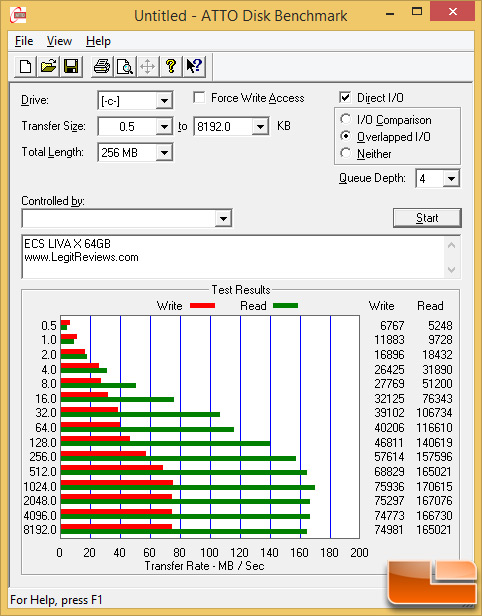 ATTO showed that we were getting up to 171MB/s read and 76MB/s write on the internal 64GB drive.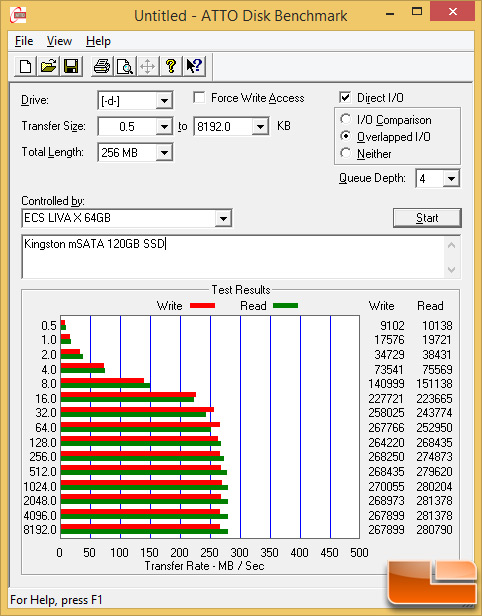 We tested performance on the mSATA port on a Kingston SSDNow mS200 120GB SMS200S3/120G and found we topped out at 281MB/s read and 270MB/s. The card is rated at 550MB/s read and 520MB/, so we are obviously being limited by what appears to be the SATA II interface on the LIVA X.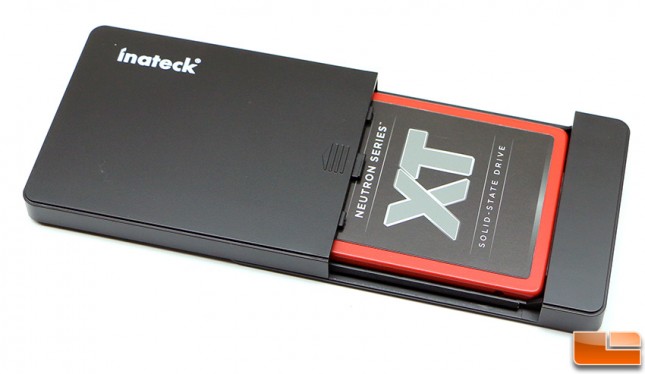 We also checked USB 3.0 performance with the Inateck FE2006 USB 3.0 reader paired with the Corsair Neutron XT 240GB SSD. This combination was found to reach450MB/s read and write on desktop computers, so it's a great tool to check USB 3.0 implementation on systems.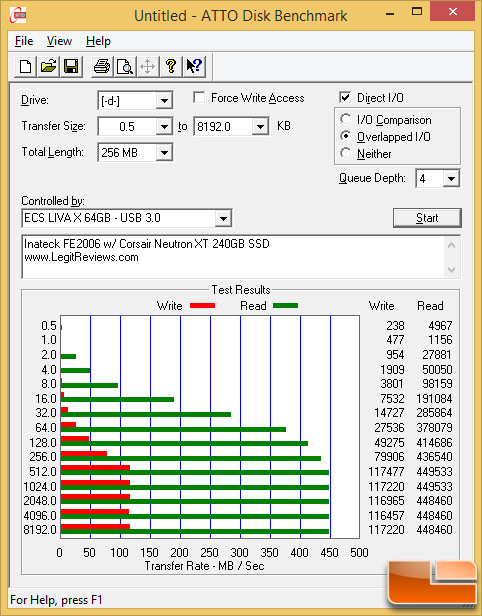 The ECS LIVA X was able to reach 449.5MB/s read and 117.5MB/s write. These are exactly where we wanted to see the read speeds as that is the most we expected to see, but we were shocked that the write speeds were below 120MB/s when we've hit 450MB/s write speeds on other systems.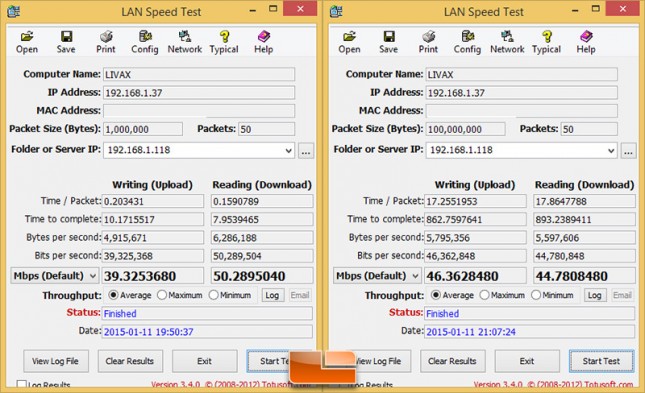 When it comes to wireless performance the we used LAN Speed Test to check the performance of the included the included AzureWave AW-NB087H-LE 802.11n half size mini PCIe wireless solution. This is an entry level single-band single stream Wi-Fi card with a theoretical peak speed rating of 150 Mbps. This card won't be breaking any speed records, but it is a budget card in a budget machine. We used a desktop with Gigabit Ethernet to run LAN Speed Server that was hard connected to the ASUS RT-AC68U 802.11AC wireless router with Firmware version 3.0.0.4.378.3813. Since this wireless card only works on the 2.4GHz band we tested it on that and moved the router 15-feet away from the ECS LIVA X to check out performance with both 1MB and 100MB packet sizes. When we ran LAN Speed Test on the ECS LIVA X the wireless throughput on the 1MB packets was found to be roughly 39Mbps (4.9MB/s) average write speeds and 50Mbps (6.3MB/s) average read speeds. On the 100MB packet size the performance was right around 45Mbps (5.6MB/s) on average for read and write speeds. These speeds are disappointing and are lower than what we saw on the original LIVA.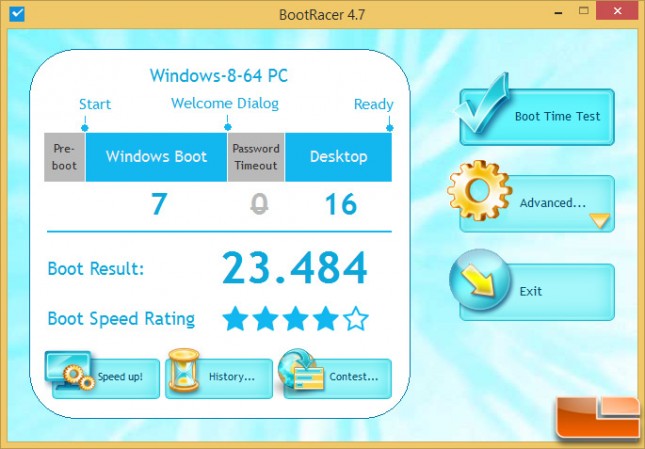 The last performance test that we wanted to run was Bootracer 4.7 to see how fast the system is able to boot Windows 8.1 Enterprise 64-bit. We found that the ECS LIVA X 64GB takes 7 seconds to get to the logon screen and it took a total of 23.484 seconds to get up and running on the desktop! This is just over 1 second faster than the original ECS LIVA 32GB that we reviewed in 2014.
Let's take a look at power consumption and CPU temperatures on the ECS LIVA X.