Cryorig A40 and A40 Ultimate AIO Hybrid Coolers Review
By
Cryorig A40 and A40 Ultimate AIO CPU Coolers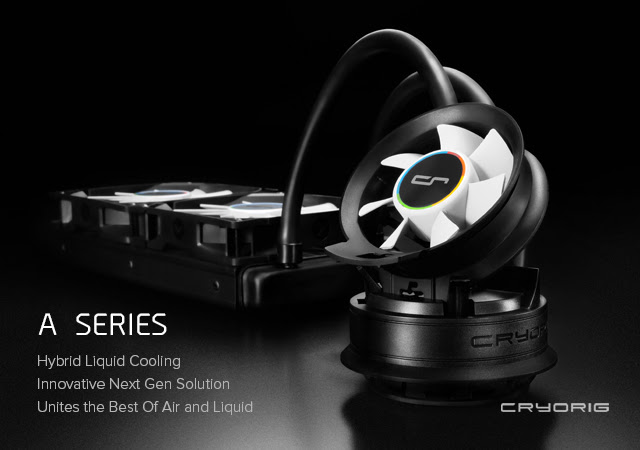 Cryorig and their products are becoming quite familiar to Legit Reviews readers, as we've taken a look at quite a few of their offerings since coming to market in 2013. Our general take on Cryorig has been that the company offers great PC cooling solutions for a variety of situations, in addition to offering solid customer service and technical support. Cryorig is still a young company that is trying to grow in a competitive market, but so far they have done a great job in appealing to PC enthusiasts. We've used the Cryorig Amazon store to order their products with success. Only time will tell if Cryorig can continue to grow in the competitive PC cooling market, but they've gotten off to a wonderful start and they continue to expand their offerings to PC enthusiasts.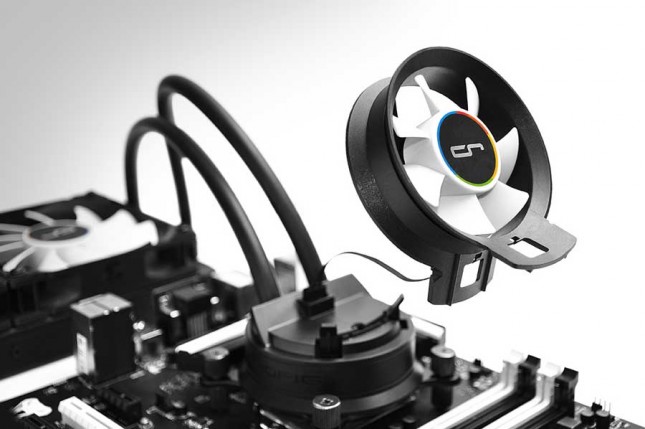 Months have passed since Cryorig jumped into the AIO market with their lineup of Asetek Generation 5-based coolers, all of which are based on the same pump design and specifications, with the only difference between the three units being the size of the radiators. The Generation Five pump and cold plate represent the latest innovations from Asetek and offer improved performance over their previous units via an improved impeller and motor that increases torque and optimizes liquid routing, while allowing for the same noise levels as their previous generation pump technology. In addition to using the latest pump technology from Asetek, Cryorig has also introduced a pump-mounted fan to increase airflow around the CPU socket.
Earlier this year, Legit Reviews had the opportunity to spend some time evaluating the performance of the newly released A80 Hybrid CPU Cooler from CryoRig and came away very impressed. This was CryoRig's first attempt at an AIO cooler and with some help with their OEM, Asetek, they hit a home run. Since Legit Reviews has evaluated what should be the best performer in the lineup in the A80 and came away thoroughly impressed, we wanted to see how the units with the smaller radiators compared.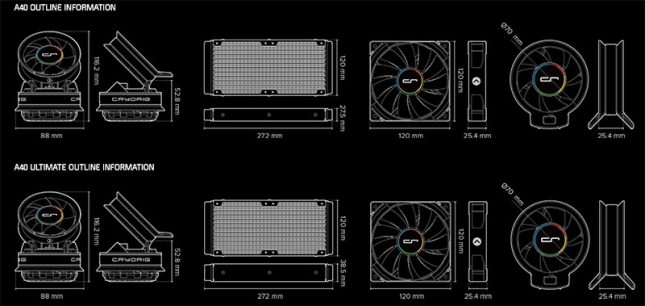 Cryorig provides a chart on their website that can help users determine if the A40 and A40 Ultimate will be compatible with their case. The size of the radiator, fans and pump with CLC fan are all charted out in a clear fashion. We really appreciate this attention to detail from CryoRig.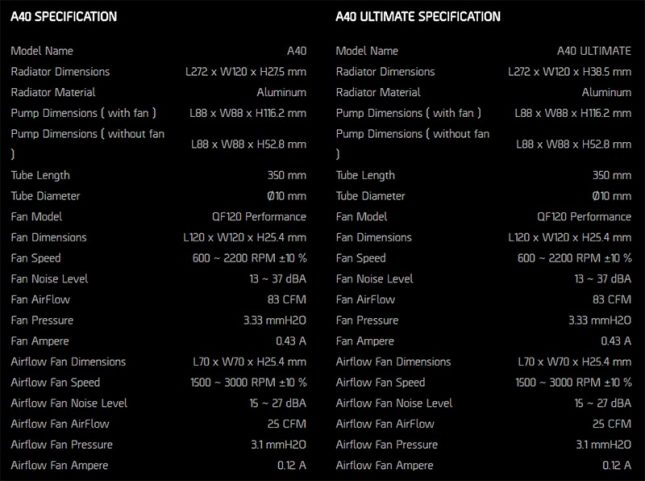 The A40 and A40 Ultimate are both 240 mm units, with the A40 Ultimate featuring a 38.5 mm thick radiator versus the 27.5 mm thick radiator of the A40. Cryorig has made the A40 available for users with cases that won't be compatible with the thicker radiator of the A40 Ultimate. We will be testing the performance drop-off between the radiators, which is the only difference between the different CryoRig AIO units. Every other facet of the A40 and A40 Ultimate are similar, which may throw some users off. We think that an "Ultimate" designation should mean more than just a radiator size difference, but we'll get into our thoughts on that later.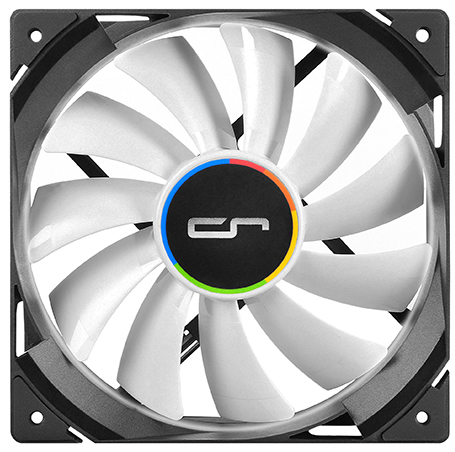 The XF120 fans that Cryorig includes with their 240 mm AIO units are similar to the ones included with the A80. Obviously, the smaller fans have specification differences from those includes with the A80, but they both feature the same design elements, such as the specially formed fan blades.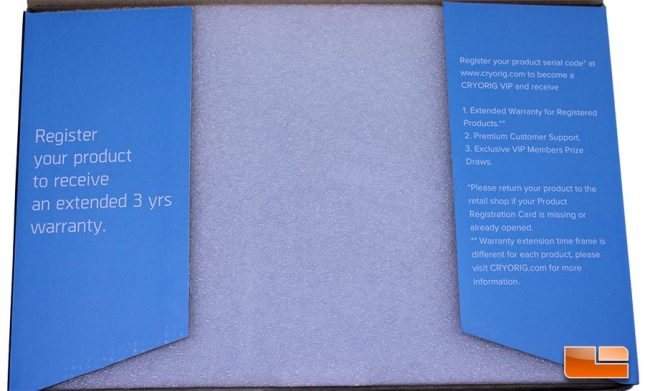 As soon as you open the box for the A40 and A40 Ultimate, you are greeted with a message that once you register your Cryorig AIO, you will receive an extended 3 year warranty. This actually translates into six years of coverage. This is a really solid warranty period that should give users peace of mind in knowing that their investment in a Cryorig AIO will have them covered for the feasible life of most systems. Recently I had to contact Cryorig for clips for the fan for my R1 Ultimate. They got back to me within a few hours and had the clips shipped out to me. I received the clips in about a week and Cryorig had shipped them from their Taipai location. This is excellent customer service and it makes recommending Cryorig products all the easier.
Next, we'll take a look at the packaging and accessories that Cryorig has kitted out with their A40 and A40 Ultimate AIO Coolers. We've been impressed with Cryorig's overall packaging and presentation in the past, so let's see if their previous efforts have transferred into these AIO units.