Cryorig A80 Hybrid Liquid CPU Cooler Review
By
Cryorig A80 AIO CPU Cooler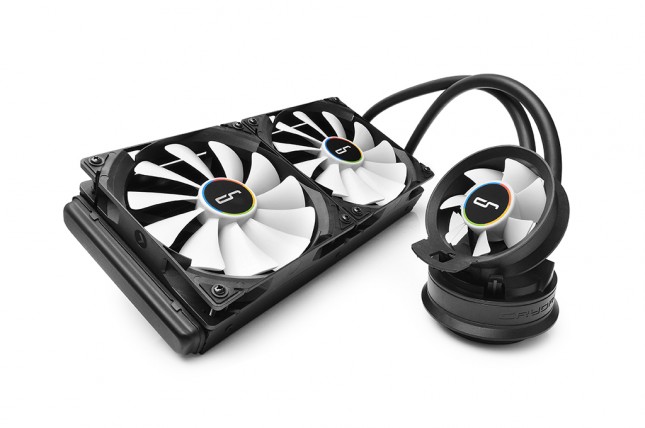 Even though they have only been around since 2013, thanks to their solid product lineup in the PC cooling arena, Cryorig has quickly become a popular company with hardcore PC enthusiasts. We recently reviewed the Cryorig R1 Ultimate CPU cooler, which due to its amazing performance, style and overall package presented, earned our coveted Editors Choice Award. The core team at Cryorig are PC enthusiasts and it shows in their products and documentation. A quick visit to the Cryorig support site provides full documentation on their various products, including compatibility charts and illustrated installation guides. Cryorig currently offers several CPU coolers, a line of thermal interface material and low noise fans. Checking reviews of Cryorig products on Amazon and Newegg shows that the company knows how to make a quality product, so we were certainly excited when they announced the product we will be reviewing today, the A80 High Performance AIO CPU Cooler ($124.50 shipped).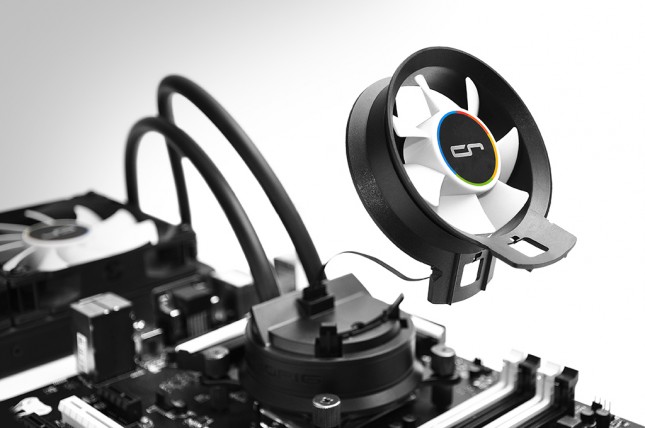 In late-2015 Cryorig announced that they would be releasing a line of high performance AIO (All-in-one) coolers based around the new Generation Five pump and cold plate from Asetek, who is an extremely popular OEM of AIO coolers. The Generation Five pump and cold plate represent the latest innovations from Asetek and offers improved performance over their previous units via an improved impeller and motor that increases torque and optimizes liquid routing, while allowing for the same noise levels as their previous generation pump technology. In addition to using the latest technology from Asetek, Cryorig has also introduced a fan to increase airflow around the CPU socket and are thus calling the A80 an HLC (Hybrid Liquid Cooling) system.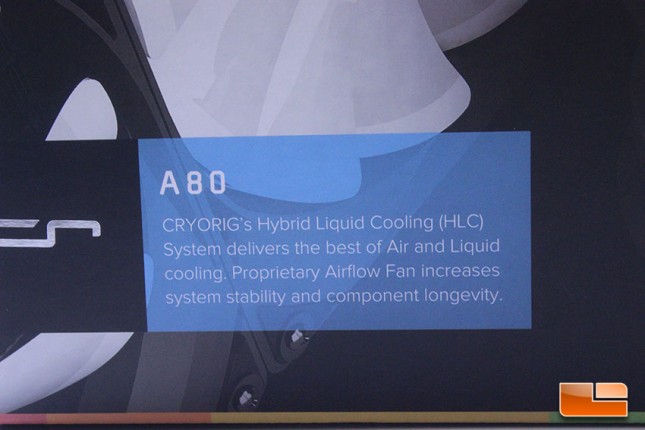 The Cryorig A80, which we are reviewing today, features a 280 mm radiator and is the highest performance unit in the Cryorig lineup. The A40 and A40 Ultimate are both 240 mm units, with the A40 Ultimate featuring a 38.5 mm thick radiator versus the 27.5 mm thick radiator of the standard A40. With the exception of the radiator size and thickness, there is no difference at all between the various Cryorig AIO units and they all feature the same high quality components and Generation 5 pump and cold plate from Asetek.
The crowded segment that is AIO coolers isn't going to be one that Cryorig can enter without providing an innovative product that outperforms competing products, which will mostly be from Corsair and NZXT, whose AIO coolers seem to be favored most among enthusiasts. While the premise of a new pump from the biggest OEM manufacturer of AIO coolers was exciting, Cryorig has taken the time to integrate their technology into the cooler, including their excellent MultiSeg mounting hardware and the previously-mentioned on-pump fan design. From what I could gather, the fan-on-pump design is currently unique to Cryorig, attempting to address an issue that has been present with AIO coolers since their inception, a lack of airflow to cool the components surrounding the CPU socket. It will be interesting to see how this fan performs during our testing and to see if other manufactures adopt a similar system to Cryorig in their future units.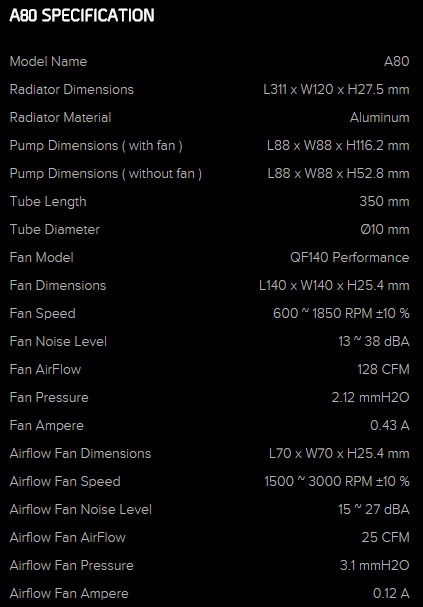 Taking a look at the specification sheet provided on the Cryorig website, we can see that the A80 features a 311 mm long radiator, which accommodates two included 140 mm fans. While the radiator on the A80 is by no means oversized or large, you should check your case for compatibility and clearance. If your case touts support for 280 mm radiators, it should by all means support the A80, as the fans are standard sized and the radiator has a clean profile. The pair of fans included with the A80 are the Cryorig QF140 Performance model, which are capable of being run between 600-1850 RPM with a maximum noise level of 38 dBA, which isn't terribly loud, but far from silent. Optimally, at their lowest RPM, the fans run at a whisper quiet 13 dBA. The QF140 fans also feature a capable 2.12 mmH20 static pressure rating, which means they should be able to move air through the dense fins of the radiator without issue.

Going back to Cryorig being through with their documentation, here is a a chart from the A80 product page that has the dimensions of all of the components included with the A80 so that users can plan out their build and better determine compatibility with their case before purchasing the unit. Again, we see no potential issues installing the A80 in cases that tout support for 280mm radiators, so long as the radiator mount isn't so far away from the CPU that the hoses are stretched beyond their capability.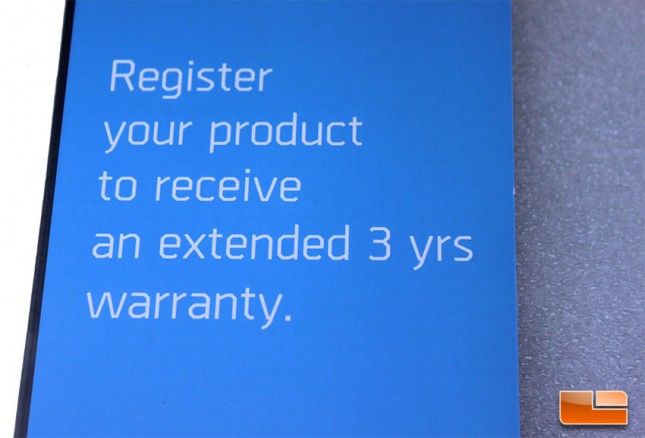 One thing that thoroughly impressed us when going through the product specifications and literature was the warranty of the A80. We first noticed the extended warranty when opening the box, being greeted by text on one of the inner box tabs. You get three years of coverage just by purchasing the A80 and keeping hold of the receipt. That is a pretty good warranty and totally acceptable. However, Cryorig doubles up warranty coverage on the A80 once you register the unit with a unique code that is printed on a registration card that is included in the accessory kit, bringing warranty coverage to six years. I just retired my Intel Core i7-2600K system from daily use and it was close to the six year mark of age, but still running plenty strong. Interestingly, it has an old Asetek-based Corsair AIO on it that is still working great, so we definitely have high hopes that the Asetek-manufactured Cryorig A80 will last for many, many years.
Now, let's take a closer look at the packaging and accessories that Cryorig has kitted out with the A80.