Corsair VOID RGB Wireless 7.1 Gaming Headset Review
By
Corsair VOID RGB Wireless 7.1 Gaming Headset and CUE Software In Use
Corsair allows a lot of control over the functionality of the VOID RGB Wireless 7.1 from within CUE and it's one of the most complete and intuitive utilities we've seen for a gaming headset. The CUE software really helps round out a very well-built, functional headset and give users the ability to configure their VOID RGB how they want in terms of sound signature and lighting. For this review, we've decided to use a test bench with the recently released Windows 10 and we're happy to report that the VOID RGB Wireless 7.1 and CUE software both recognize and install on Windows 10 without issue.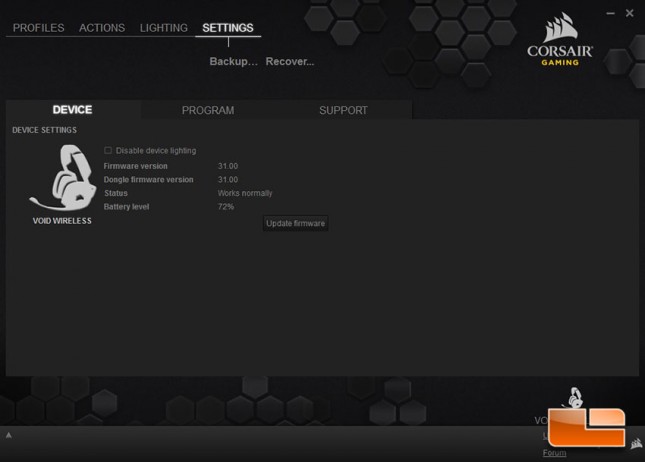 The Device Tab under Settings will show you the current firmware version on the VOID RGB, in addition to how much battery life is left. There is also a Status tab that will let you know that the VOID is connected and functioning properly. For those interested in saving battery, or who just don't feel like having your headset light up, you can disable the device lighting from this section. You can also update the firmware on the VOID RGB from this section, provided it is plugged into a USB port on your PC, as firmware updates cannot be done in wireless mode.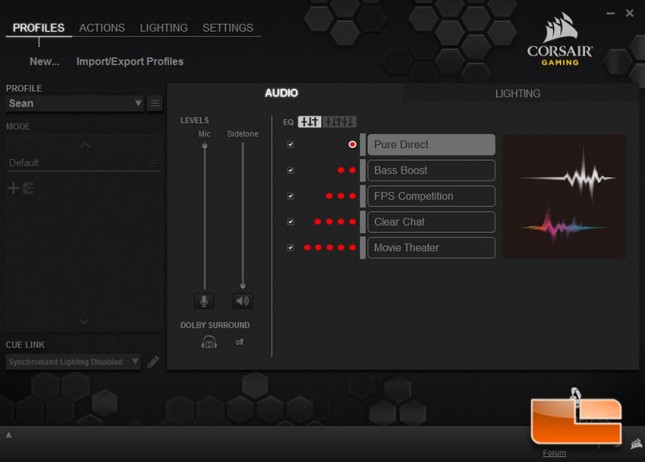 The CUE software allows for full equalization control over the VOID RGB. There are several modes built in, with Pure Direct being a flat mode ideal for music listening or general usage scenarios.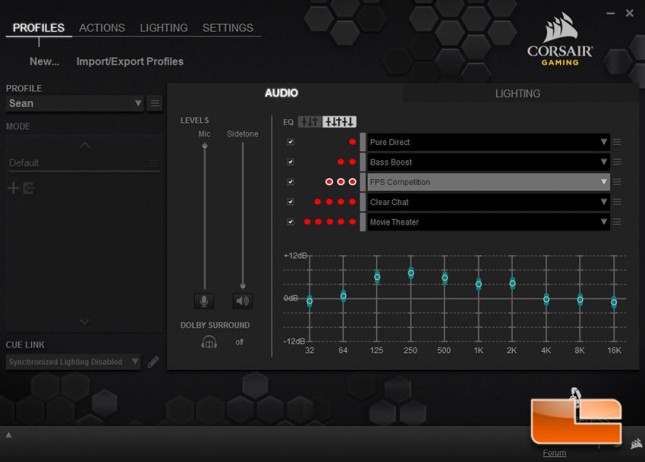 The other modes adjust the equalization curves for their appropriate purpose. Microphone and Sidetone adjustment is also available in this section. If Sidetone isn't disabled, you will hear yourself through the headset when you speak. Sidetone can be a very useful feature to ensure your voice isn't too loud in chat scenarios. You can also enable Dolby Surround from this section of the CUE software.
The CUE also lets you adjust program settings and update to the latest version. There is also a Macro Recording section, but this is for Corsair keyboards, as there aren't any buttons that can be bound to macro function on the VOID RGB.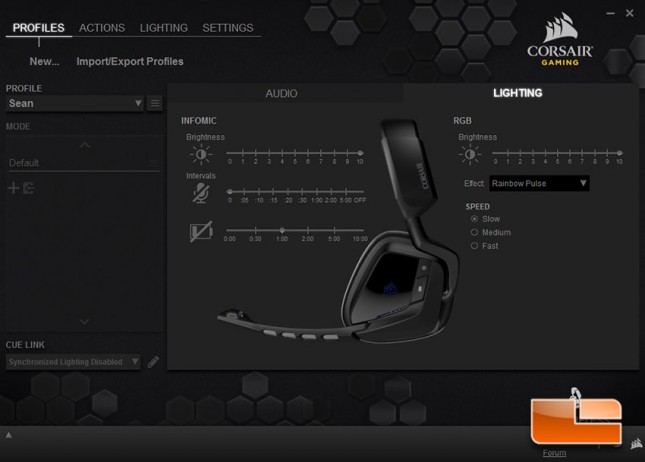 The lighting modes on the VOID RGB are extensive and the user has control over the brightness and different effects displayed by the VOID RGB. InfoMic settings are also adjusted from here, as you can set the brightness levels and when the battery warning comes on. Unfortunately, using the RGB functionality of the VOID causes faster battery drain. The LED's could be non-functional and you wouldn't know it while you were wearing the unit, so this is truly an aesthetic function to make you stand out.
Unfortunately, there isn't a sound reaction mode available for the VOID RGB in the CUE software, which would have been somewhat functional for teammates to know if you're in a firefight at a LAN party, or so those around you can tell if you're currently engaged. A reactive LED mode would have been awesome, considering the fact users are paying a price premium just for this LED functionality in the first place.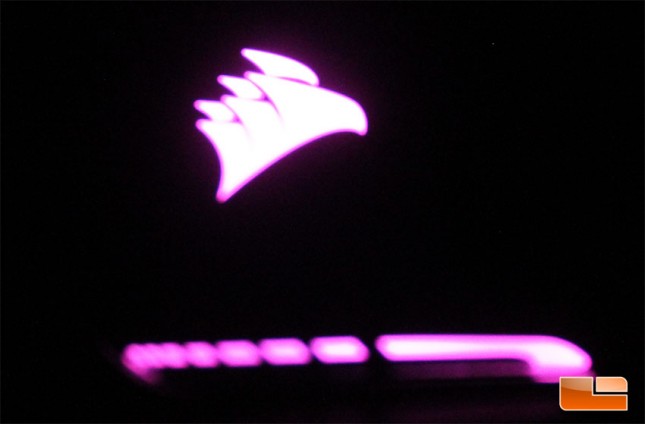 The CUE software for the VOID RGB Wireless 7.1 works well and integrates very well with the headset. Lighting control is simple and intuitive and switching to the various sound modes is straightforward. My wife really liked that the headset would light up in pink and she came close to claiming them for herself. I really think the CUE works well and gives a lot of functionality to the VOID RGB that isn't available in the standard Windows driver. Our only hope is that Corsair introduces new lighting modes, most importantly a sound reactive mode.