Corsair VOID RGB Wireless 7.1 Gaming Headset Review
By
Corsair VOID RGB Wireless 7.1 Gaming Headset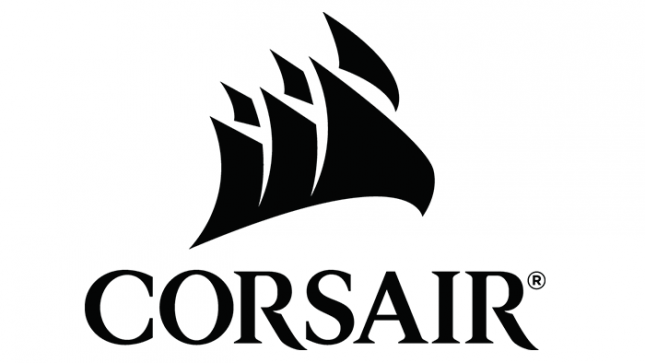 Corsair is one of the companies at the forefront when it comes to producing high quality, focused products that cater to enthusiasts and gamers. Corsair began business in 1994, producing L2 cache modules and later began DRAM production. Corsair is known for producing high quality memory modules for the enthusiast market, often being one of the first manufacturers to release high speed memory for newly released chipsets. Several years ago, Corsair began to diversify and started offering products in other categories, such as CPU coolers, Solid State Drives and gaming peripherals. My first experience with a Corsair non-DRAM product was the Corsair HS1, a comfortable gaming headset that earned high marks for being a solid, comfortable gaming headset. Five years have passed since the release of the HS1 and today we're looking at the latest evolution in the Corsair lineup, the VOID RGB Wireless 7.1.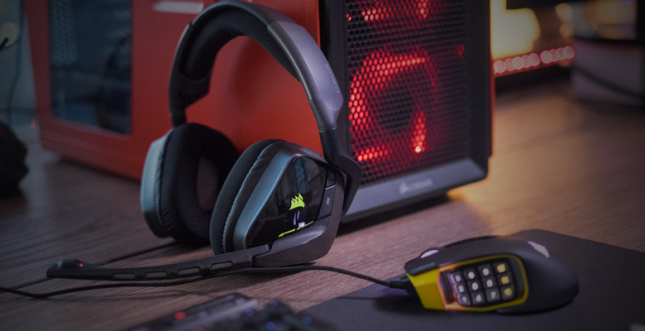 Gaming headsets are an absolute necessity in the competitive gaming arena, as external speakers will get drowned out and upset those next to you, in addition to having other limitations, such as limited portability. It isn't uncommon to see headsets required for use in local competitive gaming, either. It is also necessary for competitive gamers to hear all in-game sounds and isolate outside noise, as reactions in competitive games are often based on sound and being able to hear where opponents are coming from. In non-competitive settings, gaming headsets serve multiple purposes, as well. Late night gaming sessions in a dorm room or apartment building, for example, aren't going to be met kindly if you are running sounds through speakers. People don't like the sound of explosions and gunfire while they are trying to sleep. There is also the immersion factor to think about. By wearing a quality gaming headset, you immerse yourself more into the game by being able to shut out sounds that aren't produced by your game.
While there are many virtues to a gaming headset and the benefits they can bring, you have to ensure you're using a quality headset or else a lot of that benefit will be lost. A bad sound stage presented by the headphones or a crackling, substandard microphone can all be the downfall of a gaming headset. Rather than using a dedicated gaming headset, for the past couple of years I've used a pair of Sennheiser HD558 headphones with a Sound Blaster Z beam-shaping microphone for sound. It will be interesting to see how the VOID RGB Wireless 7.1 compares with my current setup in terms of overall functionality as a gaming headset.
Corsair VOID RGB Wireless 7.1 Specifications
Warranty
Two Years
Frequency Response
20Hz – 20 kHz
Impedence
32 Ohms @ 1kHz
Drivers
50mm
Connection Type
Wireless USB Receiver (2400Mhz)
Microphone Type
Unidirectional Noise Cancelling
Model Number
CA-9011132-NA
MSRP
$129.99
The Corsair VOID RGB Wireless 7.1 is one of five different headsets in the VOID lineup. Wired analog and USB models are also available, but the analog model does not support the Corsair CUE software due to a lack of compatible interface. Also available is the VOID Wireless SE Yellowjacket Edition that features a yellow colored frame and black accents, with all of the other pertinent features exactly the same as the standard VOID RGB Wireless 7.1. The Corsair VOID RGB Wireless 7.1 that we are looking at today is currently available at Amazon for $129.99, with the stereo model that lacks RGB functionality available for $69.99. Corsair is charging a $70 premium for wireless functionality and CUE software compatibility, as all other features and components between the headphones are the same, though the Wireless version weighs more due to added wireless components and a battery.
The Corsair VOID RGB Wireless 7.1 carries a two year warranty against manufacturers defects. Based on personal experience, Corsair has world class support and does a great job of taking care of problems that may arise. I've had them send out replacement parts for my cases free of charge and on the rare instances my Corsair products have failed, they are always fast to assist an issue an RMA. It's easier to recommend products from Corsair because of this level of support, as some other companies that make products aimed towards gamers really lack when it comes to customer support.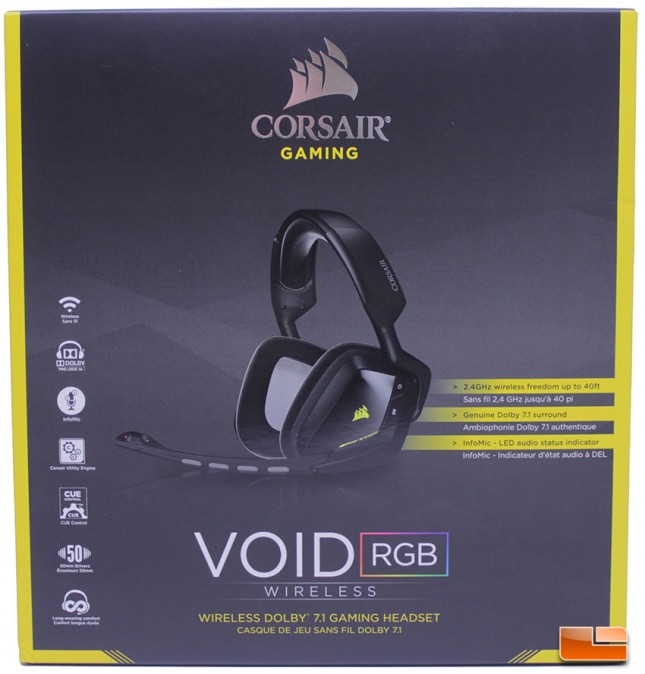 The Corsair VOID RGB Wireless 7.1 comes packaged in a very descriptive black cardboard box that is indicative of a high quality product. Corsair made sure to print out various selling points on the front of the box, but they didn't go over the top with anything on the packaging. If one were to see the box on a shelf, they would immediately be able to see that the headset runs on the 2.4GHz wireless frequency, features Dolby 7.1 surround and offers support for the Corsair Utility Engine, or CUE.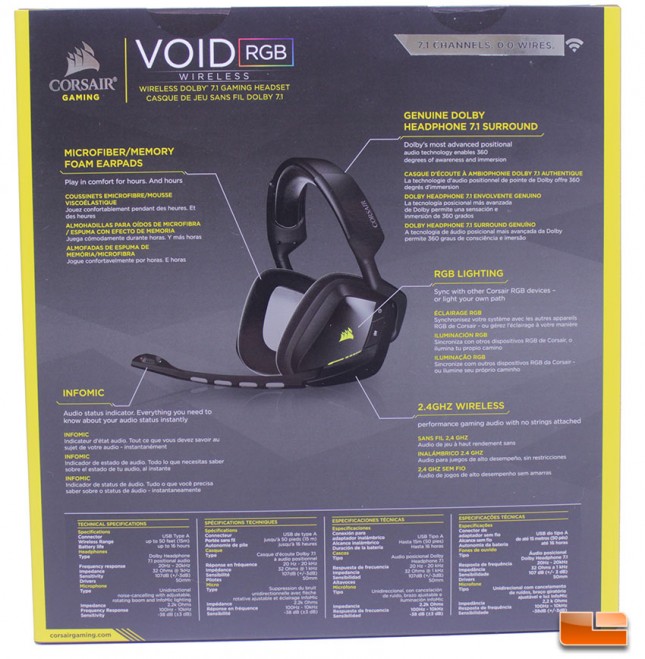 The rear of the box for the VOID RGB Wireless 7.1 is filled with information and various selling points. Corsair does a good job of pointing out the features of the VOID RGB and explaining what they do, so an end user picking up the box can get a lot of useful information and may be swayed to purchasing the headset based on a feature they feel is compelling. Unfortunately, the box isn't clear on how the headphones interface with the PC and users are left to wonder what the wireless dongle or USB connector will look like. This would be good information to include on the retail box, as somebody purchasing the VOID RGB Wireless 7.1 for a laptop, for example, may not be comfortable with a larger dongle.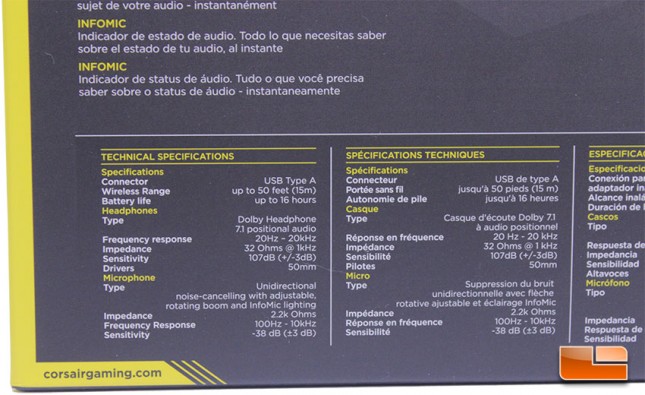 Technical specifications are clearly printed out on the rear of the box, beneath the bevy of marketing points. Corsair specifies the wireless range as being 50 feet on the box, but other literature has it listed as 40 feet. For all intents, I would say forty feet is the comfortable range for these headsets, at best. The 16 hours of specified battery life is very good, but I'll see if that specification is realistic during my testing.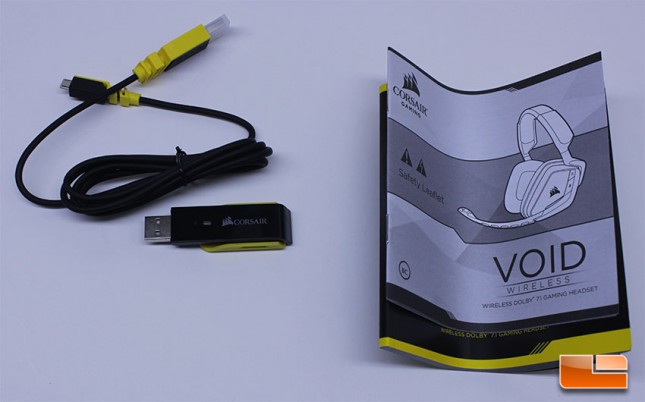 This is the full accessory pack included with the VOID RGB Wireless 7.1. There is a quick start guide and booklet with warranty information, in addition to the necessary wireless dongle and USB charging cable. Unfortunately, there isn't anything else with the headset, like a carrying case, Corsair stickers, or poster. For a premium product, I'd like to see more accessories.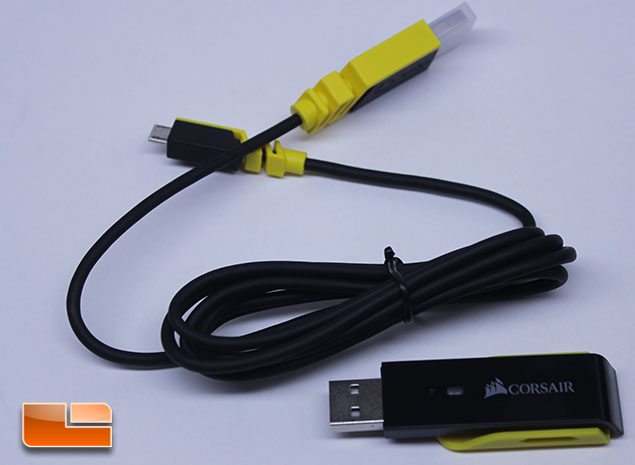 The VOID RGB Wireless 7.1 is packaged with a USB transmitter and USB charging cable, both of which are yellow and black. The charging cable has a premium feel to it.

Since the dongle is transferring sound and is subject to interference on the 2.4Ghz band, I would recommend placing it as close to the headset as possible for optimal functionality. The wireless USB transmitter looks like a USB flash drive and has a high quality feel to it. This dongle is absolutely necessary for function, as it also contains a sound processing chip. Unfortunately, its size means it may not play nice if installed on a USB port with another device with a large USB connector. For example, I had to install it in the USB port above where my Corsair K70 keyboard was plugged in, as the two devices didn't want to sit next to each other. Inter-brand feuding isn't cool, guys.