Corsair Vengeance K90 & M90 MMO/RTS Keyboard and Mouse Review
By
Corsair K90 & M90 Software
Only part of the power of the Corsair Vengeance K90 and M90 lay in the devices themselves with the ability to focus that power from the free software package. If you install both the K90 and M90 software the interface combines them both into a slick single window without having to launch two separate applications.
Corsair Vengeance K90 Keyboard Software: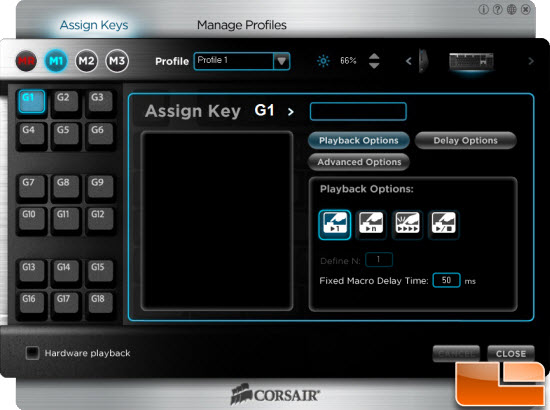 With the keyboard selected the first screen defaults to assigning G keys, profile selection, and the ability to change the backlight level from software. You can program any of the 18 keys across 3 memory profiles just like you can straight from the keyboard buttons themselves but the software gives you a few more options. For instance you can select play once, play N times, continuous play, or play until pressed again. This macro assignment flexibility resolves a lot of the concern about the G keys being silicon dome since you can just press it once, or hold it down to get the action you desire. WoW players beware, using multi-key macros with delays will get you banned from Warcraft per Blizzards EULA, one key press per macro key.
Another item to notice is that the Vengeance K90 has on board memory to store macros and that little check box in the lower left corner tells the system to run the macro from hardware effectively bypassing several programs such as BF3 and WoW that look for software based macros. Again, make sure you know what your risk are of running macros before playing these games as nothing would be worse then losing your level 90 toon to a ban for automated key play. Read and re-read the EULA and TOS before implementing is our advice.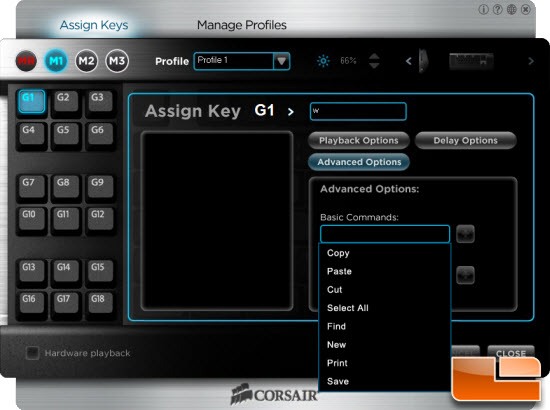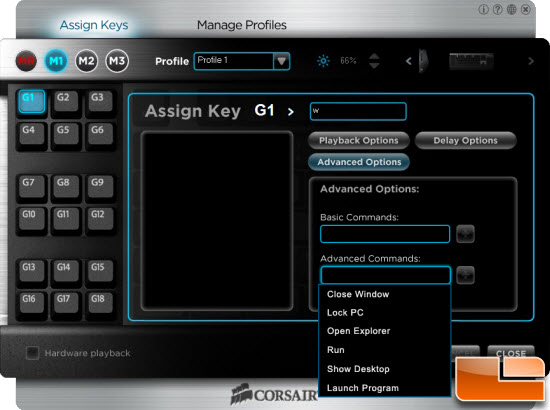 These images show both the basic and advanced options that can be configured for each of the 18 keys. This allows you to do everything from a simple key press to complex program launching.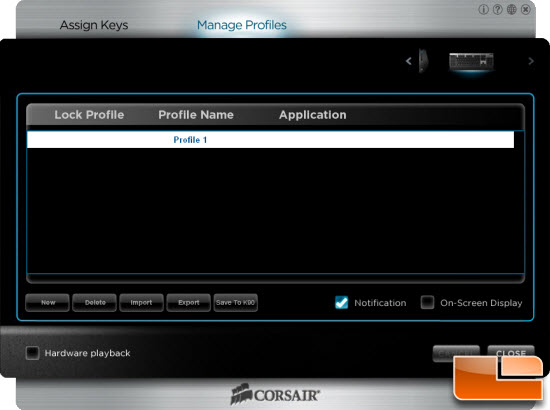 You can also set up dozens of unique profiles and even associate applications with each. Corsair provided the ability to import and export your list in case you are gong to another computer with a Vengeance K90 MMO keyboard there as well.
Corsair Vengeance M90 Mouse Software:
Clicking on the little pictures in the top right of the interface switches you to the mouse screen if you have both installed.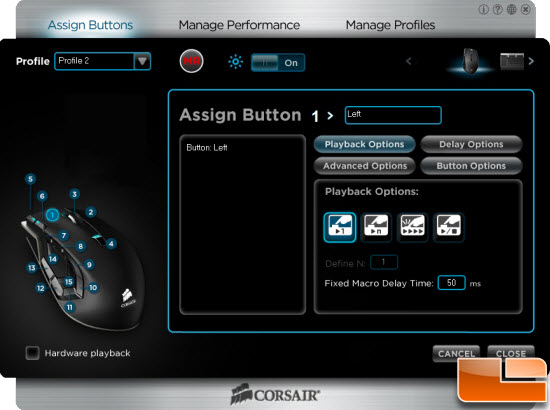 Like the K90 screen, the first screen lets you program all 15 buttons, record macros, select a profile, and turn the LED lighting on or off. The Corsair Vengeance M90 also has onboard memory so the buttons here can also run macros from hardware allowing you to prevent detection of running a macro.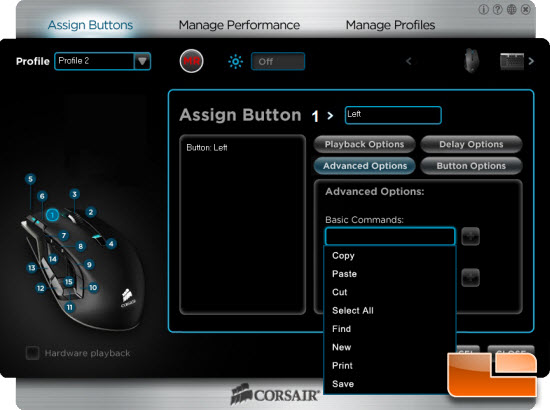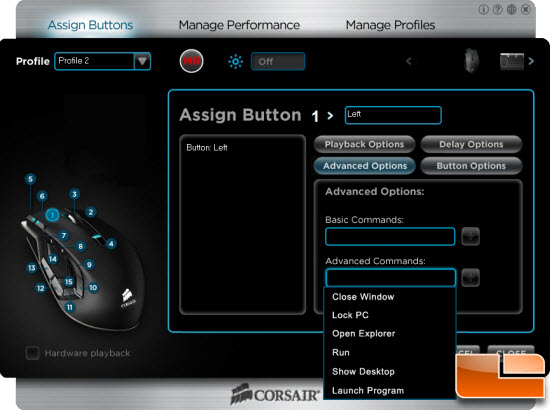 Just like the Vengeance K90, the M90 has Basic and Advance functions you can assign to any of the 15 keys that range from basic mouse functions to complex program launches. This is a very complete set of options and makes the M90 extremely powerful if you don't mind a mouse full of buttons.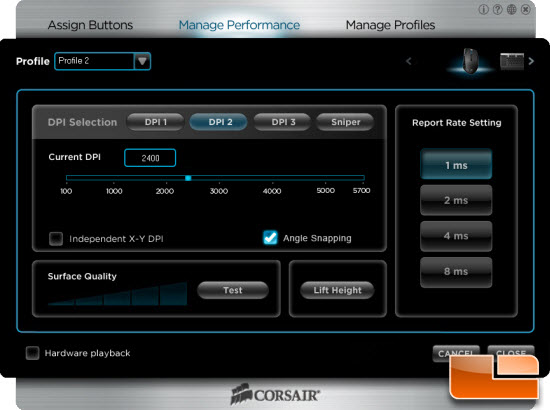 Like any good gaming mouse the M90 has DPI on the fly with three programmable levels of resolution up to the lasers 5700 DPI maximum. What is interesting is that Corsair lets you set the X and Y sensitivity separately if you like. I played with this a bit and for me at lest it was more gimmicky than a real value but depending on your game play and mouse pad surface area you might want faster left right than up down action. The report rate is also interesting but I could not discern much difference between the four settings. The lift height is unique and allows you to set how sensitive the laser is to being slightly picked up off the mousing surface which some FPS twitch gamers tend to do. I found this to actually work in improving my smoothness during FPS games but really had no effect on my MMO or RTS playing since I wasn't jerking the mouse all over to get a headshot.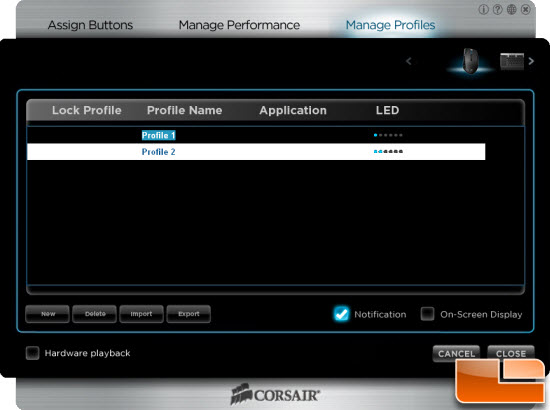 Also like the keyboard, you can set multiple profiles up for the mouse and program one of the buttons to cycle between them. The M90 has the option to display on screen the profile you are running and has the bonus of using 6 LEDs next to your right thumb to provide at a glance indication of one of six profiles being active. You get to select the six and assign them between 1 and all 6 LEDs turned on.