Corsair Vengeance K90 & M90 MMO/RTS Keyboard and Mouse Review
By
Corsair Vengeance K90 & M90 MMO/RTS Keyboard and Mouse
Corsair, long known for some of the best memory on the market, continues to expand their line up with cases, power supplies, water cooling, and now keyboards and mouses aimed squarely at gamers.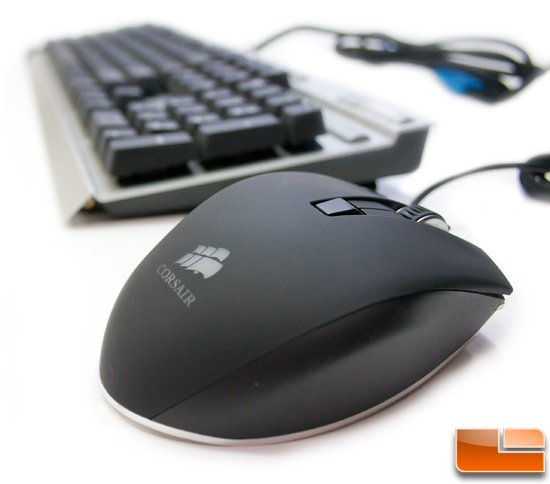 The Corsair Vengeance K90 MMO/RTS Mechanical keyboard and the M90 MMO/RTS laser mouse are sold separately but Corsair was kind enough to send us both so we could get the full experience. The keyboard is a sexy aluminum plate with blue LED back lit cherry MX red mechanical keys and the mouse is a 5700 DPI laser mouse with matching blue LED's and and aluminum base plate. The K90 MMO/RTS keyboard and M90 MMO/RTS mouse are the second in the Vengeance lineup for Corsair following the K60 and M60 keyboard and mouse.
The K90 and M90 are targeted at MMO / RTS gamers while the Corsair K60 and M60 keyboard / mouse combination was targeted at the FPS crowd. The key difference is the addition of a plethora of programmable keys to handle all the spell combos and attack moves you can imagine. The K90 adds 18 macro keys with three memory profiles over the K60 and the M90 goes to 15 programmable keys over the M60's 8. Both the K90 and K60 series have aluminum bases for the keyboard and an aluminum uni-body for the mouse.
Corsair is offering a 2 year warranty on both the Vengeance K90 keyboard and the Vengeance M90 mouse with a street price of
$124.99
shipped for the K90 and
$59.99
shipped for the M90.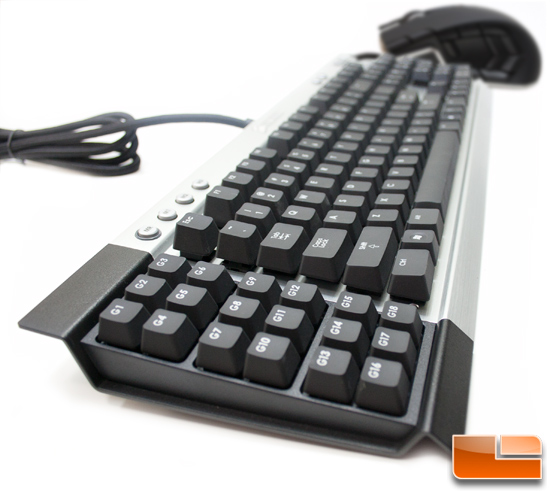 Corsair Vengeance K90 MMO / RTS Keyboard Specifications:
Warranty:Two years
Windows Lock Key:Yes
Key Rollover: KRO20 20 key rollover on USB
Anti-Ghosting: Full Key Matrix anti-ghosting system
Key Switches: Light, responsive Cherry MX Red mechanical switches for fast, efficient gaming action
Actuation Force: 45g actuation force 2mm to actuation and 4mm to bottom Rated for 50 million operations and Gold contacts
Tuned silicon dome keyswitches: F1 through F12, Esc, PrtScn, Scroll Lock, Pause/Break, Insert, Home, Page Up Page Down, Delete, and End
Three banks of eighteen G Macro Keys with Macro Record and Bank Select hot keys 36Kb of onboard memory for storing up to three sets of eighteen G keys for gaming on the go On-the-fly, macro recording
Laser-etched, backlit keys with four illumination levels (off, 66%, 75%, and full illumination) selectable from the keyboard
Six multimedia keys Stop, Previous, Play/Pause, Next, Mute, Volume Up/Down with Solid metal, weighted volume drum roller
Windows Lock key for uninterrupted game play
Metal top plate for increased strength, durability and rigidity
USB pass-through connector giving easy access to a USB port on the back of the keyboard (USB 2.0/1.1/1.0)
USB Connector with gold plated contacts 2m non-tangle cable Adjustable feet tilt for optimum personalization and positioning
Removable full length soft wrist rest


Corsair Vengeance M90 MMO / RTS Mouse Specifications:
Warranty: Two years
DPI: 5700
Report Rate:1000Hz/500Hz/250Hz/125Hz 1msec/2msec/4msec/8msec response time user selectable
Programmable Buttons:15
Laser: 5700 DPI Avago Technologies ADNS-9500 LaserStream Gaming Sensor
Adjustable DPI in 100 DPI increments
Tracking rate of up to 165 inches per second, up to 30g acceleration, automatic frame rate control
Adjustable lift distance
Five selectable levels to fit your play style
Surface quality detection
15 programmable buttons
Nine ergonomically placed, side-mounted programmable buttons
Comfortable ergonomic design with soft-touch surfaces and grip improving textures
Omron left and right click switches rated for eight million operations
48KB of on-board memory for storing up to six "on the go" profiles with active profile LED
Aluminum metal frame and base for improved rigidity and mass distribution
Solid metal, weighted scroll wheel with rubberized scroll surface for improved finger traction control and feel
Ultra Low Friction PTFE pads for smooth performance and accurate gliding
USB Connector with gold plated contacts
1.8m lightweight non-tangle cable