Corsair TwinX1024-4000Pro Memory Kit
By
Memory Performance:

Results: At default timings the Corsair XMS Pro performs equally with it's 500MHz counterpart. This is correct since both modules use virtually the same PCB design and IC's. The numbers should be failry consisent and our results showed this to be true. Also included in the above graph on the fair right column are the results from testing at agressive timings at the specified DDR-500 speeds. An increase of only 0.41fps was observed in Comanche 4 by lowering the timings. At these memory speeds we can tell that memory bandwidth is not the major limiting factor.
Now let's look at overclocking at loose timings: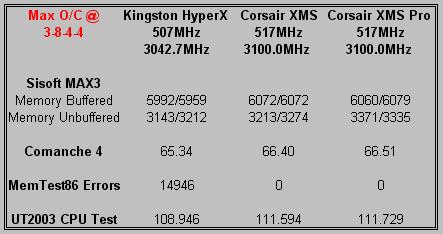 Results: We found that both the Corsair TWINX1024-4000 and TWINX1024-4000Pro memory kits maxed out at the same exact speeds! Again, with the similar PCB design we were not expecting to see bigger numbers as this memory is aimed at the gamers and users who like to show off their computer!
Conclusions:

Corsair has been a huge player in the American memory market for a number of years now and has successfully released a new line of memory that assures their place in the performance memory market for many more years. Why is it that Corsair plays a leading role in the memory industry? The answer to that is simple, they design and make their own products. If the consumers what LED activity lights on their memory Corsair goes to the drawing board and designs it from scratch. Many other companies can only wait for other companies to manufacture it for them so they can just slap their heat spreaders on it!
The Corsair XMS PRO series was launched just for gamers and people who mod their pc's by a company who listens to their customers! We also found that adding LED activity lights had no impact on performance even though some might believe that they will decrease performance! The Corsair XMS 4000PRO series is on par with Corsair XMS 4000, which took top grabs from our site a couple weeks ago when we published a 6-way DDR 500 memory round-up. Since it performs equally with the XMS 4000 series this memory is highly recommended for enthusiasts or any user looking for the best in style and performance.
With the launch of XMS 4000 memory Corsair answered the call of enthusiasts by releasing a product that eliminates the worry of having too little memory bandwidth! Now with the XMS 4000Pro series we have a totally brand new Corsair product that eliminates the memory bandwidth issue and adds style and elegance! On top of all that don't forget that Corsair is now bonding their heat spreaders for improved thermal transfer of heat and has a much larger surface area to help dissipate heat! Honestly how much better does it get? If you are looking for Xtreme memory speeds with additional eye candy features then look no further as the XMS 4000Pro Series has arrived!
If this line of memory does not suit your needs check out and see if Corsair has any memory for your individual needs!