Corsair TwinX1024-4000Pro Memory Kit
By
Features:
The XMS4000 Pro TwinX DDR Modules came in a recyclable plastic box that contained the first installiation manual that we have ever seen Corsair put together. If you need installation help with DDR500 memory you are best off staying away from your system, but Corsair went the extra mile to include directions!
An important factor in buying memory is the warranty. Corsair's memory products carry a lifetime warranty. This means that Corsair products are guaranteed to operate, as specified by their datasheet and in the operating environment for which they were intended, for the life of the product.
Some of the new features on the modules are the 18 LED's per module that can be found in three different colors (green, yellow, red) which show the level of memory activity. The image below shows low activity on the left, some activity in the middle, and full activity on the right.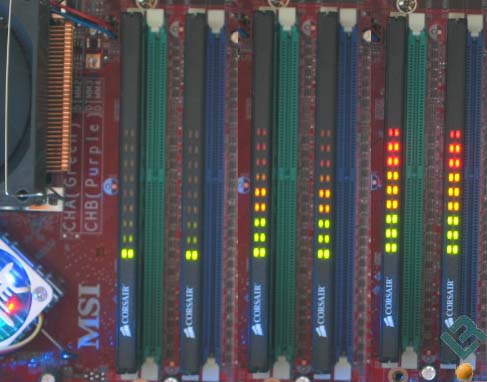 I must say that it was fun to watch what your memory is doing. The above photo was taken with the lights on and no flash while testing the memory on an MSI Springdale 865PE Neo2 motherboard. Being a professional review site we try to use memory on as many boards as possible to see if we can identify any issues between brands and chipsets. Below is a shot of the final test system and shows how your case will look when the lights go out.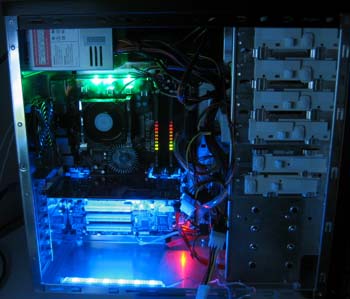 The memory we are testing today are TWINX matched memory pairs that have been specifically designed for motherboards using chipsets with dual memory channels. Current two-channel chipsets include the 875P ("Canterwood") and 865PE/G ("Springdale") from Intel, the nForce2 Ultra 400 from Nvidia, and the new nForce 3's. Corsair tests the DDR500 modules in an Asus P4C800 motherboard and the modules are programmed to JEDEC 3200 (DDR400) values There is no official standard yet for DDR500, but all of the manufacturers seem to be using the 875/865 chipset motherboards to verify their high-speed performance. All Corsair memory comes with a sticker that tells you exactly what your memory is rated for.

Key Features:
Memory amount: 2x 512MB
Access time: 4.0ns Hynix IC's
500MHz (PC4000) Unbuffered DDR Modules
CAS latency: 3 clock cycles
RAS precharge: 4 cycles
RAS active to precharge: 8 cycles
Command rate: 1T (1 cycle)
Aluminum heat spreader for thermal diffusion (Black)
Latency: 3-8-4-4-1T
2.75V
Physical Measurements: 1.75″(H) x 5.41″(W) x 0.30″(D)
Weight: 2.9 oz
Moving on to the benchmarks, let's see how this ram performs!