Corsair TwinX1024-4000Pro Memory Kit
By
Introduction:
A few weeks ago on September 15, 2003 Corsair released a new line of memory (XMS Pro) that was aimed directly at the heart of the enthusiast and DIY (Do-It-Yourself) crowd. The new modules have been altered, but the changes do not have an impact on performance. This is good news as all the XMS 4000 owners don't have to worry about a faster product coming out. The main changes are the memory activated LED's and a newly designed heatsink that looks pretty effective due to the increase in size and the fact that it is now bonded to the memory IC's. (used to be attached via thermal tape) The new cast aluminum heatsink has small ribs in it that Corsair claims increase surface area by 95% compared to standard aluminum spreaders, which may or may not increase the cooling ability of these toasty 500MHz modules. They do get warm!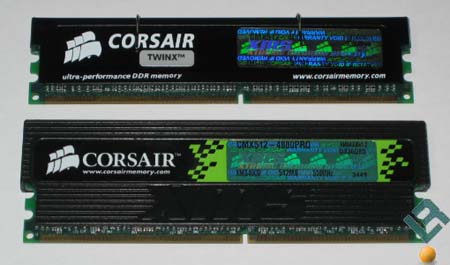 As you can see in the photo above the overall size of the module has greatly increased due to the addition of the LED's. It is now much taller, standing at 1.75 inches in height which could be an issue for some SFF (Small Form Factor) users, but not from what we have seen so far from the multiple SFF systems we have in house.
Let's go in more detail and look at the features!