Corsair Spec-04 Tempered Glass Mid-Tower Case Review
By
Corsair Carbide Spec-04 Updated with Tempered Glass
In the middle of 2017, Corsair released the Carbide Spec-04 case, it is a low cost mid-tower geared at the budget builders while still providing a solid foundation for the latest hardware. Initially it had a retail price of $49.99, it featured an angular design to the front of the case giving it a modern look. Since its release, Tempered Glass panels have become extremely popular, and users have been looking for budget friendly cases that feature Tempered Glass side panels. Corsair heard this and decided to do a small update to the Spec-04. Corsair has recently released the Spec-04 Tempered Glass edition, which is identical to the original Spec-04 with the exception of the Tempered Glass side panel.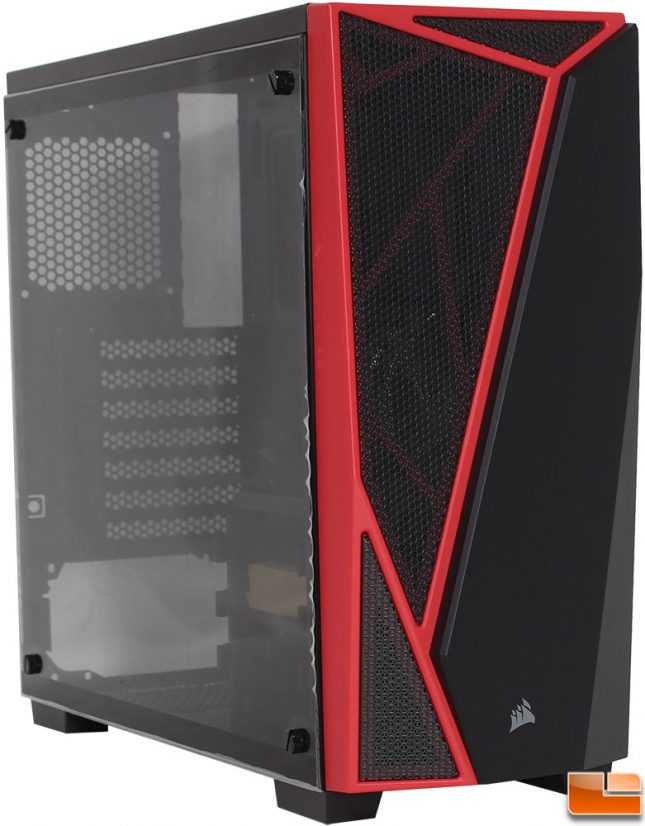 The original Spec-04 case was available in three color schemes, however for the Tempered Glass edition, Corsair has only released one version with the Black/Red color scheme. If you were to set the two cases side by side, the only difference you will find is the side panel, and the price. Adding the Tempered Glass side panel, does cause a small increase in the price, the Spec-04 Tempered Glass has a retail price of $59.99 shipped.
Years ago, pretty much every case came in a brightly colored box. Now almost all of them come in standard printed cardboard boxes. This helps to keep the cost down, while still giving you a good idea of the contents. Corsair has a standard layout for their packaging, where on the front of the box you get an overview of the case, along with some detailed information. Turning to the back of the box you find an exploded view of the case, with specific components called out. Finally the sides of the box present the specifications in multiple languages.
Corsair Spec-04 Features and Specifications:
Tempered Glass Window and Angular Exterior Design
Cable Routing Cutouts and Tie-Downs
Ample Storage and Cooling Options
Warranty
2 Years
Weight
5.27kg
Color
Black/Red
Form Factor
Mid-Tower
Dimensions
492mm x 201mm x 433mm
Motherboard Support
MicroATX, ATX, Mini-ITX
Maximum GPU Length
370mm
Maximum CPU Cooler Height
150mm
Maximum PSU Length
255mm
Expansion Slots
7
Drive Bays
(x3) 3.5in

(x2) 2.5in

Material
Steel
Power Supply
ATX (not included)
External Connections
(x1) USB 3.0

(x1) USB 2.0

(x1) Headphone Port

(x1) Microphone Port

Fan Mount Locations
Front: (x2) 120mm or 140mm

Top: (x2) 120mm

Rear (x1) 120mm

Fans Included
Front (x1) 120mm
Radiator Mount Included
Front: 120mm or 140mm

Rear: 120mm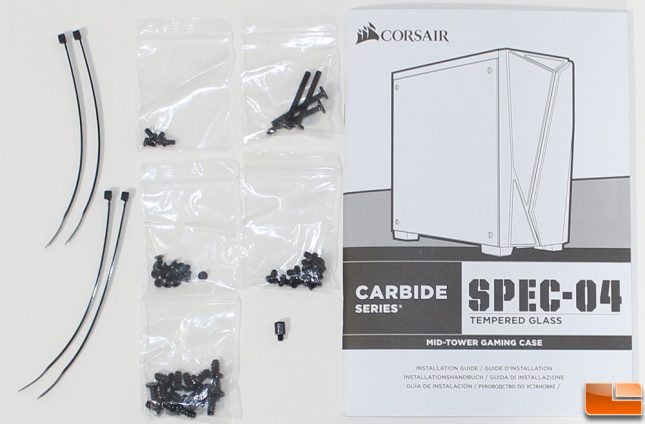 Corsair includes all the necessary accessories to build a system in the Spec-04, and some extra's that are not required for the standard build. In the accessory pack, is four cable ties, four pan-head SSD screws, sixteen short fan screws, ten motherboard screws, four long fan screws, sixteen flat SSD screws and one additional motherboard standoff. Corsair also includes a detailed multi-language user guide to help users build their system successfully.
Let's take a closer look at the Corsair Spec-04 Tempered Glass edition before opening it up to build a system.