Corsair Scimitar RGB Moba/MMO Gaming Mouse Review
By
Corsair Scimitar RGB MOBA/MMO Gaming Mouse
It's been a while since we last took a look at a so-called MMO gaming mouse and though the glory days of MMORPGs have past, there is still life in some of the largest MMOs out there. World of Warcraft's reported 5.6 million subscriptions from this past August is still impressive which goes to show that MMO mice are still relevant. Corsair adds the Scimitar mouse to its Corsair Gaming collection which follows the precedent established by the Razer Naga mouse which was released in 2009 a grid of twelve thumb buttons. That one feature alone was enough for Razer's CEO, Min-Liang Tan, to raise a stink over the Scimitar's announcement last August when he stated on social media "If I see yet another company ripping off the Naga again I'm going to throw up." A further note, the Scimitar is not Corsair's first MMO mouse – the Vengeance M90 was released back in 2012.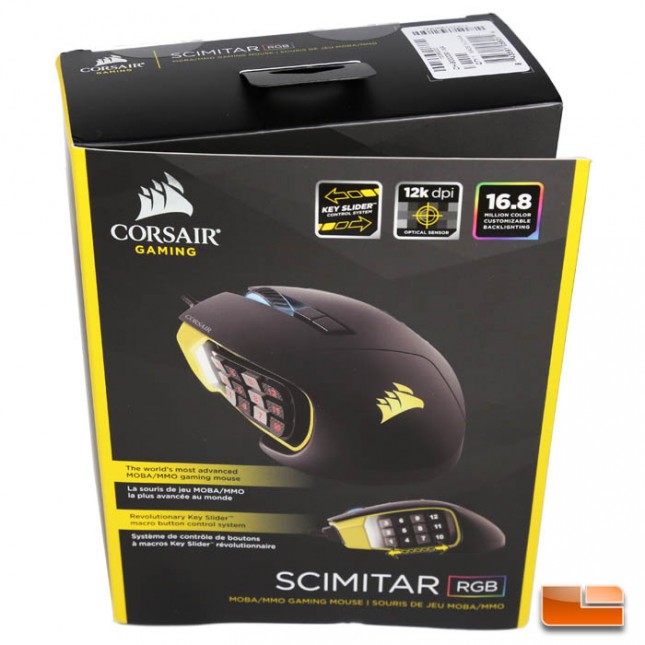 Corsair has also labeled the Scimitar as a MOBA mouse and though it is true that Dota and League of Legends require lots of keyboard input such that having lots of mouse buttons can be useful, MOBA players in general dislike the bulkiness of these MMO mice. We're going to pay attention to how well the Scimitar holds up for MOBAs and determine if it makes sense for Corsair to attribute this mouse for such games.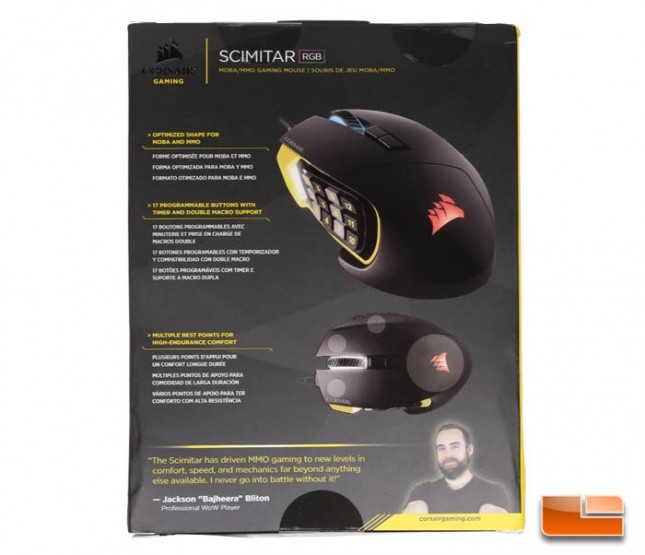 Moving past the intended operation we quickly take a look at the Corsair Gaming Scimtar's features before diving into the review. Most notable is the Key Slider system in which position of the thumb buttons can be adjusted along a sliding track. Other features include mechanical switches, a 12,000 DPI optical sensor, and RGB lighting in four zones. The mouse comes with a 2-year warranty and is currently listed on Amazon for $74.99 with free shipping.
Corsair Scimitar RGB MOBA/MMO Gaming Mouse Features:
The world's most advanced MOBA/MMO gaming mouse
Revolutionary Key Slider macro button control system

8mm travel with secure locking mechanism
Textured, contoured buttons
Mechanical switches for precision control

Optimized shape for MOBA and MMO
17 programmable buttons with timer and double macro support
Multiple rest points for high-endurance comfort
12,000 DPI zero-acceleration optical sensor for super-accurate control
Powerful, comprehensive backlighting software
Key Slider macro button control system meld comfort with control
Corsair Scimitar RGB MOBA/MMO Gaming Mouse Specifications:
Warranty: Two years
DPI: 100 dpi – 12000 dpi
Sensor Type: Optical
Mouse Backlighting: 4 Zone RGB
Programmable Buttons: 17
Report Rate: Selectable 1000Hz/500Hz/250Hz/125Hz
On-board Memory: Yes
Weight: 147g
Mouse Feet: Extra Large PTFE
Dimensions: 119.4mm x 77mm x 48.8mm
CUE Software: Enabled
Cable: 1.8m Braided Fiber
Game Type: MOBA, MMO
If you find the Scimitar in the store, you can pull back the front flap to get a look at the mouse.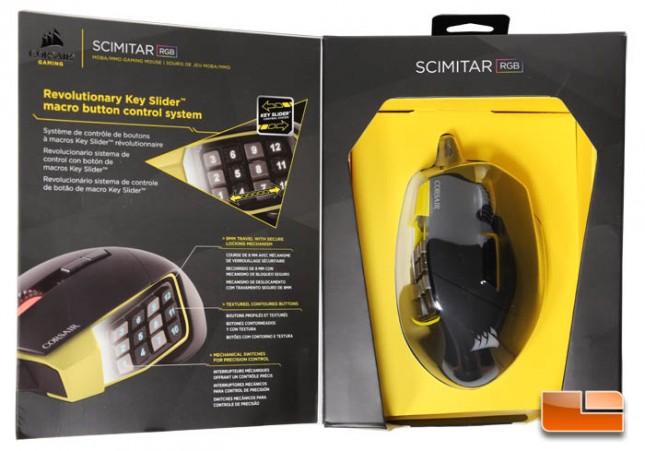 The Scimitar mouse comes with a small screwdriver for the Key Slider lock which is secured in the Velcro cable tie. Also included in the package are a warranty guide and a quick start guide that goes over how to operate the Key Slider and where to get the CUE software.