Corsair Obsidian 750D Full Tower Case Review
By
Corsair Obsidian 750D Full Tower Case Introduction
The Corsair Obsidian 750D case was recently released into the wild, unleashing its Full Tower goodness. This case is a smaller sibling to the Obsidian 900D and also takes on a lot of design queue from its smaller brother yet, the 350D. The first Obsidian case, the 800D was released late 2009, and has evolved to what youre about to see today.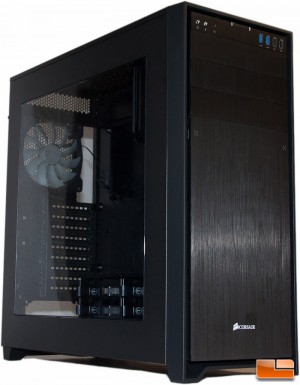 The 750D is actually design is very simplistic, and I quite like this approach, so long as the case in question is functional. Sporting a beautiful brushed aluminum front and matte black steel inside and out, the 750D is sure to appeal to the masses! Even the side window is squared off and not a design that is all over the place, giving this case a very clean look.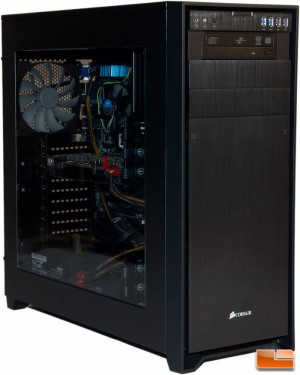 The interior of the 750D features a ton of room inside with room for motherboards as small Micro ATX and as large as XL-ATX or E-ATX. There are bunch of wire pass-thru holes with rubber grommets inside, which will help make wire management nice and easy. There are two 3.5 hard drive cages inside that can be repositioned several ways, or just removed altogether. I know a lot of people are moving towards solid state technology, so this little perk will help clean up your case and help provide better airflow inside. Corsair does have four SSD brackets that are mounted parallel with the motherboard tray, which are positioned behind where the HDD cages would be.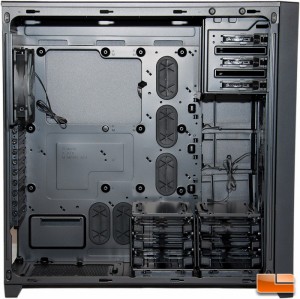 Want a case that has a lot of cooling potential? Well, the 750D will be right up your alley. There are three 140mm fans included with room for as many as eight (120 / 140mm mixture). This also means that there is a bunch of room for water cooling! A kit like Corsairs H100i would go perfectly with this case. Or if you want to get something huge, you can definitely mount a 360mm radiator on the top and not have to worry about modifying your case.
Corsair Obsidian 750D Technical Specifications:
MB Support: ATX, E-ATX, mATX, Micro ATX, Mini ITX, XL-ATX
Dimension (DxWxH): 21.5 x 9.3 x 22 inches (546 x 235 x 560mm)
Form Factor: Full-tower
Material: Brushed aluminum and steel
Expansion Slots: 9
Drive Bays: (x2) Modular drive cages house three 3.5 or 2.5 drives each (x4) Tool-free dedicated SSD cages, sideways mounted
Cooling: (x3) 140mm AF140L fans, with room for up to eight fans
Front I/O: (x2) USB 3.0 (x2) USB 2.0 (x1) Headphone (x1) Microphone
Power Supply: ATX (not included)
Radiator and Fan Compatibility:

Top: 3 x 120mm or 2 x 140mm
Front: 2 x 140mm or 2 x 120mm (2 x 140mm fans included)
Bottom: 2 x 120mm
Rear: 1 x 140mm or 120mm (140mm fan included)

Maximum Compatibility:

GPU: 340mm (with drive cages) / 460 (without drive cages)
HSF: 180mm

Warranty: Two years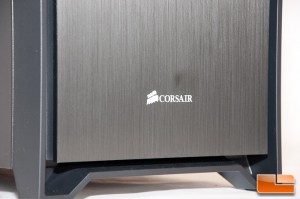 What about price point? I must say, the Obsidian 750D is priced aggressively! The retail price is $159.99 at Amazon and $159.99 at Newegg. This is very aggressive in terms of a full tower chassis already, but I have seen this case go for as low as $129 after rebate, which is incredible. Talk about a crazy good deal for a case with this much potential! This just might be the case you were waiting for! With this case, too, you will get a nice two year warranty if you have any issues with it.
Lets move on and take a quick look at the retail packaging and then see what this beauty looks like on the outside.