Corsair AX1200i 1200W Power Supply Review
By
Corsair AX1200i Gets Reviewed
Lately, 80Plus Platinum certified
power supplies have been springing up like wildflowers. Every enthusiast was
certain that Corsair, being one of the major players in the high performance
PSU market at this point of time, would not sit this one out. Truly, Corsair
today released the AX1200i, an 80Plus Platinum certified power supply with a
maximum power output of 1200W. However, the AX1200i is quite a bit more than
"just another power supply", as it also comes with never seen before
features and capabilities which will certainly trouble the competition and
charm hardcore enthusiasts.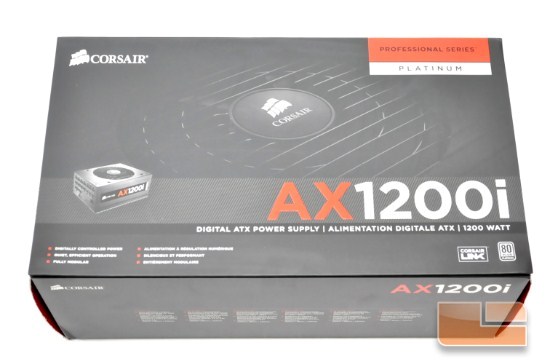 Even though the new AX1200i is based
on the platform used to create the AX1200, Corsair heavily upgraded the base
design and added DSP control via their Corsair Link interface. The interface
allows the end user to not only monitor the power supply's performance through
a windows based application (Windows 7 only support, sorry Linux/MAC users) in
real time but to also control certain aspects of the AX1200i, such as the
behavior of its fan, the OCP protection levels, etc. The software also monitors
temperatures and fan speeds of other devices it can recognize, such as the
drives and the CPU, plus it offers the capability to create graphs, profiles
and other fancy features which crazed tuners will surely appreciate. Note however that the software is still BETA; there are many bugs which need to be ironed out.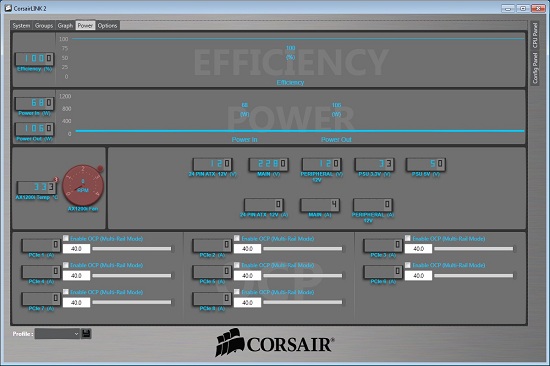 The DSP control alone would not be
enough to please every enthusiast and Corsair knows that; however, the AX1200i
also promises unparalleled performance and high aesthetic value. On the other
hand, the MSRP of the AX1200i is $349.99, making it one of the most expensive
units currently available. Although the retail price will most certainly be
somewhat lower, it would still be a massively expensive product. So, the
question is, does the AX1200i really perform that well so as to justify the
premium price? We will find out in this review.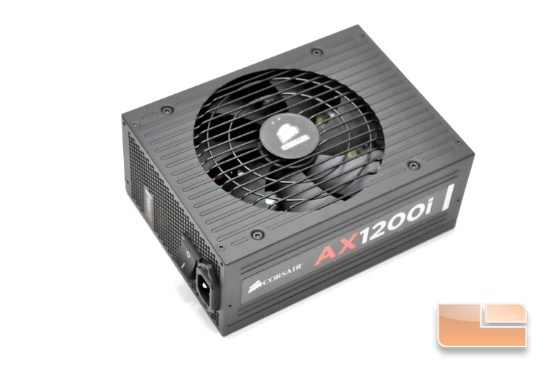 Corsair AX1200i PSU Features:
Digital Signal Processor (DSP) for
delivering extremely clean, efficient power with real-time adjustments
Corsair Link Integration for
monitoring and adjustment of performance, noise, and OCP settings
Dedicated single +12V rail with
user-configurable virtual "single rail" and "multi-rail"
software modes
An ultra-quiet, 140mm double
ball-bearing fan delivers excellent airflow with exceptionally low noise levels
by varying fan speed in response to temperature
80 PLUS Platinum certified,
delivering up to 92% energy efficiency under real-world load conditions
Active Power Factor Correction (PFC)
with PF value of 0.99
Universal AC input from 90~264V
Over-voltage, under-voltage,
over-current, and short circuit protection provide maximum safety for your
critical system components
Engineered to meet maximum power
output at a server-grade 50C temperature rating.
Self-test switch to determine PSU
functionality even before installation.
High-quality capacitors provide
uncompromised performance and reliability
A seven year warranty and lifetime
access to Corsair's legendary technical support and customer service
Safety Approvals: cTUVus, CE, CB, FCC Class B, TV, CCC, C-tick
Corsair AX1200i PSU Specifications:
| | |
| --- | --- |
| Warranty | Seven years |
| Dimension | 150mm x 86mm x 200mm |
| Modular | Fully |
| Power | 1200 Watts |
| 80 Plus | Platinum |
| ATX Connector | 1 |
| EPS Connector | 2 |
| PCI-E Connector | 6 |
| 4 Pin Peripheral Connector | 12 |
| SATA Connector | 16 |
| Floppy Connector | 2 |
| MTBF | 2,000,000 hours |