Cooler Master TPC 812 CPU Cooler Review
By
Final Thoughts
The Cooler Master TPC 812 is a nice cooler. The looks are classy, not too flashy, it is built nice and will mount up to any of the current sockets from either Intel or AMD. Also it has an upgrade path with the ability to add a second fan if the end user feels it necessary.
The Cooler Master TPC 812 is a large cooler. The footprint isnt the biggest we have looked at; that honor goes to the Cooler Master V10. Its the TPC 812s overall height that is the issue. Its 163.1mm or 6.4 inches tall, thats 3mm or 1/8 inches taller than the Noctua NH-D14. So in your case selection you will want to make sure it has the room for it. For most full towers this is not an issue; it comes into play with midtowers with side panel fans.
Vapor Chambers are not a new idea, but slapping them on a tower CPU cooler is. There seems to be something to the idea of Vertical Vapor Chambers as the TPC 812 with a single fan performed close to coolers of the same size with pairs of fans.
The Cooler Master TPC 812 performed rather well for a single fan cooler. It was within 5 degrees of the twin fan NH-D14 in all the testing and was pretty much on par with the twin fan NXZT Havik 120. With the TPC 812 on low the cooler is quite quiet, and its performance at stock settings is nice coming in at 57*C.
Comparing the TPC 812 to the only other single fan air cooler on the chart, the Zalman CNPS11X Performa, the TPC 812 is slightly ahead of the CPNS11X Performa at stock settings by almost 2 degrees, and when overclocked the gap was just slightly over 2 degrees. I am not sure if that is good or bad seeing how the CNPS11X is half the size. On low and under full load the TPC 812 is quieter than the CNPS11X Performa.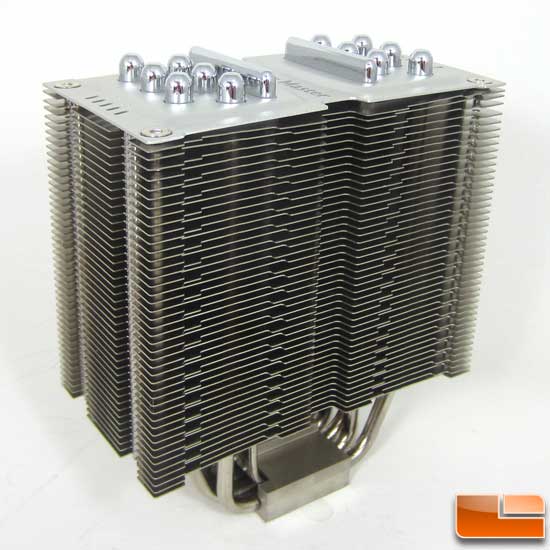 At the moment the Cooler Master TPC 812 is not available in stores; Frys has a preorder on their site for the TPC 812 for $69.99. That is $20 less expensive than the Noctua NH-D14 SE2011, and $15 more than the Zalman CPNS11X Performa.
Legit Bottom Line: The Cooler Master TPC 812 is a nice cooler at a reasonable price with a 2 year warranty. Im interested to see where Cooler Master takes the heatpipe and Vertical Vapor Chamber hybrids.