ASUS ROG STRIX Z270G Gaming mATX Motherboard Review
By
Value Added Software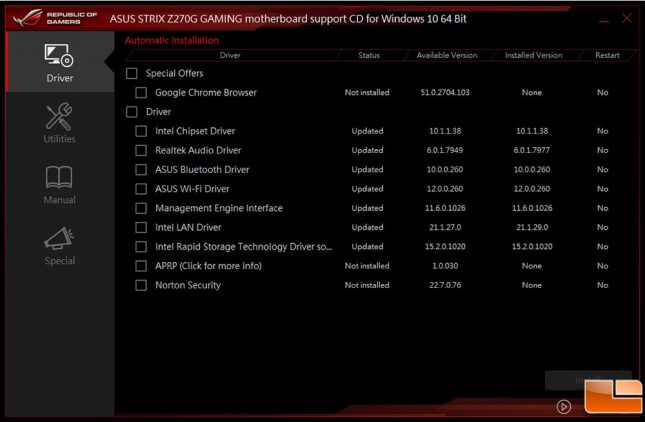 It's not unusual for a motherboard to include the necessary drivers to get the system up and running. Most modern installations include a list of the drivers that are available to be installed, as well as which versions might already be installed on the system. The included driver media is a good way to get your new system up and running as quickly as possible, however keep in mind that for the initial release, these become outdated rather quickly, and is always best to get the latest drivers and software from ASUS's support website.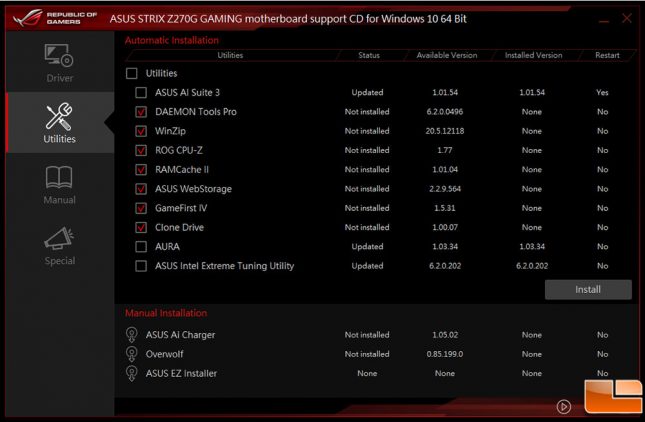 In addition to the drivers, ASUS includes a wide range of additional software to enhance the user experience with the new motherboard. For example, they include a copy of their AI Suite 3, DAEMON Tools Pro, WinZip, CPU-Z, GameFirst IV (network priority control), Clone Drive, OverWolf, and more. Also included on the disc are the user manual, Google Chrome and a limited use copy of Norton Security.
The ASUS Aura will default to whichever mode you are currently using, initially, it will be using the Color Cycle effect. There are a total of six different color modes you can select from, Static (single color), Breathing (single color fade in/out), Color Cycle, Strobing (sing color flashing on/off), Temperature and Music. These are pretty easy to configure for your specific needs, however there are some limitations which were obvious omissions and could be fixed with software updates. These omissions include speed and multiple color effects for the Breathing, Color Cycle and Strobing modes. When we originally installed the version that comes on the included CD, it showed these options but it wasn't functional. The updated version totally removes any reference to these options. If you have an LED strip installed, you can have different colors for the onboard Motherboard PCH LED and the LED strip; however you can not select different modes (ie PCH set to Temperature, while LED strip is set to Color Cycle).
One of the main tools included with the STRIX Z270G Gaming motherboard is the ASUS Dual Intelligent Processors 5 (aka DIP 5). This is one of their main tools that includes options to control nearly every aspect of the motherboard from adjusting fan speeds, power voltages, overclocking, and more. The main screen presents you with some single click options such as ASUS's 5-Way Optimization, which customizes your system settings for the specific mode you want. Below the 5-Way Optimization section, you get into a few sub tools to make sure your system is running as smoothly as possible, such as Fan Xpert 4, allows you to control the various fan headers, DIGI+ VRM allows digital control over the VRM. In addition to these features, there are many additional built-in apps within the DIP 5; PC Cleaner, EZ Update; USB BIOS Flashback and File Transfer utility. However, probably the biggest feature of the DIP 5 is it's overclocking feature within Windows. Here you can adjust the BCLK Frequency, Core Ratio and CPU Cache Ratio, either by each core individually, or all at once. Voltage regulation is an important part of overclocking, so ASUS has also built that into the DIP 5 Overclocking section.
All together ASUS has put together a great software pack that many users should find useful. The EZ Update feature will help keep your system drivers and ASUS software up to date.