ASUS Poseidon GTX 780 Video Card Review
By
ASUS Poseidon GTX 780 3GB GPU Overclocking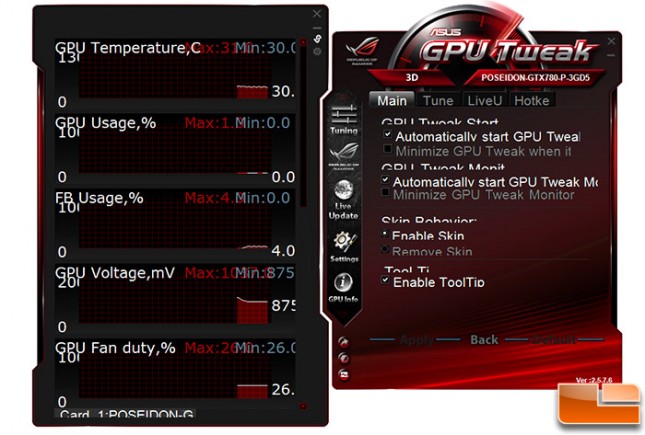 How well does the ASUS Poseidon GTX 780 graphics card overclock? We were wondering the same thing and fired up ASUS GPU Tweak v2.5.7.6 to find out. We quickly found that GPU Tweak was not enjoying our 4K monitor at all, so we opted not to use it due to the issues that we were experiencing. We let ASUS know about the issue and they are looking into duplicating it over in Taiwan in order to fix it.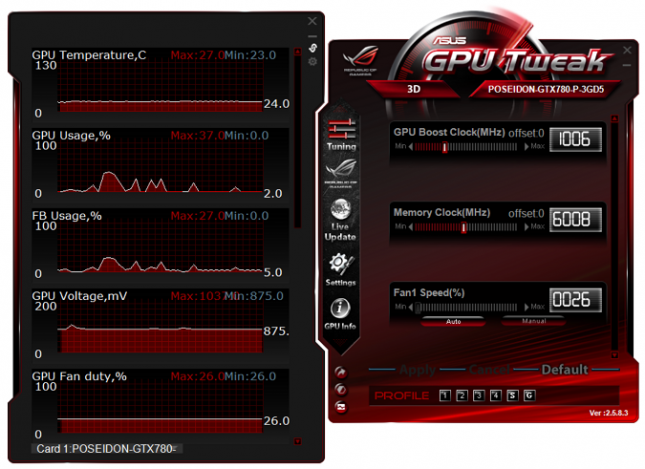 Update (3/25/14 8:30am): ASUS informed us that GPU Tweak version 2.5.8.3 was released this morning and fixed the native 4K resolution issue. We downloaded this build and confirmed that it works properly on our 4K display with a native 3840×2160 screen resolution.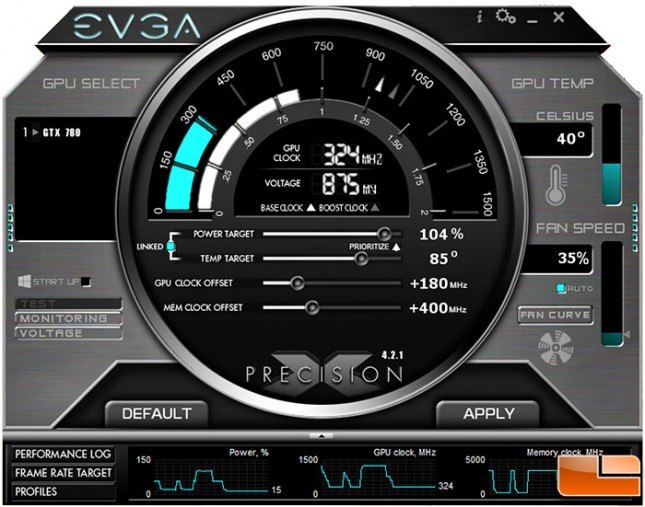 We switched over to EVGA Precision (sorry ASUS) and went about overclocking the card without any issues. We were able to bump up the power target to 104%, increase the GPU clock offset to +180MHz and the Mem Clock offset to +400MHz.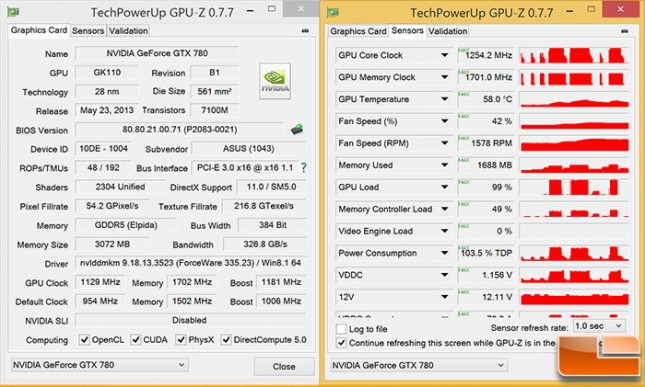 The ASUS Poseidon GTX 780 comes clocked at 954MHz on the core, 1006MHz Boost and 1502MHz on the Elpida GDDR5 memory ICs. Were able to get the ASUS Poseidon GTX 780 up to 1129MHz Core, 1181MHz boost and 1702MHz on the 3GB of GDDR5 memory. This is a 175MHz increase on the core and boost clocks and 200MHz (400MHz effective) on the memory (not exactly the +180 we set in EVGA precision, but we'll take it). When gaming we saw the NVIDIA GK110 GPU running at 1254.2MHz. Notice that this card also uses the newer B1 revision of the GK110 GPU.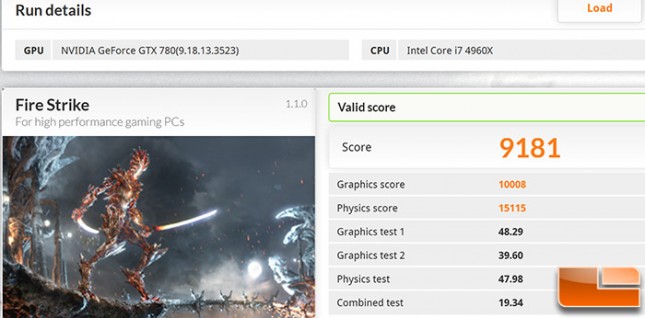 The ASUS Poseidon GTX 780 out of the box with the latest GeForce drives scored 9,181 points in 3DMark Fire Strike.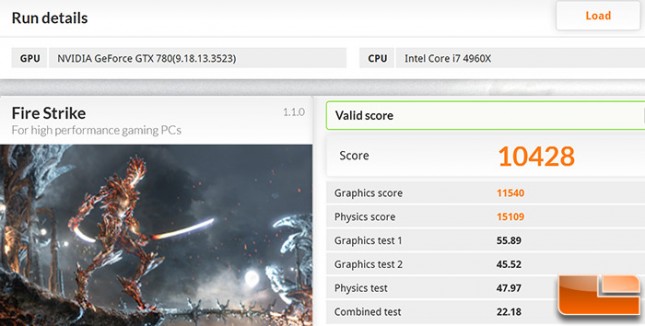 After our overclock we were able to get a score of 10,428 3DMarks. This is an improvement of 1247 points or 13.6% from the overclock that we were able to perform. Not bad and we are happy to see that there is still plenty of room left for overclocking with this card.