ASUS Poseidon GTX 780 Video Card Review
By
ASUS ROG Solves The GTX 780 Water or Air Cooled Question
The NVIDIA GeForce GTX 780 first came out in May 2013 and even though the card is no longer 'new' it is still a very powerful solution that is continuously being updated and improved upon. ASUS has been working on rather interesting variant of this graphics card called the Republic of Gamers (ROG) Poseidon Platinum GTX 780 3GB graphics card. This card is sold under part number POSEIDON-GTX780-3GD5 and has an MSRP of $599. What makes this card so special is that ASUS came up with a hybrid cooler that allows you to use just air to keep the Kepler GPU cool or you can add water for greatly improved thermal performance.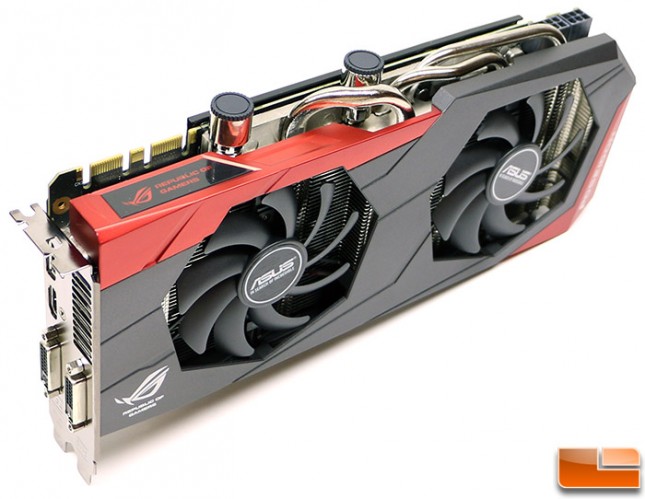 The ASUS Posideon GTX780 3GB is powered by a single 28nm GK110 GPU that has 2,304 stream processors, 64 ROPs and 3GB (2 x 2GB) of GDDR5 memory on a 384-bit memory bus. This card features NVIDIA GPU Boost 2.0 technology and has been factory overclocked with GPU base clock of 954MHz, a boost clock of 1006MHz and the memory is clocked at 1502MHz (6008MHz effective). Since this is an ROG series card, you can be assured that there is room left for overclocking with the optional ASUS GPU Tweak overclocking utility that can be downloaded and installed to push the card to the top edge of stability.

The key selling point to this card is having the ability to do both air and water cooling. ASUS says that the Poseidon GTX 780 runs 7C cooler than the NVIDIA GeForce GTX 780 reference card on air and 24C cooler when hooked up to a typical custom water cooling loop.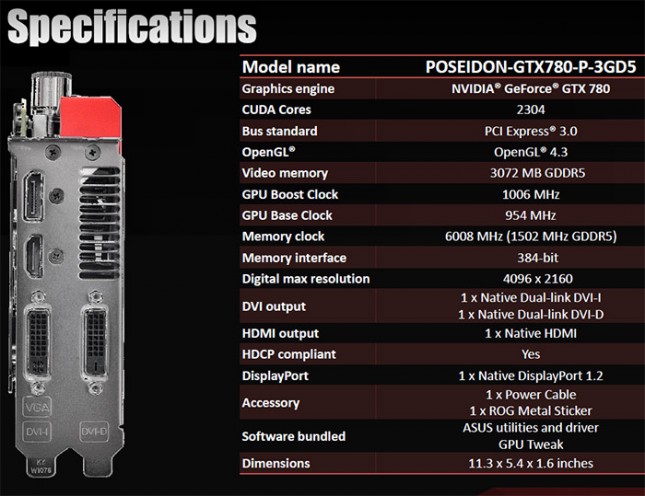 The slide above shows all of the detailed specifications of the ASUS Poseidon GTX 780.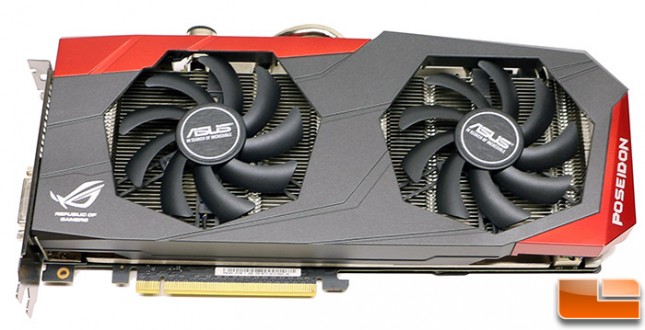 The ASUS Poseidon GTX 780 has a refined appearance as ASUS has moved away from solid black and gone over to more of a gun metal grey and red color scheme. We are big fans of the new look and like the look of the plastic fan shroud. Two large 9-blade cooling fans that have an actual fan blade measurement of 86.25mm help dissipate the heat from the large aluminum cooling fin array that they sit over. Under the fans you'll find a vapor chamber with a water cooling pipe in it and above that sits an aluminum cooling fin array that features three 6mm copper heatpipes to help disperse the heat.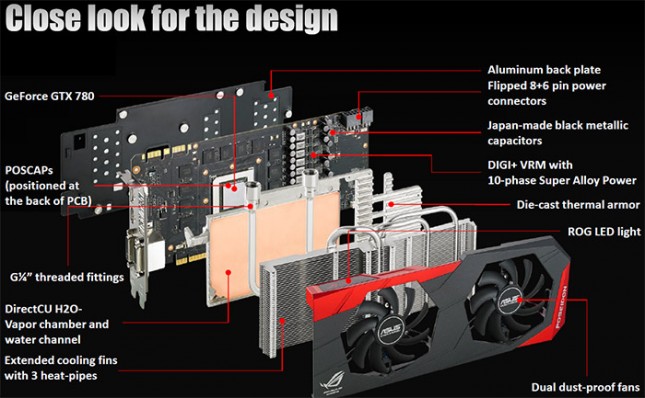 Here is an exploded diagram provided by ASUS that shows that shows you the fan shroud, heatsink, vapor chamber, PCB and the backplate.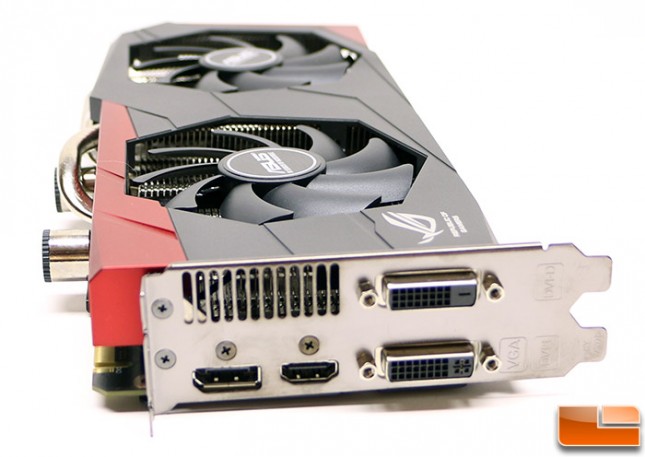 When it comes to video outputs you have a two DVI connectors (DVI-I and DVI-D) along with one DisplayPort and one HDMI connector. Having four connectors means you can run up to four panels. You can run three screens as an NVIDIA Surround gaming arrangement and then the fourth display can be an accessory display for web surfing, chat, e-mail and so on. This card supports up to a 240Hz max refresh rate, 20481536 resolutions on analog and 40962160 on digital.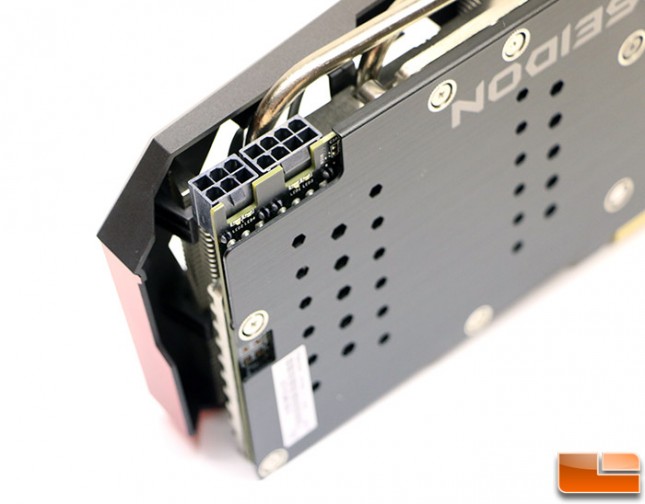 The ASUS Poseidon GTX 780 video card has one 8-pin PCIe and one 6-pin PCIe power connector located along the top edge of the card that are both needed for proper operation. ASUS flipped the power connectors 180 degrees to make installation easier and also placed on power status LED lights that let you quickly know if the power is properly connected. ASUS suggests using a 600W or greater power supply with at least 38 Amps on the +12V rails for proper single card operation.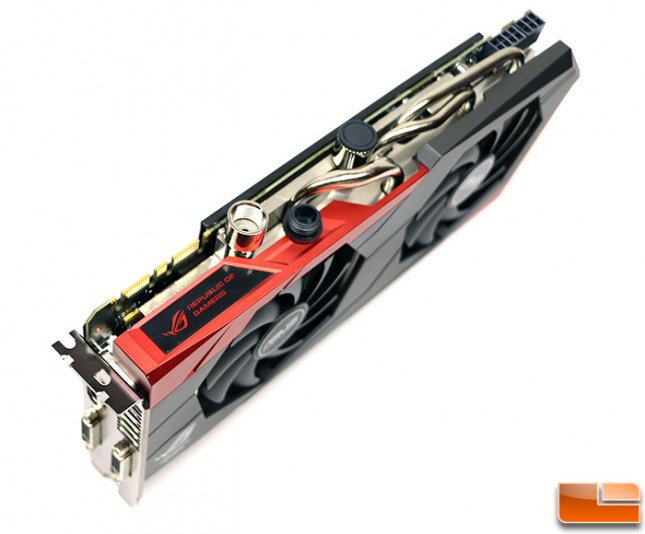 The ASUS Poseidon GTX 780 has a single pair of SLI bridge connectors, so you can run Quad-SLI with another card if you wanted to do so for an even more powerful graphics solution. It should be noted that the ROG logo on top of the card does have an LED light that pulsates in red when the card is active.

Looking down at the top of the card you you can see the water inlet and outlet that need to be hooked up to your water cooler should you want to go that route. ASUS does not supply any threaded G1/4-inch barbs, but you should be able to pick some up some 1/2″, 3/8″ or 1/4″ barbs online. It is very tough to find G1/4-inch fittings locally unless you happen to have a Frys or Micro Center in your area. The ASUS Poseidon GTX 780 measures in at 11.3-inches in length.
On the back of the Poseidon GTX 780 you'll find the backplate that looks great and helps protect the components on the back of the card. We were shocked to find an anti-tamper sticker on one of the backplate screws. If you break this sticker it means that you have voided your 3-year warranty. We won't go there due to that, but ASUS says that the Poseidon GTX 780 features a 10-phase Super Alloy Power along with DIGI+VRM. DIGI+ VRM is a digital voltage regulation that provides ample room for overclocking and performance tuning while reducing power noise by 30%. Along with Super Alloy Power specially formulated concreted chokes and harden MOSFETs to withstand greater stress and heat, Poseidon GTX 780 also uses Japanese-made black metallic solid-state capacitors (Nichicon GT-Series) for 20% better temperature endurance and 5 times longer lifespan.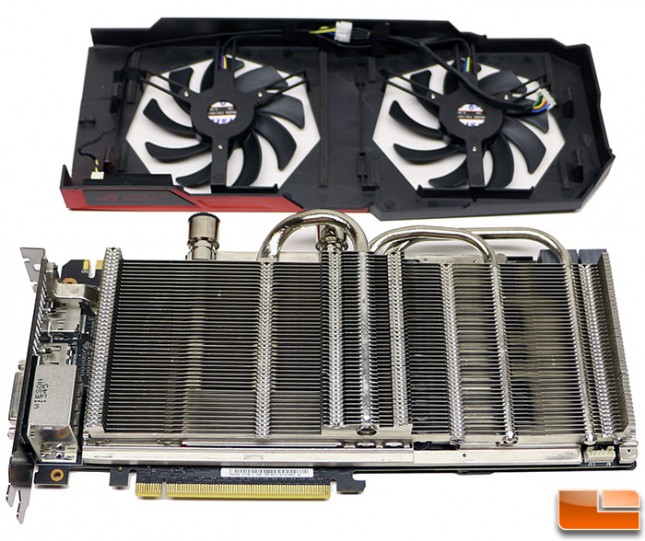 The one thing that we noticed the second that we picked up the card is that the plastic fan shroud moved. It turns out that the fan assembly is just clipped onto the two outer sides of the cooling fin array. This means that you can pop off the fans and have quick and easy access to the cooling fins. This should make cleaning out dust super easy in the years ahead.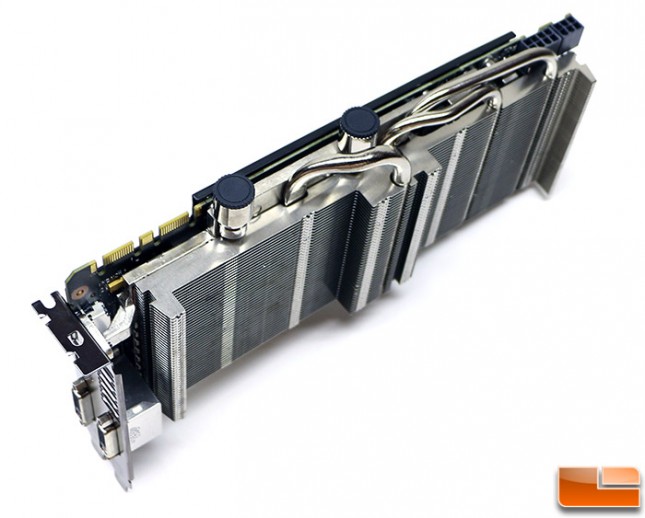 Here you can see that the two fans actually sit down inside the cooling fins and that ASUS really maximized all the space that they had to ensure they had good air cooling despite having the water pipe and vapor chamber on the card.
ASUS said it was okay to post the ASUS Poseidon GTX 780 reviewers guide, so we figured that we'd post it up as ASUS did put together a rather nice slide deck for this card that is certainly worth taking a look at.
Let's take a look at the retail box or accessory bundle before we move along to benchmarking!