ASUS MG279Q 27-inch IPS FreeSync Gaming Monitor Review
By
ASUS MG279 On Screen Display
ASUS-exclusive features like Ultra-Low Blue Light, Flicker-Free, GamePlus, and GameVisual technologies all must be access through the On Screen Display (OSD), so we'll take a look and how that all works.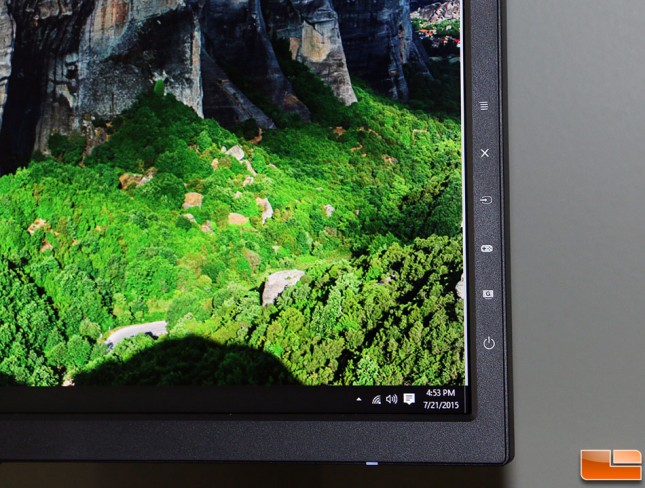 The image above shows off the bezel along with the On-Screen Display button descriptions and panels LED light. The bezel it half an inch think on the top and sides of the MG279Q and is 3/4″ thick on the bottom. The LED light on the monitor changes color depending on what you are doing with monitor.
No Light – Power Off
White – Power On
Amber – Standby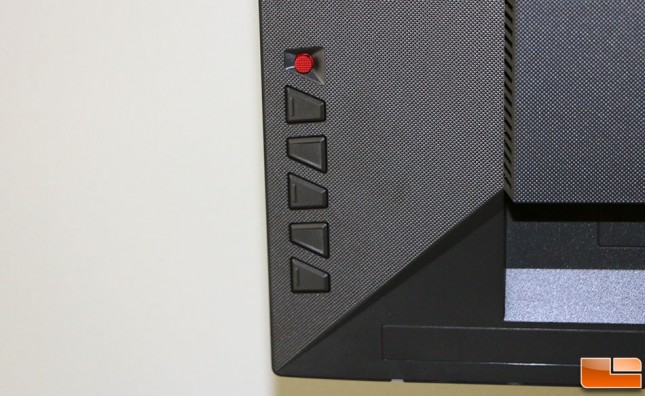 All of the controls on the ASUS MG279 display are located just behind lower right corner of the display. There are labels that show what each button does on the front of the display and there are just six buttons to use. One really isn't a button though as it is a small joystick that can move up, down, left, right for easy navigation and then then can be pressed or clicked to serve as the select or enter function.
The ASUS MG279 On-Screen Display (OSD) was extremely easy to navigate with this design. You can quickly adjust the brightness, contrast and color temperature from the color menu that first pops up when you open the OSD. This monitor will also allow you to adjust the BlueLight levels to help your eyes by reducing blue light. ASUS has a great webpage up on the benefits of the technology that you can read if you'd like to know more about ASUS Low Blue Light Technology. The ASUS MG279 is TV Rheinland certified and that means it meets their Low Blue Light standard and is able to prevent users suffering from eye strain and fatigue.
BlueLight Level 0 – Standard Mode
BlueLight Level 1 – 20% Blue light reduction for normal web browsing
BlueLight Level 2 – 30% Blue light reduction for viewing photos or videos
BlueLight Level 3 – 50% Blue light reduction for hours of reading or word processing
BlueLight Level 4 – 70% Blue light reduction for use in low light environments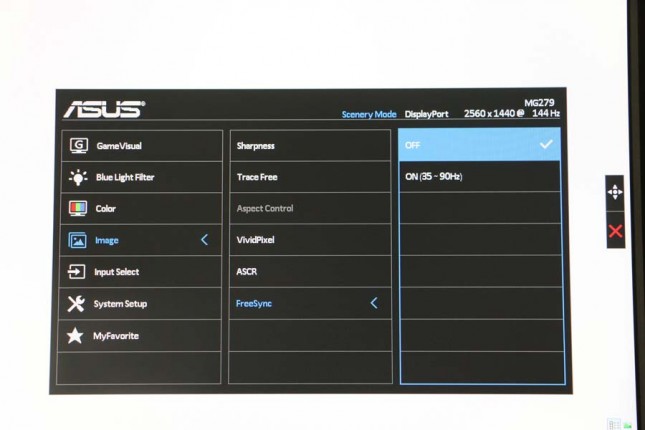 To enable AMD FreeSync you'll need to go into the OSD under the Image tab and then select FreeSync and enable it. Notice that 'on' has a dynamic refresh range of 35-90 Hz. This menu also contains the settings for Sharpness, Trace Free, ASCR (Asus Smart Contrast Ratio) Vivid Pixel and the all-important AMD FreeSync setting. The AMD FreeSync setting is disabled by default, so you'll have to manually enable it.
ASUS also included GamePlus on the MG279 display. With this feature, you can put an aiming point (crosshair) in the screen center or display a countdown timer for use in real-time strategy games. You cant have both at the same time, but that shouldnt be a big deal as one is aimed at first person shooter fans and the other for roll playing and strategy games. The timer can be placed on the top, middle, or bottom of the screens left side and can be set for 30, 40, 50, 60, or 90 minutes. There are two crosshairs styles available and you get to choose from red or green colors.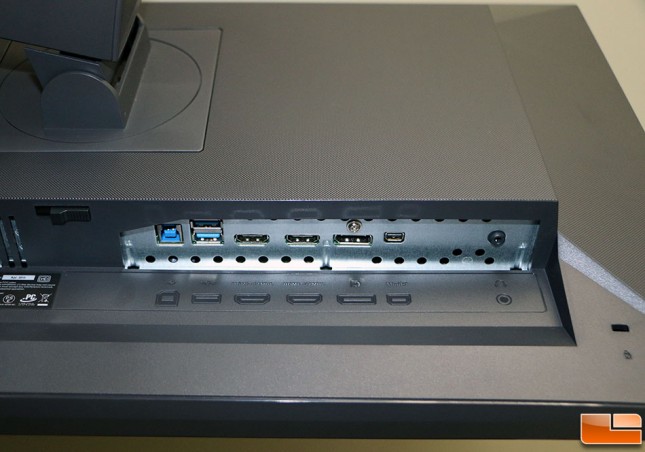 At the back of the ASUS MG279 you'll find that the connectors are downward facing. This monitor only supports standard and Mini DisplayPort 1.2 inputs as well of as a pair of HDMI/MHL inputs. You'll need to use one of the DisplayPort inputs with a DisplayPort 1.2 cable to get the 144Hz refresh rate and to use AMD FressSync. Other than the DisplayPort and HDMI inputs you'll find dual USB 3.0 Type-A downstream ports and a USB 3.0 Type-B upstream port. ASUS includes a USB 3.0 B-A cable that you can hook up to your gaming PC that then enables the two SuperSpeed USB 3.0 ports on the back of the display. Next to the USB 3.0 ports is a covered service port. To the right of the mini-DP port you'll see the single 3.5mm earphone jack and along the very edge of the picture in the plastic housing you'll see the Kensignton lock location. There is a service port cover that is visible on the far left side that covers a USB port that is needed when there are firmware updates made available. To date ASUS has not released any firmware updates for the MG279 FreeSync panel.