ASRock Z77E-ITX Mini ITX Motherboard Review
By
Final Thoughts and Conclusion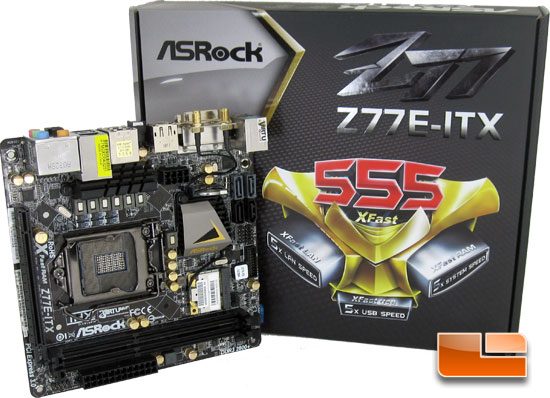 I can honestly say that I wasn't sure what to expect from a mini-ITX motherboard like the ASRock Z77E-ITX. I was afraid that it wouldn't be on par or as capable as a full ATX motherboard. Once all the benchmarking is said and done though, I have to say that I am really happy with the ASRock Z77E-ITX motherboard. Sure we are missing a couple of things that are typical to an ATX or Micro-ATX motherboard, but that is more due to available real estate on the PCB than anything else. The things that are lacking aren't a very big deal, especially since the intent of a mini-ITX motherboard is for a SFF (small form factor) PC.
Ultimately there are only a few real differences between the ASRock Z77E-ITX and a full ATX motherboard. The first is obviously the size. The ASRock Z77E-ITX motherboard measures in at only 6.7″ x 6.7″ while a full ATX motherboard measures 12″ x 9.6″. Due to this we are missing out on some of the expandability of the ATX motherboard. That leads us into the second difference, expansion slots. The ASRock Z77E-ITX only has room for one PCIe slot, thankfully ASRock equipped the Z77E-ITX motherboard with a PCIe x16 Gen 3 slot for graphics cards. We can run the latest single GPU or Dual GPU graphics card from NVIDIA or AMD depending on your case. We recently popped the ASRock Z77E-ITX into our BitFenix Prodigy mini-ITX case with a AMD Radeon HD 7950 with out an issue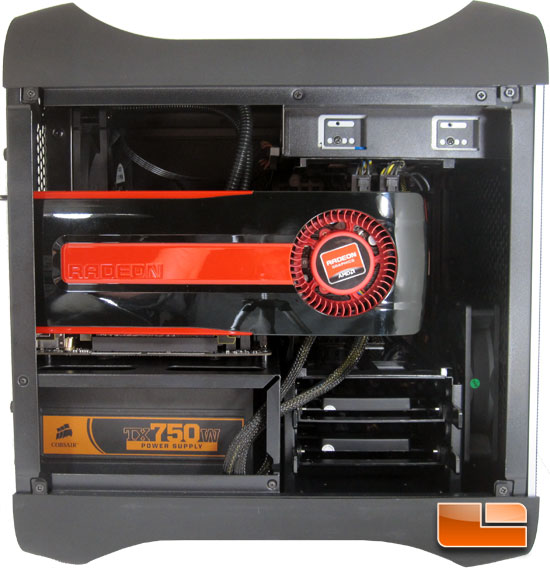 The next feature that I hesitate to call lacking was the DIMM slots, the ASRock Z77E-ITX only has two. Of course I would have liked to see the typical four DIMM slots, but it's easy enough to pick up a 16Gb (2x8Gb) kit of memory if you want or need that much memory. Despite only having two DIMM slots we can still run our memory in dual channel for the best performance. On the upside of only having two DIMM slots, we don't have to look at the motherboard manual to figure out which two DIMM slots to put our memory in.
Aside from what I mentioned above, the ASRock Z77E-ITX mini-ITX motherboard is quite full featured and a great performer. Throughout all of our tests today, the ASRock Z77E-ITX was right on par with what we expected and hoped to see. We were also quite impressed with the overclocking performance. Every time that we have used ambient temperature cooling on our Intel Core i7 3770k we have been limited to 4.7GHz so we know that is the limit of our processor. During our time with the ASRock Z77E-ITX mini-ITX motherboard we were able to hit that limit with ease!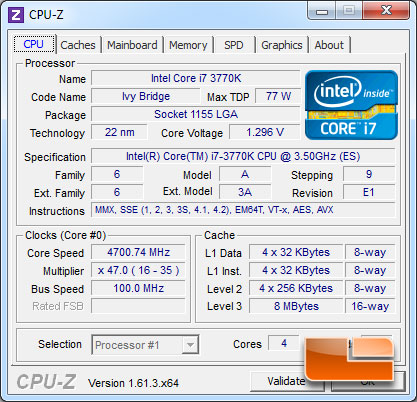 We also took a little time to play with that ASRock XFast technology, we don't often take the time to look at the board specific features like the XFast technology. We are going to start doing that more often though. We were able to create a virtual disk from our DRAM with the ASRock XFast RAM that was nearly 15 times faster than our Corsair Force GT 240GB SSD! While playing with the XFast USB technology we saw performance gains of over 60% in CrystalDiskMark! The ASRock XFast technology definitely makes a difference in the overall system performance.
The ASRock Z77E-ITX currently carries a street price of $149.99 + $7.56 shipping and is backed by a three year warranty in the event of a hardware failure.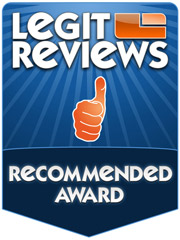 Legit Bottom Line: The ASRock Z77E-ITXwas able to hold it's own against our other Intel Z77 motherboards today. It may be small, but great things can come in small packages! If you're looking to build an Intel Z77 SFF PC, the ASRock Z77E-ITX is a great choice!