ASRock X79 Extreme9 Motherboard Review
By
ASRock X79 Extreme9 Intel X79 Motherboard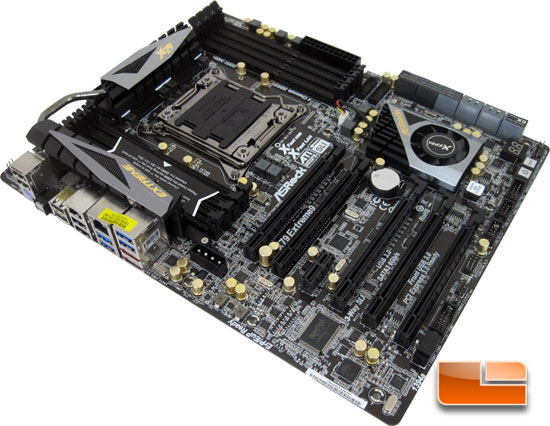 In the past we have had several ASRock motherboards come across the Legit Reviews test bench. Every time we have been pleased with the performance. Today we have the opportunity to look at the flagship motherboard from ASRock. The ASRock X79 Extreme9 is the top dog in the ASRock Intel X79 motherboard product stack. Currently, it is retailing for $344.99 plus shipping. It falls in to the middle of the pack of Intel X97 motherboards in terms of pricing. The highest priced Intel X79 motherboard is currently retailing for $449.99 plus shipping while the lowest cost LGA 2011 motherboard is retailing for $209.99 plus shipping. So what exactly will you get for your hard earned dollars with the ASRock X79 Extreme9? Let's take a look.
The ASRock X79 Extreme9 has many of the same features that we find on just about all of the Intel X79 motherboards that are out there today. Features like SuperSpeed USB 3.0, 3-way NVIDIA SLI, 3-Way AMD CrossFireX, SATA III 6Gbps, and Gigabit Ethernet have become a staple of the technology in motherboards of today. The ASRock X79 Extreme9 also features a number of technologies that are specific to their motherboards. ASRock has a couple of features that are part of the XFast family. Among them are XFast RAM, XFast LAN technology, and XFast USB technology.
The XFast RAM technology is included in the ASRock Extreme Tuning Utility. The ASRock XFast RAM technology will take a portion of your RAM and create a virtual disk. This will boost the performance of many of your applications because your RAM is much faster than hard drives or even SSDs are.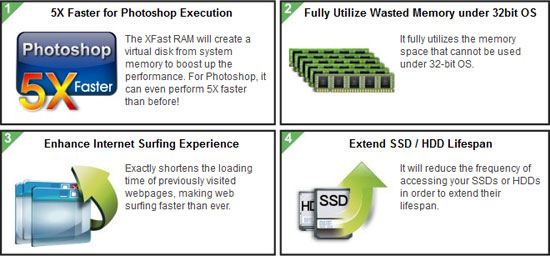 XFast LAN Technology will let you manage what your internet connection is doing. You can configure the priority of the applications that are utilizing the internet. Setting the priority of your online game higher in the XFast LAN utility will reduce the in-game latency. ASRock used World of Warcraft: Cataclysm as an example and achieved a latency that was five times lower than without the XFast LAN technology.
ASRock has also implemented their XFast USB technology on the ASRock X79 Extreme9 motherboard. ASRock claims that XFAST USB will speed up the performance of the SuperSpeed USB 3.0 up to 5x faster than a motherboard without the XFast USB.
Before we move on, let's take a look at the specifications and features of the ASRock X79 Extreme9 Intel X79 Motherboard.
ASRock X79 Extreme9 Motherboard Specifications
CPU
– Supports Intel Core i7 processor family for the LGA 2011 Socket
– Digi Power Design
– Advanced 16 + 2 Power Phase Design
– Supports Intel Turbo Boost 2.0 Technology
– Supports Hyper-Threading Technology
– Supports Untied Overclocking Technology
Chipset
– Intel X79
Memory
– Quad Channel DDR3 memory technology
– 8 x DDR3 DIMM slots
– Supports DDR3 2400+(OC)/2133(OC)/1866(OC)/1600/1333/1066
non-ECC, un-buffered memory
– Supports DDR3 ECC, un-buffered memory with Intel Workstation
1S Xeon processors E5 16xx/26xx/46xx series in socket LGA 2011
– Max. capacity of system memory: 64GB
– Supports Intel Extreme Memory Profile (XMP) 1.3 / 1.2
BIOS
– 64Mb AMI UEFI Legal BIOS with GUI support
– Supports "Plug and Play"
– ACPI 1.1 Compliance Wake Up Events
– Supports jumperfree
– SMBIOS 2.3.1 Support
– CPU, VCCSA, DRAM, VTT, CPU PLL, PCH1.1V, PCH1.5V Voltage Multi-adjustment
Audio
– Supported by the bundled ASRock Game Blaster
– 7.1 CH HD Audio
– Creative Sound Core3D quad-core sound and voice processor
– Supports THX TruStudio PRO
– Supports CrystalVoice
– Supports EAX1.0 to EAX5.0
LAN
– PCIE x1 Gigabit LAN 10/100/1000 Mb/s
– Broadcom BCM57781
– Supports Wake-On-LAN
– Supports Energy Efficient Ethernet 802.3az
– Supports Dual LAN with Teaming function with the bundled ASRock Game Blaster
– Supports PXE
Expansion Slots
– 5 x PCI Express 3.0 x16 slots
– (PCIE1/PCIE2/PCIE4/PCIE5: x8/8/8/8 mode or x16/0/16/0 mode; PCIE6: x8 mode)
– 1 x PCI Express 2.0 x1 slot
– Supports AMD Quad CrossFireX, 3-Way CrossFireX and CrossFireX
– Supports NVIDIA Quad SLI, 3-Way SLI and SLI
SATA3
– 2 x SATA3 6.0 Gb/s connectors by Intel X79
– 2 x SATA3 6.0 Gb/s connectors by Marvell SE9220
– 4 x SATA3 6.0 Gb/s connectors by Marvell SE9172
USB 3.0
– 4 x Rear USB 3.0 ports by TI, support USB 1.0/2.0/3.0 up to 5Gb/s
– 2 x Front USB 3.0 headers by TI, support USB 1.0/2.0/3.0 up to 5Gb/s
Internal Connectors
– 4 x SATA2 3.0 Gb/s connectors
– 8 x SATA3 6.0 Gb/s connectors
– 1 x IR header
– 1 x CIR header
– 1 x COM port header
– 1 x IEEE 1394 header
– 1 x Power LED header
– CPU/Chassis/Power/SB FAN connector
– 24 pin ATX power connector
– 2 x 8 pin 12V power connectors
– SLI/XFire power connector
– 3 x USB 2.0 headers (support 6 USB 2.0 ports)
– 2 x USB 3.0 headers (support 4 USB 3.0 ports)
– 1 x Dr. Debug with LED
Rear Panel I/O
I/O Panel
– 1 x PS/2 Keyboard Port
– 6 x Ready-to-Use USB 2.0 Ports
– 2 x eSATA3 Connectors
– 4 x Ready-to-Use USB 3.0 Ports
– 1 x RJ-45 LAN Port with LED (ACT/LINK LED and SPEED LED)
– 1 x IEEE 1394 Port
– 1 x Clear CMOS Switch with LED
Unique Features
– ASRock Extreme Tuning Utility (AXTU)
– ASRock Instant Boot
– ASRock Instant Flash
– ASRock APP Charger
– ASRock SmartView
– ASRock XFast USB
– ASRock XFast LAN
– ASRock XFast Charger
– ASRock XFast RAM
– ASRock X-FAN
– ASRock Crashless BIOS
– Hybrid Booster:
– CPU Frequency Stepless Control
– ASRock U-COP
– Boot Failure Guard (B.F.G.)
– Good Night LED
Smart Switch
– 1 x Power Switch with LED
– 1 x Reset Switch with LED
– 1 x Clear CMOS Switch with LED
Support CD
– Drivers, Utilities, AntiVirus Software (Trial Version),
CyberLink MediaEspresso 6.5 Trial, ASRock Software Suite (ASRock MAGIX Multimedia Suite – OEM)
Accessories
– 1 x ASRock SLI_Bridge_2S Card
– 1 x ASRock 3-Way SLI-2S1S Bridge Card
– 1 x ASRock Game Blaster
– Quick Installation Guide, Support CD, I/O Shield
– 6 x SATA Data Cables (optional)
– 2 x SATA 1 to 1 Power Cables (optional)
– 1 x Front USB 3.0 Panel
– 4 x HDD Screws
– 6 x Chassis Screws
– 1 x Rear USB 3.0 Bracket
Hardware Monitor
– CPU Temperature Sensing
– Chassis Temperature Sensing
– CPU/Chassis/Power/SB Fan Tachometer
– CPU/Chassis Quiet Fan (Allow Chassis Fan Speed Auto-Adjust by CPU Temperature)
– CPU/Chassis/SB Fan Multi-Speed Control
– Voltage Monitoring: +12V, +5V, +3.3V, CPU Vcore
Form Factor
– ATX Form Factor: 12.0-in x 9.6-in, 30.5 cm x 24.4 cm
– Premium Gold Capacitor design (100% Japan-made high-quality Conductive Polymer Capacitors)
OS
– Microsoft Windows 7 32-bit/ 7 64-bit/ Vista/ Vista 64-bit/ XP/ XP 64-bit compliant
Certifications
– FCC, CE, WHQL
– ErP/EuP Ready (ErP/EuP ready power supply is required)