Aqua Computer Aquaero 5 XT USB Fan Controller Review
By
Aquaero 5 XT Test System
The pro and con of a device like the Aqua Computer Aquaero 5 XT is the extreme amount of options and configurations available. This translates to a more involved set up to extract all the power that is available but like most things you get out what you put in.
The fist part of setting up the Aquaero 5 XT is to make sure you have installed any optional components you want to use such as the in-line water temperature sensors, flow meter(s), or Multiswitch units. Then you simply connect a molex power to the back of the PCB and attach your fans and you can start using the Aquaero. However, this requires using the front buttons and while the menus are robust the level of detail is overwhelming trying to do it from the front screen. Luckly we will show you the free Aquasuite software that you can use to configure the Aquaero 5 XT on the next page.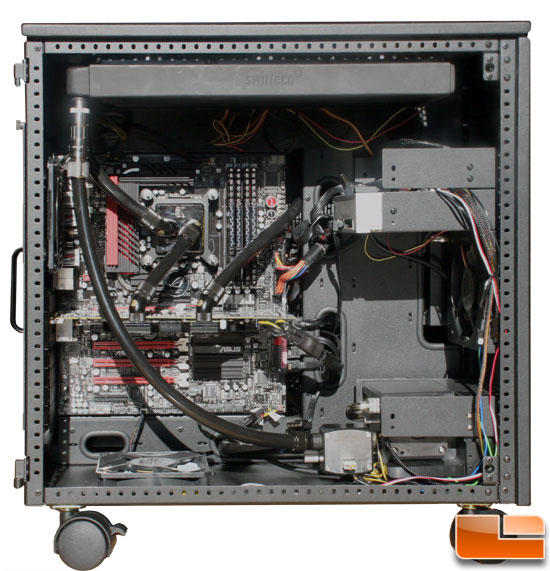 This test system contains the follow components.
Core gear:
Intel i7 2600k CPU – Overclocked to 5.0 GHz
EVGA Classified GTX 570 Overclocked to 982 MHz Core 1964 MHz Shader
ASUS Maximus IV Extreme-z motherboard
16GB Corsair Vengeance DRAM – Overclocked to 2000 MHz 9-10-9-27 2T
240GB Corsair GT Force 3 SSD
256GB PQI SSD
120GB Patriot Pyro SSD
2TB Western Digital Black HDD
Corsair HX850 PSU
Case Labs M8 Aluminum Case
Cooling:
Swiftech MCR-360 radiator
XSPC RX360 radiator
EK Supreme HF full nickel CPU block
Koolance VID-NX580 GPU block
Dual MCP-35x PWM pumps in series
Koolance RP-402X2 reservoir
Koolance VLN3 quick disconnects
Aqua Computer Hi-Flow flow meter
Aqua Computer dual in-line temperature sensors
10x Scythe Gentle Typhoon AP-15 1850 RPM fans
Ambient temperature probe
Aquasuite 2012 software setup:
The Aqua Computer Aquaero 5 XT has seven capacitive buttons that allow you to configure all the features and displays it is not nearly as easy as using the software. Aqua Computer released the Aquaero 5 family before the software was fully baked so it is still in beta, but do not let that scare you. The only thing wrong with the software is that it doesn't support every feature that the Aquaero 5 XT has but we have run it for several weeks with no issues. The latest version that you can download
here
actually has just about every control in the software so we suspect it to be out of beta very soon.
In order to use the software you have to have the included USB cable connected to the Aquaero (note the red dot means the red wire on that side of the plug) and to your motherboard. This is just a 5 pin or half of what most motherboard USB 2.0 headers have so make sure you know which side is the +5v.
The next step is installing Microsoft .NET 4 framework which you can get
here
. Then you install the Aquasuite 2012 software in either 32 or 64 bit versions.