Aqua Computer Aquaero 5 XT USB Fan Controller Review
By
Closer look at the Aquaero 5 XT
We have seen how it was packaged and all the goodies but lets take a closer look at one of the most sophisticated controllers on the market today.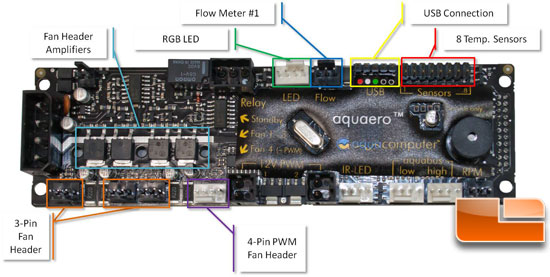 The PCB on the back of the unit has a nice sticker with arrows to point out all the connections but we highlighted some of the major ones. All three versions of the Aqua Computer Aquaero 5 start with this same PCB but the Pro and XT versions come with an aluminum heat sink on the fan amplifiers but it is optional on the LT.
Aquaero 5 XT Fan load:
Each of the four fan headers dynamically support different power levels based on the temperature of the fan amplifiers with a maximum of 1.65 amps / channel (20 watts) or 5 amps total temperature limited which is why the choice of heat sink is a big deal. If you hit 90C the unit will throttle down the voltage until it reaches a safe temperature before resuming your settings.
While your mileage may vary, 1.65amps is enough to run as many as 20x Scythe Gentle Typhoon 15's at 100%. However, the load and heat increase as you dial down the RPM's so the real limit is probably closer to 12 – 15 fans if you use low draw GT-15's and fewer if you use higher amperage units. Still this is an amazing amount of fans to control off a single channel and enough juice to run a water pump such as the MCP-655.
The fourth fan header is actually a 4-pin PWM unit that allows you to control and power a ton of fans or you can simply use the control and RPM lines to run as many devices as your PSU will allow.
Aquaero 5 XT Connections:
The Aquaero 5 provides so many connections on the back PCB it is easy to get a bit intimidated. Outside of the 3x 3-pin and 1x 4-pin fan headers there is the connector for the RGB LED, a 5-pin USB header for internal connections, 8x 2-pin temperature sensors, Flow meter input, external IR LED connector, low and high speed Aquabus connectors, and a RPM output connector.
If you do not use the 24-pin ATX splicer, you can use the RPM output connector to link to one of your motherboard fan headers. Then you can have the Aquaero 5 send a signal to the board with a fake RPM and then stop it on alarm to make your motherboard shut down if you have configured your BIOS correctly.
While there is a dedicated flow meter input to connect to your optional hi-flow meter, you can configure the fan header #1 to be a secondary flow meter input if you have dual loops or want to check the flow in a second place.
Aquaero 5 XT and Pumps:
If you happen to be using pumps controlled by PWM such as the Swiftech MCP-35x series, you can control a whole bank of them since there is no actual power draw from the controller. However, if you happen to be running more common pumps such as the MCP-655 or MCP-355 it is possible to run them off one of the fan channels but it would be better to use the add on Poweradjust 2 due to the high start up power draw of these pumps. Make sure you closely monitor your amp temperatures if you dial down the speed because the higher the resistance the more heat is generated. If you want to do a lot of power based throttling, go with the Poweradjust 2 and be safe.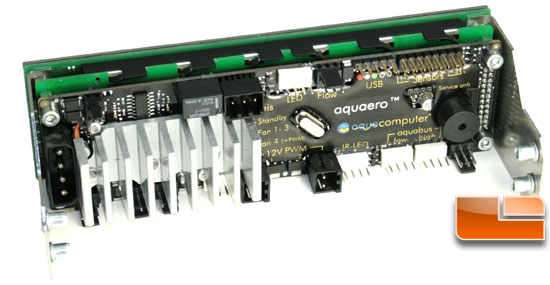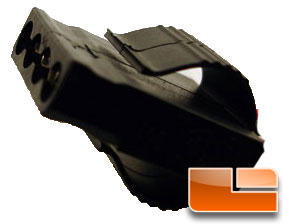 One thing to point out is the 4-pin Molex header is right up against the bay mounting hardware and the heat sink. Our Corsair HX850 uses easy grip 4-pin Molex plugs and they won't fit in this tight space. Just be aware you might have to come up with an alternate solution here.