Aqua Computer Aquaero 5 XT USB Fan Controller Review
By
Aquaero 5 XT – not just a fan controller

Anyone that has been at their computer while listening to some mellow tunes while searching the web has probably at one time or another notice the whine of their system fans. While this is probably just a minor annoyance to most for anyone that builds an enthusiast class system with more than just one or two fans this can be obnoxious. While the fan on your CPU cooler uses PWM to variably change the fan speed (and noise) the rest of the case fans tend to run flat out. In order to bring some control to this world most enthusiasts employ a fan controller that gives them many extra fan headers and the ability to manual adjust the speed of those fans as the situation changes. Turn them up during gaming and down during surfing.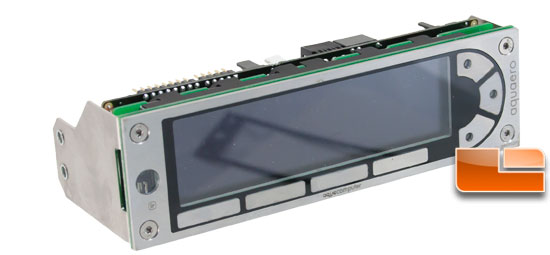 Manual fan control is fine but what if you are a real enthusiast and want more from your system? Meet the Aqua Computers Aquero 5 XT, arguably the most advanced system controller on the market today. Notice we said "system" and not "fan" because what you can do with this product is well beyond simple fan control.
The
Aquaero 5
XT is manufactured in Germany from Aqua Computers who are well known for their water cooling focused products. The Aquero 5 series is the evolution from the Aquero 4 product that was sold for several years and was fairly popular among those that wanted extreme system control. The primary difference is the ability to control just about anything by anything in your system.
The Aqua Computer Aquaero 5 comes in three flavors:
The differences between these three offerings is fairly simple. Starting with the LT, this is just the brains of the Aquaero 5 without a screen, heat sink, or any input buttons. Perfect if you only want software control and no front panel display. The Aquaero 5 Pro adds a graphic LCD and three input buttons, IR receiver, plus a heat sink. The Aquaero 5 XT has everything from the Pro but instead uses 4 programmable touch soft keys, three LED soft touch navigation buttons, and includes the remote control. Aqua Computers offers a 1 Year Warranty on all three models.
Key Features of the Aquaero 5:
Programmable four channel fan controller
Graphic LC display with backlight (except LT)
USB 2.0 and aquabus interface
Four fan outputs with current measurement
Versatile control options
Eight temperature sensor inputs
Flow sensor input
Universal IR receiver (except LT)
Output for IR transmitter
Three LED outputs
Potential-free switch
Two additional power outputs
Extensive alarm options
Acoustical alarm
Speed signal output for status evaluation
Expandable to a maximum of 10 fan channels
Maximum configuration, the following devices can be connected to an aquaero 5 simultaneously:
Two aquastream XT pumps
Six poweradjust 2 controllers
One tubemeter
Two multiswitches
Specifications of the Aquaero 5 XT:
Display:Graphic256x64blackandwhite
Units:metric&imp.
Controls:3+4capacitivesoftkeys
KeyLED:adjustable, red
IRRemote:HTPCkeyboard
Fanchannels:4internal
Maximumcurrent:1,65A
Maximumpowercosumption:dynamic
OutputforPWM-fan:channel4
RPMmeasurement:yes
Resolution:0.01%(16-Bit)
Heatsink:Aluminum(wateropt.)
Expansion:6external
Currentmeasurement:yes
Shortagedetection:yes
Programmable fuse:100mAsteps
Temperaturecontrol:yes
PWMChannels:2x16kHzPWM
Maximumcurrent:1A
Resolution:0,01%
Relayoutput:changer
Maximumcurrent:1A
aquabus:LS+HighSpeed
Temperaturesensors:8
Externalanalog sensors:>20
Externaldigitalsensors:temp/humidity
Temperaturerangeanalog:-40/120C
Displayaccuracyanalog:0.05K
Virtualtemperature sensors:4duesoftware
LEDOutput:RGB
Timer:32
Eventlog:2000 events
Profilestorageindevice:4
Languagestorageindevice:2