Antec TX640B ATX Mini-Tower Case Review
By
The Power Supply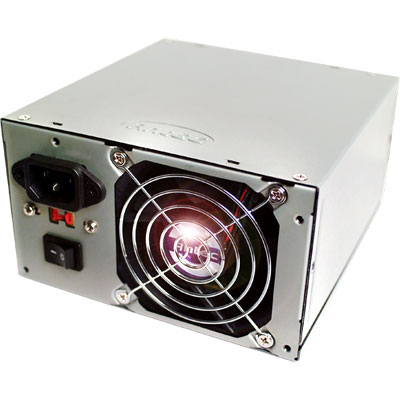 As usual, Antec packages one of their high quality power supplies with their cases. In the case of the TX640B, Antec uses their SmartPower 2.0 SP400, a 400W power supply that adheres to the ATX 2.0 standards. I've already touched on this, but with such a limited internal space, I would have rather seen a modular PSU used, but the 400W SP400 is a good PSU none the less.
"The NEW SmartPower 2.0 is ATX12V v2.0 compliant, with dual+12V rails, 4 serial ATA connectors, and Antec's Unique Dual Fans Design for virtually silent operation. All SmartPower 2.0 power supplies carry UL, CUL, TV, CB, FCC Class B, CE and CCC certified safety approvals."- Antec's website.
I'm not going to go too far in depth into the PSU, as I don't have the means to really test it extensively, but let me say I have never had a problem with an Antec power supply and have no problem recommending them to anyone.
Lets look at some of the features of the SP400:
Dual 12V output circuitry provides added system stability and meets 240VA UL requirements and safety purpose: 12V1 for Motherboard and peripherals; 12V2 for processor.
ATX12V v2.0 compliance allows SmartPower 2.0 to consume up to 25% less power than standard power supplies, saving you money on your electric bill. 24-pin power connector with detachable 4-pin section for backwards compatibility with ATX 20-pin motherboards.
4 SATA Connectors support Serial ATA optical drives, one PCI-E graphics connector.
Flow-through dual 80mm fans (one intake and one exhaust)
Unique Dual Fans Technology: exhaust fan starts to spin when the power supply reaches certain temperatures to ensure proper airflow, the second fan spins on power up
Industrial grade protection prevents damage resulting from short circuits, power overloads, excessive current, low voltages and excessive voltages
Increased 12V output capability for system components that consume more power from 12V rail
Checking out the specs here you can see the SP400 is a decent offering that should have no problem powering a moderate system. While my preference would have been for a modular PSU like the NEOPower 480 or the Smartpower 2.0, a decent 400W PSU included in the package is nothing to complain about as I have never come across an Antec PSU I was unhappy with..