Antec TX640B ATX Mini-Tower Case Review
By
Introduction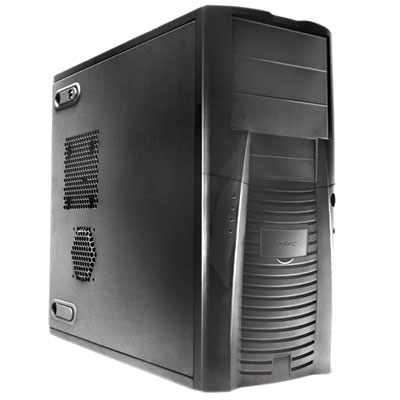 Over the last month we have looked at some very nice cases from Antec's 2005 line. The TX1050B and Titan 550 both showed to be some great products in their respective fields featuring good looks and incredible durability.
Today we'll look at the next enclosure in Antec's 2005 line, the TX640B, a mini ATX case that simply looks like a shrunk down TX1050B. Those of you working with limited space or wanting a small enclosure will want to check out this article.
"When Antec's original Performance Series was launched in 1998 it started the do-it-yourself high performance computing revolution. Now we proudly introduce the third generation, Performance TX, redesigned and updated for the latest technologies. All models are designed to meet Intel's Thermally Advanced Chassis (TAC) design guide and come with ATX12V v2.0 power supplies."- Antec's website.
Let's take a look at some specs before we move on to a more in-depth look into Antec's TX640B.
Case Type

Mini Tower

Case Dimensions

17.25″ (H) x 8.1″ (W) x 18.6″ (D) 440 x 206 x 472 mm

Drive Bays
– Front Accessible
– Internal

8
3 x 5.25″, 2 x 3.5″
3 x 3.5″

Expansion Slots

7

Cooling System
– Rear
– Front

Up to 4

1x 120mm TriCool

1 x 80mm (Optional)

1 x 92mm (Optional) CPU duct

1 x 80mm (Optional) VGA

Power Supply

400W
SmartPower 2.0
ATX12V V2.0
SP-400

Material

1.0mm SECC

Net Weight
Gross Weight

25 lbs.
27 lbs.

Motherboards

Fits micro ATX and standard ATX
Up to 12″ (W) x 9.6″ (L)/305 (W) x 300 (L) mm

Special Features

Fits micro ATX and standard ATX
Up to 12″ (W) x 9.6″ (L)/305 (W) x 300 (L) mm

2 Front USB port, 1 Front IEEE 1394 (Firewire) port,
audio in/out

Swing-out side panel with handle

Washable air filter

Quick-release drive bays with release lever

Snap-in fan mounts

Large front panel vent

Package Includes

1 400 Watt Smart Power 2.0 SP400 installed
1 Power cord
1 case fan
1 set of screws and motherboard standoffs
1 completeset of drive rails ( 6 rails )
1 Installation manual