AMD Ryzen 7 2700X Processor Review – 2nd Gen Ryzen
By
Far Cry 5 At 1080P, 1440P and 4K
Far Cry 5 is an action-adventure first-person shooter video game developed by Ubisoft Montreal and Ubisoft Toronto and published by parent company Ubisoft for Microsoft Windows, PlayStation 4 and Xbox One. It is the eleventh installment and the fifth main title in the Far Cry series. It was released on March 27, 2018.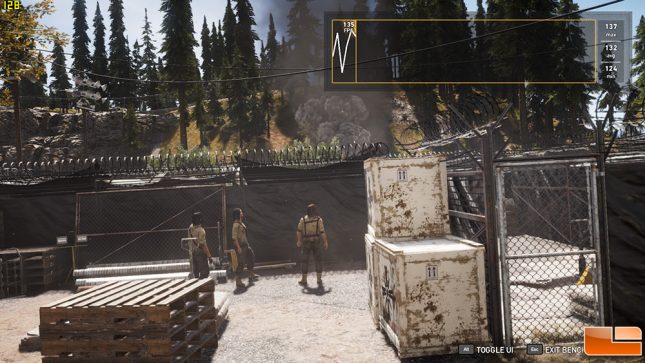 We will be using the built-in benchmark of Far Cry 5 v1.4.0 to test performance on these two desktop platforms to see which one games better.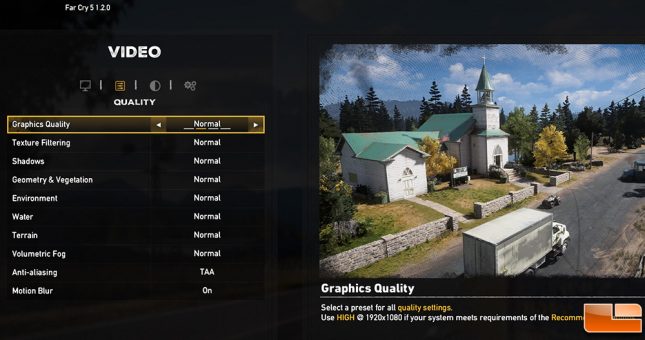 We tested with the 'Normal' graphics quality preset with V-Sync disabled on both platforms.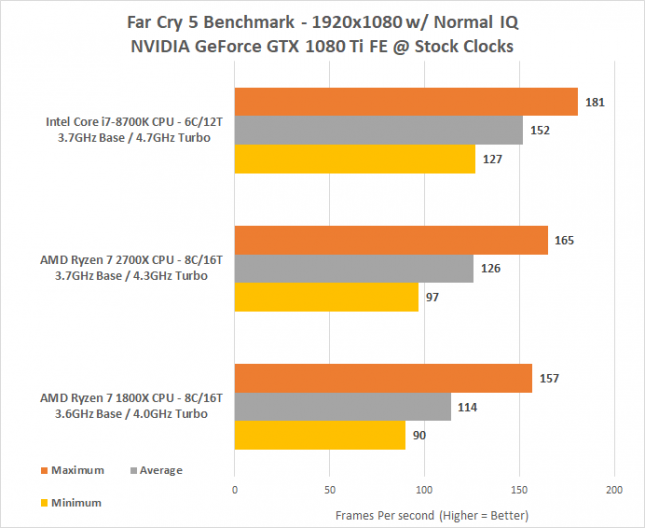 Benchmark Results: Far Cry 5 just came out last month and is a popular game title right now. With the same NVIDIA GeForce GTX 1080 Ti FE video card installed on each system running GeForce 391.35 WHQL drivers we saw massive performance differences. The Intel Z370 platform with the Intel Core i7-8700K processor came in with an average of 152 FPS and that was 33% faster than the Ryzen 7 1800X CPU and 21% faster than the AMD Ryzen 7 2700X processor that were both run on the AMD X470 platform. Both systems used the same DDR4 memory kit at 3200MHz with CL16 timings. We should point out that AMD's Ryzen 7 2700X does perform about 10.5% faster than last years Ryzen 7 1800X processor on this game title with these settings, so 1080P gaming has significantly improved for AMD. It still isn't enough for AMD to catch up to Intel though and one should keep in mind that Ubisoft's Far Cry 5 is an AMD game title, so one would think that it has been somewhat optimized for Ryzen. Seeing the minimum frame rate for the Intel Core i7-8700K being higher than the average frame rate for the AMD Ryzen 7 2700X shows that AMD needs to focus on improving gaming performance for Zen 2.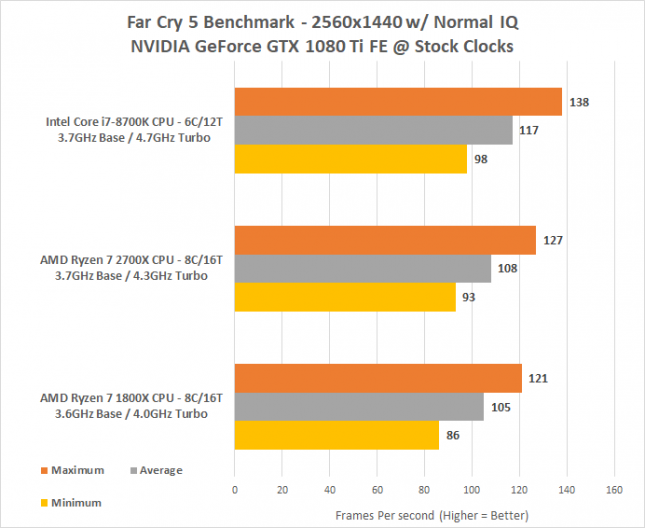 Benchmark Results: Running Far Cry 5 at 2560×1440 increased the GPU load and that helped close the performance gap between the Intel Core i7-8700K and the AMD Ryzen 7 2700X to just 8% in Intel's favor.
Benchmark Results: At 3840×2160 (4K UHD) all three processors were basically on the same performance level as we are mostly GPU bound, but Intel still led the Ryzen 7 2700X by a couple FPS. We were shocked to see the AMD Ryzen 7 1800X having a higher average than the Ryzen 7 2700X, but no one can tell the difference between a system running 58 FPS versus 59 FPS with the minimums being identical.