AMD Radeon RX 5700 XT and 5700 Video Card Review
By
Radeon RX 5700 XT Aims To Destroy The RTX SUPER
The all new Radeon RX 5700 Series graphics cards based on AMD's 7nm Navi GPUs are finally here to do battle against NVIDIA's SUPER lineup of Turing RTX graphics cards. The AMD Radeon RX 5700 Series is comprised of the RX 5700 ($349), RX 5700 XT ($399), RX 5700 XT 50th Anniversary Edition ($449). These cards are targeted to 1440P gamers and are AMDs first truly new video cards from an architecture standpoint in a number of years.
AMD claims their new RDNA architecture was designed from the ground up for better performance and power efficiency using the 7nm manufacturing process. The move from 14nm to 7nm with Navi is such a big deal for AMD that they even insisted the the cards launch on July 7th!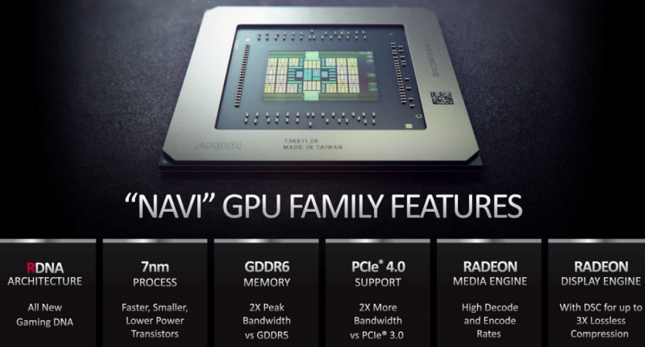 The RDNA architecture powering AMDs 7nm gaming GPUs has a redesigned SIMD and Compute Unit that when combined with new compiler techniques delivers a 1.25X performance per clock improvement compared to previous 14nm processors. All of the cards in the Radeon RX 5700 series come with 8GB of GDDR6 memory as well as support for the latest PCIe Gen 4.0 interface. The Radeon RX 5700 series also introduces new features like Radeon Image Sharpening that brings crispness and clarity to in-game visuals; FidelityFX, an open-source toolkit with high-quality post-process effects; and Radeon Anti-Lag that reduces input-to-display response times to give eSports gamers a competitive edge.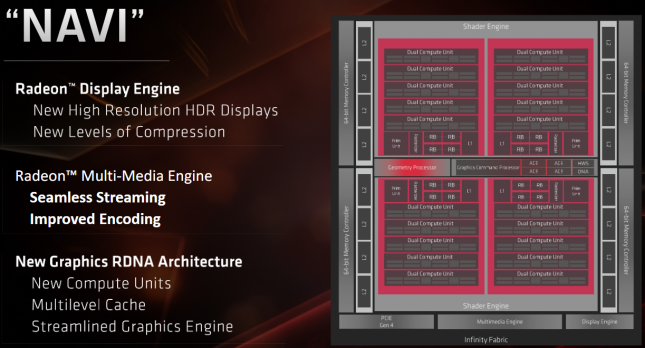 AMD also improved the media engine to offer hardware accelerated encode/decode capabilities with support for popular codecs such as H.264, H.265 and VP9 (decode only). The display engine was updated to support DisplayPort 1.4 with Display Stream Compression for next-generation 8K HDR displays at 60 Hz or 4K HDR at 144+ Hz.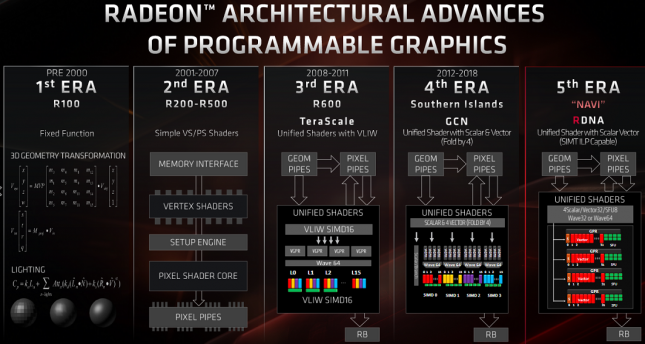 AMD sees the new RDNA architecture as beginning the 5th era of their programmable graphics. RDNA has replaced GCN (Graphics Core Next) and will likely be around for many years to come.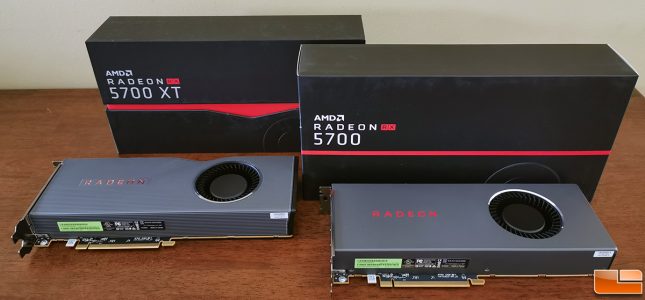 The cards that we are taking a look at today are the Radeon RX 5700 XT and the Radeon RX 5700 reference cards. These cards were designed by AMD to represent the baseline specs in terms of thermals, electrical, capability and performance. AMD's board partners will of course be coming out with fully custom cards that have higher clock speeds as well as different different GPU coolers and display connectivity options.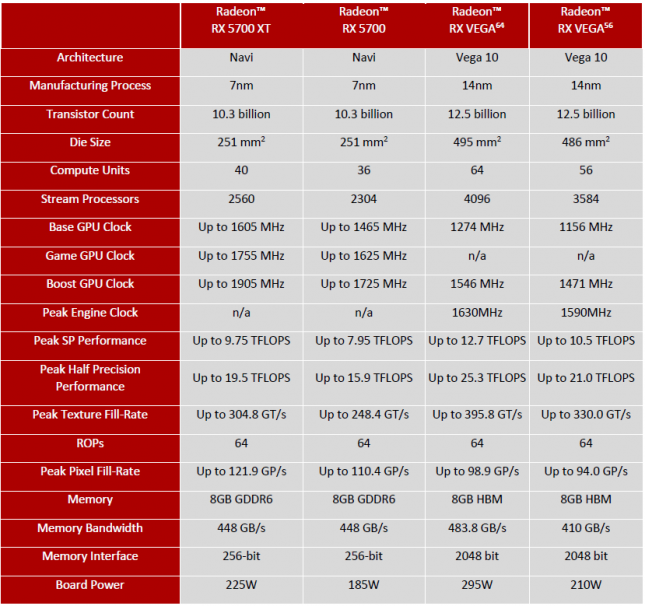 The Radeon RX 5700 XT ($399) has 40 compute units with 2560 stream processors with a base GPU clock speed of up to 1605MHz, game GPU clock speed of up to 1755MHz and a boost GPU clock speed of up to 1905MHz. 8GB of GDDR6 is being used on a 256-bit bus and that is good for 448 GB/s of memory bandwidth. The total graphics power (TGP) on the 5700 XT is 225 Watts.
The Radeon RX 5700 ($399) on the other hand has 36 compute units with 2304 stream processors with a base GPU clock speed of up to 1465MHz, game GPU clock speed of up to 1625MHz and a boost GPU clock speed of up to 1725MHz. AMD left the memory configuration alone on this card, so it is identical to the 5700 XT. With fewer stream processors and lower clock speeds the total graphics power (TGP) on the 5700 just 185 Watts.
'Game Clock' is a new term from AMD, so let's cover what each of these clocks speeds are. The base clock is the typical minimum clock speed running under standard thermal and electrical conditions. The boost clock is the maximum expected GPU clock on lighter workloads are run under favorable thermal and electrical conditions. The game clock is the minimum expected GPU clock when running a game title under standard thermal and electrical conditions.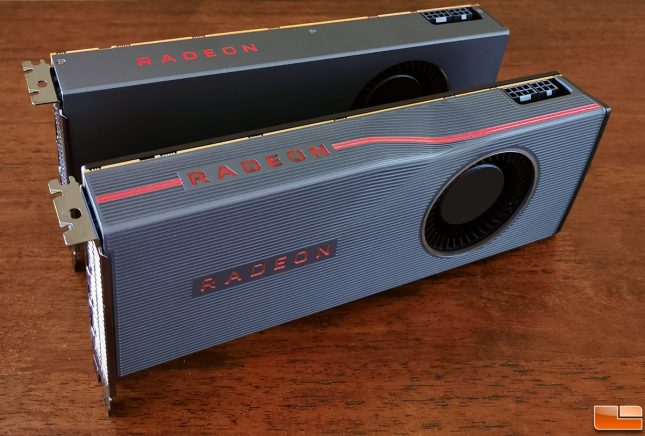 From a visual standpoint the Radeon RX 5700 XT is certainly the better looking graphics card. The 'ribbed' fan shroud with the 'dent' looks great and the 5700 XT even comes with a backplate! Both models come with three DisplayPort 1.4 connectors and one HDMI port. They also each have one 8-pin and one 6-pin PCIe power connector, which means 300 Watts of power is available to each of these cards.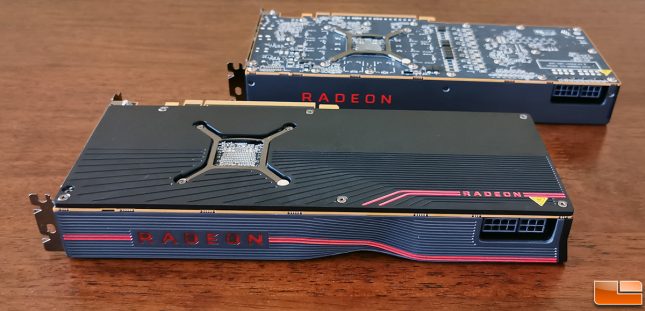 Let's move along to the benchmarks to see how these two new GPUs perform!