ADATA XPG SX8000 PCIe NVMe 512GB SSD Review
By
ADATA XPG SX8000 – 3D MLC NAND NVMe SSD Aimed At Gamers
If you are looking for a new M.2 PCIe NVMe you are in for a treat today as we will be looking at the ADATA XPG SX8000 512GB M.2 form factor Solid-State Drive (SSD) that utilizes the super fast PCIe Gen3x4 interface with NVMe 1.2 support. Building a new system and using a SATA III (6Gbps) interface is sacrilege as who wants to be bottlenecked at ~560 MB/s speeds. The new ADATA XPG SX8000 SSD series blows that away with sequential read speeds of up to 2,500 MB/s (2.4GB/s) and up to 1,100 MB/s sequential write speeds. If you haven't upgraded your storage drive in years and are still running a traditional hard drive, building a new platform and embracing a M.2 PCIe NVMe SSD like this model will really give you a night and day performance difference.
The ADATA XPG SX8000 series features Intel/Micron 3D MLC NAND Flash memory, so it has respectable endurance ratings of up to 640 TBW (1TB model) and all are backed by a 5-year warranty. Some enthusiasts are concerned with TLC NAND based Flash drives and that isn't a concern with the SX8000 series. The Random Read/Write IOPS is also respectable with up to 160,000 IOPS Random Read and up to 140,000 IOPS.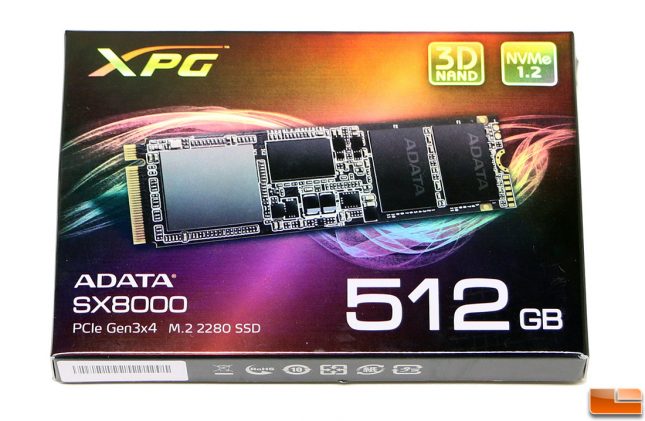 The ADATA XPG SX8000 is offered in 128GB, 256GB, 512GB and a soon to be released 1TB capacity. We do find it slightly odd that this drive bares the Xtreme Performance Gear (XPG) product series branding by ADATA, but is available in such low capacities. XPG products are said to consist of high-performance PC hardware that it targeted at gamers and overclockers and we don't know too many gamers getting a 128GB drive here in 2017 as that would be good for basically just a boot drive. Many tier 1 games titles these days are over 40GB each, so you could only install two games along with Windows 10 on the 128GB model. We also don't recommend the SX8000 128GB drive as the performance ratings are half that of what we talked about earlier due to less NAND chips being used and therefore there are less lanes connecting the NAND to the 8-channel controller.
ADATA XPG SX8000 SSD Series Street Pricing:
That said, ADATA offers the SX8000 SSD in two ways. You can either get the bare drive (original version) or a more recently added version that features a custom heatsink bearing the XPG logo. Some new motherboards come with a M.2 heat spreaders, so you might want to look into the motherboard you might be buying to see if you really need one. Is a M.2 heat spreader needed on the ADATA XPG SX8000 series? Absolutely not, but they do look neat if you can see the M.2 drive in your built.
ADATA XPG SX8000 M.2 PCIe NVMe SSD Specifications:
SMI 2260 Controller
3D MLC NAND Flash – Intel/Micron L06B
DRAM Buffer/Cache:

128GB: 256MB
256GB: 256MB
512GB: 512MB
1TB: 1GB

Operating Temperature – 0 ~ 70C
MTBF: 2,000,000 hours
4K Aligned Random Read:
4K Aligned Random Write:
Sequential Read & Write Transfer:

Up to 2,500 MB/s Read | Up to 1100 MB/s Write (256GB)/Up to 800 MB/s Write (512GB)

Low Power Mode L0: 0.95W (For 512GB model)
Low Power Mode L1: 0.33W (For 512GB model)
Low Power Mode L1: 0.05W (For 512GB model)
Max Power Sequential Read/Write: 4.8/4.5 Watts (For 512GB model)
Max Power Random Read/Write: 3.7/4.1 Watts (For 512GB model)
Endurance:

128GB: 80 TBW
256GB: 160 TBW
512GB: 320 TBW
1TB: 640 TBW

Warranty: 5-Years
ADATA went with the Silicon Motion SM2260 8-channel controller on this that has four 8Gbps lanes for data flow and has eight NAND channels. This controller has been around for some time and is generally one that we'd classify as being a mainstream client controller for PCIe NVMe drives. So, ADATA's high-end SX8000 series should perform as a mid-range M.2 PCIe NVMe SSD in our performance charts.

The drive that we'll be reviewing today today is the original ADATA XPG SX8000 PCIe Gen3x4 NVMe SSD that is 512GB in capacity and sold under part number ASX8000NP-512GM-C. This model doesn't have a fancy heat spreader, but the SM2260 controller does have s thin copper layer over it for better heat distribution. The black PCB doesn't look bad and on most boards the M.2 slot is located under a video card and can't easily be seen through a case window.

Flipping the drive over you'll find two more 13D MLC NAND Flash chips and a spot for more memory, but it is actually populated and being used!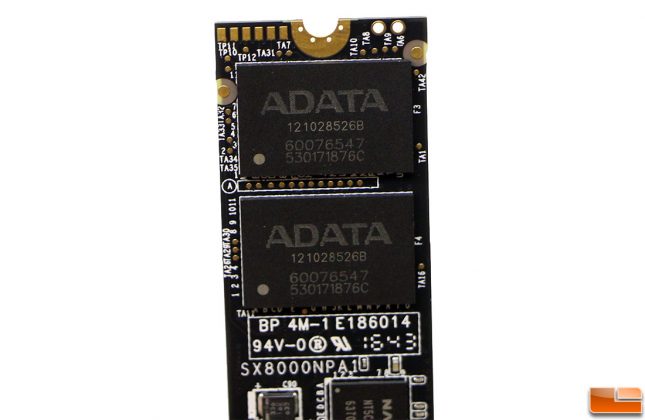 The 3D MLC NAND Flash chips are labeled ADATA, but they are actually Intel / Micron L06B parts.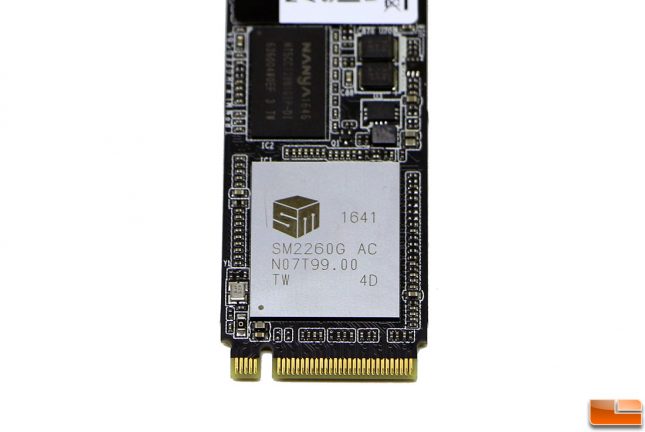 The SX8000 does not require special NVMe drivers to work properly on a PC, but the bad news it that the ADATA SSD ToolBox doesn't fully support this NVMe drive. ADATA says that the SSD Toolbox utility will be updated in early April 2017 to include a secure erase function for Windows 10 & 8.1 users. Right now thesecure erase command only works with the utility on Windows 7 platforms.
Let's take a look at the test system and then jump into the benchmarks.