ADATA Premier Pro SP920 512GB SSD Review
By
Final Thoughts & Conclusions
When we took a peek inside of the ADATA SP920 512GB drive, we saw that the physical NAND clocks in at 512GB (1GB byte = 1,000,000,000 bytes) and after installation and formatting, we see a user addressable capacity of 476GiB (1GiB = 1,073,741,824 bytes). This is exactly what we saw with the Crucial M550 and we suspect they are running the very same firmware.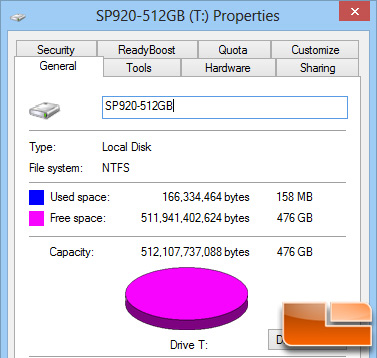 On the performance front, the 512GB version we tested is very fast and consistent and we observed no overt weak spots. We saw read/write speeds of up to 562MB/s and 515MB/s respectively with IOPS pushing 100K in reads and 85K in writes. It's important to note though that the performance for the smaller capacity drives will not see these same levels where performance drops off considerably – especially on the writes. This is due to the smaller drives using 128Gbit NAND across the board rather than 64Gbit NAND which basically means there are fewer dies for the controller to employ the RAIN (Redundant Array of Independent NAND) technology against and thus performance wanes. This is a cost cutting measure that some will applaud and others will scorn. The bottom line is, if you want the best performance, you need to look at the 512GB or 1TB drive.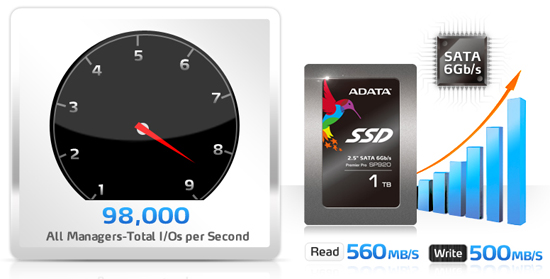 However, if price matters more to you, you'll find the 128GB and 256GB versions are very competitively priced online at Amazon for $89.99 and $149.99 respectively. There appears to be a $20 rebate available at Newegg that brings the ADATA Premier Pro SP920 256GB drive down to $129.99 shipped. For the 256GB drive, this yields a per GB price of a very reasonable $0.51 with the rebate or $0.59 without. Crucial is getting around $0.64 per GB on their M550 drives. Given the performance similarities and same three year warranty, it really comes down to which brand you prefer although the SP920 does come with Acronis ATI HD 2013 drive migration software and a 3.5″ adapter bracket which sweetens the pot if you are in need of such items. While we couldn't find online pricing for the 512GB and 1TB drives, ADATA did provide pricing of $335 and $530.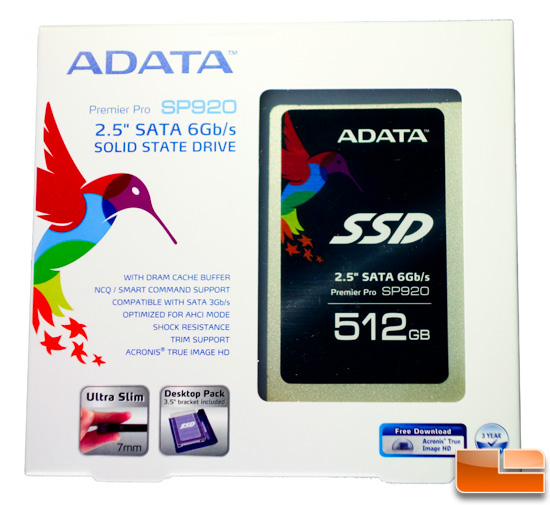 Legit Bottom Line: The ADATA Premiere Pro SP920 drive is a very reasonably priced mainstream SSD that really shines at larger capacities.