Crucial M550 512GB SSD Review
By
We Marvel At Marvell – Crucial M550 SSD
In the face of increasingly stout competition, Crucial has again put their faith in a Marvell controller to power their latest flagship drive. Marvell hasn't had the fastest SSD controllers in the past and was often left on the sidelines with many manufacturers favoring parts from Indilinx, Samsung, Intel and SandForce instead. However, they've always been dependable and we've seen their performance improve substantially as of late so we were extremely eager to get Crucial's new M550 drive powered by the Marvell 88SS9187 controller on our test bench. We won't give away all the goods in the first paragraph but suffice it to say that we were duly impressed with the results.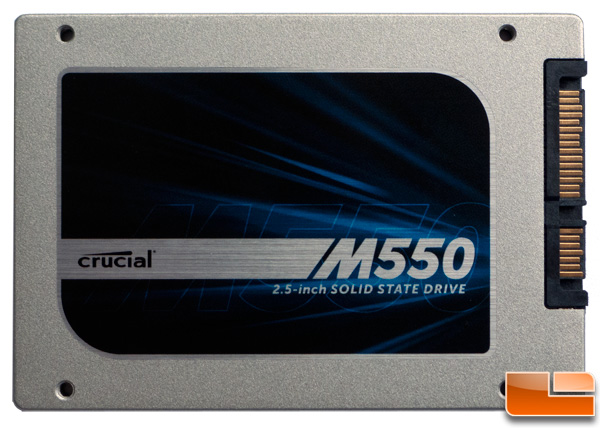 The new M550 is an improvement upon the current M500 drive and will not replace the latter but rather sit alongside it in their product offerings. The M550 becomes the enthusiast performance drive while the M500 will remain as available for those seeking more of a balance between price and performance. Aptly enough, the M550 is rated to reach read speeds of 550MB/s and writes of up to 500MB/s with impressive IOPS numbers of 95k and 85k read/writes respectively. This is quite a large jump up from the M500 which capped out at 500MB/s reads and 400MB/s writes. The improved performance comes from the newer Marvell 88SS9189 controller with custom firmware and an implementation of what they term RAIN (Redundant Array of Independent NAND) which uses the NAND like a RAID PC uses multiple drives. Therefore, no compression techniques are used ( la SandForce), nor does it rely on caching to boost performance.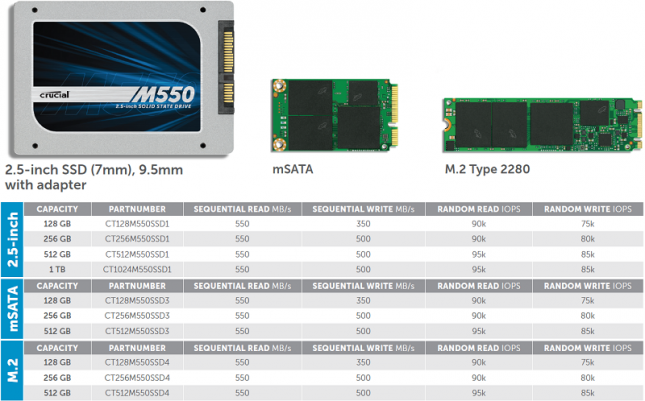 The Crucial M550 SSD Series will be available in the traditional 2.5-inch form factor with a 7mm z-height (9.5mm with adapter) in capacities ranging from 128GB to 1TB. There will also be mSATA and M.2 drives available in 128GB, 256GB and 512GB capacities. Launch day pricing and model numbers for the 2.5″ drives are as follows:
Crucial M550 Features and Specifications:
Performance:

550 MB/s seq read
500MB/s seq write
95k IOPS read
85k IOPS write

Core Technology:

Micron 20nm 64Gb & 128Gb NAND
Micron custom firmware using Marvell 88SS9189 controller

Product Range:

2.5 inch – 128GB (CT128M550SSD1)/ 256GB (CT256M550SSD1) / 512GB (CT512M550SSD1) / 1024GB (CT1024M550SSD1)
mSATA – 128GB (CT128M550SSD3) / 256GB (CT256M550SSD3) / 512GB (CT512M550SSD3)
M.2 type – 128GB (CT128M550SSD4) / 256GB (CT256M550SSD4) / 512GB (CT512M550SSD4)

Native Write Acceleration

Doesn't require file compression, a NAND buffer, or system DRAM

Low Power Consumption:

Device sleep support at <3mW
Active power use at 150mW

Industry Leading Encryption:

AES 256-bit hardware encryption
Meets TCG Opal 2.0 and IEEE-1667
Compatible with Microsoft eDrive

Redundant Array of Independent NAND (RAIN):

Protects data at the component level
Similar to the way RAID is used with multiple drives

Data Integrity Algorithm:

Safeguards integrity of data
Four layers of defense against data corruption at the component level

Adaptive Thermal Protection:

Maintains optimal operating temps
Enables dynamic NAND activity adjustment based on usage demand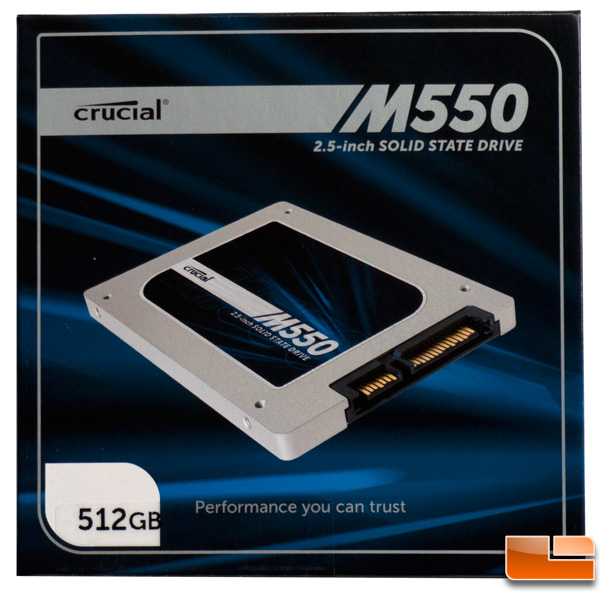 In addition to performance, the amount of over-provisioning has been altered to allow the user a bit more usable space (i.e. 512GB rather than 480GB). The overall exterior design and branding has altered very little with the lighter blue of the M500 being darkened with more blacks on the M550. However, like people, it's what's on the inside that counts.