Acer Aspire 1551 11.6-inch Notebook Review – AMD Turion II
By
Acer Aspire 1551 Conclusion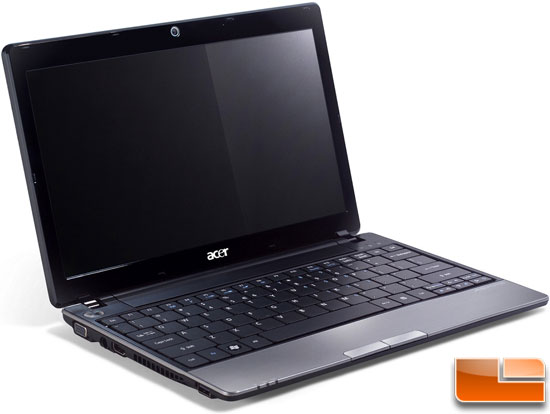 The Acer Aspire AS1551-5448 has a bit of an identity crisis. It's nearly as small as a netbook but has double the performance with a small price premium. It's much smaller than most "normal" ultra portable notebooks but performance is not quite up to that level and has a slightly lower cost. It looks to be what some might consider the perfect compromise. For many business users the netbook has an appealing size but the performance leaves a lot to be desired. With double the performance, still attractive battery life, and a very slightly larger footprint, the Aspire AS1551-5448 seems to be going after those that are turned off by the performance of a netbook but value its size.
So is it the perfect compromise? I would have to say it's pretty darn close. Netbooks are plagued with slow system drives, slower CPU's, low amounts of memory, and long loading times for even the simplest of applications. You can also forget about gaming. On our Aspire 1551-5448 loading up Word and Excel were snappy enough. The AMD Turion II K625 CPU proved to be quite capable of handling anything you could reasonably expect a notebook to run. The addition of a quality SSD could really put the little Aspire over the top. At $499 it's a stretch for someone strictly on a netbook budget so adding an SSD would complicate that argument.
My only nitpick is that the multi-gesture track pad does not have a "smooth" surface. Otherwise I was impressed by the quality and sturdiness of the Acer AS1551-5448. Some may not care for the glossy screen and bezel around it but I tend to like them. Wi-Fi performance was great (better than my Samsung Epic 4G). The keyboard layout is well thought out and has an excellent feel.
Gaming performance on the integrated AMD Radeon HD 4225 works well enough in a pinch, good enough to play Starcraft II but we would suggest staying away from first person shooters. As someone who does a lot of work on a laptop while stuck in hotel rooms and trade show floors, I would say that with a quality, value sized SSD, the Acer Aspire AS1551-5448 would be tough to beat for use on the go.
Legit Bottom Line: The Acer Aspire 1551 notebook gives you the portability of a netbook with performance closer to a larger notebook. If you're looking for a small device to actually do some work on the Aspire 1551 could be your new best friend.