Acer Aspire 1551 11.6-inch Notebook Review – AMD Turion II
By
Aspire 1551 11.6 Inch Notebook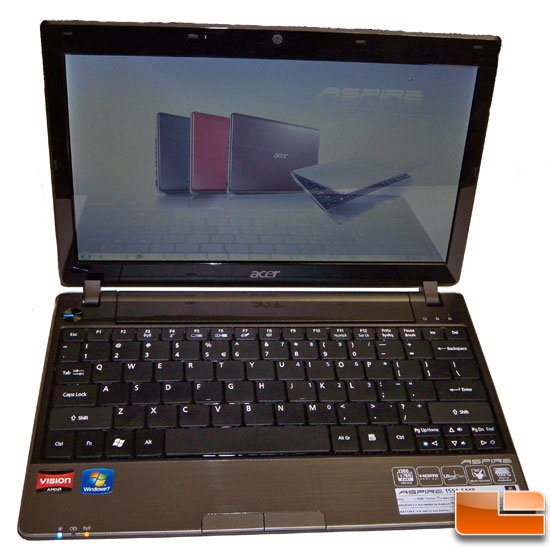 With the holiday season upon us, many of you are pouring over the hot deal ads looking for a good price on a new notebook. A few of those deals will include Acer notebooks, which have never been featured at Legit Reviews until today. The notebook we are looking at is the Acer Aspire 1551. At first glance you could easily mistake this little power house for a netbook. Fear not the lack of CPU power though as the Aspire features a powerful AMD Turion II Neo Dual-Core Mobile Processor. The other important part in most computing today is the graphics processor, and Acer has endowed the Aspire 1551 with an ATI Mobility Radeon HD 4225. This grapics chip is powerful enough to do some light gaming on when you aren't chatting up friends, working on a document, or checking up on Facebook news feeds.
Did we mention that Acer Aspire 1551 is small? At just 11.6″ wide, about 1″ tall, and weighing just over 3 pounds it is definitely encroaching on the netbook space. You might also be surprised to know it has a full-size keyboard.
There are three models in the Aspire 1551 series, the AS1551-4650, AS1551-4755 and the AS1551-5448. Pricing ranges from $389-$500. The differences are simple enough, AS1551-4650 comes with a 1.3GHz AMD Turion II Neo Dual Core Mobile K325 and 2GB of memory, while the AS1551-4755 has the same CPU with 3GB of RAM. The AS1551-5448 is the particular model we're reviewing here, and as you might have guessed is the top of the line for the Aspire 1551 series. The AS1551-5448 features an AMD Turion II Neo Dual Core Mobile K625 CPU operating at 1.5GHz and can be purchased for $499. Below you'll find the full list of technical specifications.
AMD Turion II Neo Dual-Core Mobile Processor K625
(2MB L2 cache, 1.50GHz)
4GB DDR3 SDRAM
320GB SATA hard drive, 5400RPM
5-in-1 card reader for optional MultiMediaCard, SD, Memory Stick, Memory Stick PRO or xD
CineCrystal HD 11.6″ (1366 x 768) high-brightness (200-nit) TFT display with LED backlighting
ATI Mobility Radeon HD 4225 with 384MB dedicated memory
Integrated Acer webcam, 640 x 480 resolution and Acer Video Conference Manager software supporting 640 x 480 resolution
VGA and HDMI with HDCP support ports
High-definition audio support
802.11b/g/n Wi-Fi
84-key full-size keyboard, embedded numeric keypad, hotkey controls, international language support, Multi-gesture touchpad supporting two-finger scroll, pinch, rotate, flip
11.2″ (285.0mm) W x 8.0″ (204.0mm) D x 1.0″ 1.1 (25.7mm 28.0mm) H
3.1 lb. (1.4kg) with six-cell, 4400mAh battery
One-year and labor limited warranty with concurrent International Travelers Warranty