Zalman ZM-VE300 USB 3.0 External Drive Case Review
By
Performance, Use and Final Thoughts
We chose to use an OCZ Vertex 460 SSD we had laying around as the test drive within the ZM-VE300 enclosure to ensure that the drive used is not a bottleneck.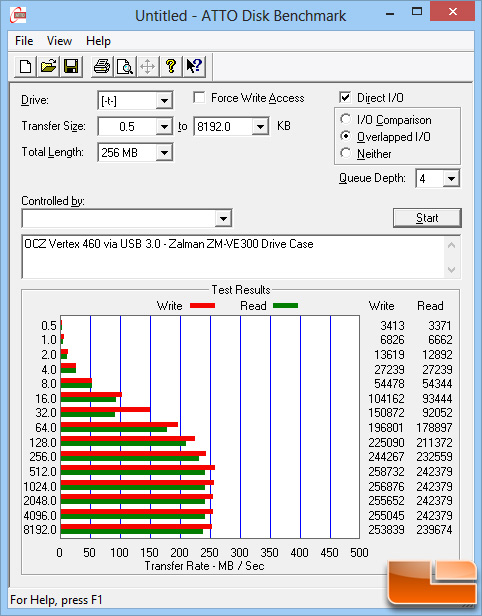 The ATTO benchmark typically gives best case scenario performance numbers and here we see the reads and writes capping out around 250MB/s which is decent speed and expected since this device uses a SATA II (3Gbps) controller. This means that many SATA III (6Gbps) devices will be performance limited due to this controller choice. We would have liked to see SATA III interface support as that would remove this performance bottleneck as well. Most hard drives aren't going to saturate this bandwidth, so this only really impacts those that are wanting to run a newer Solid-State Drive.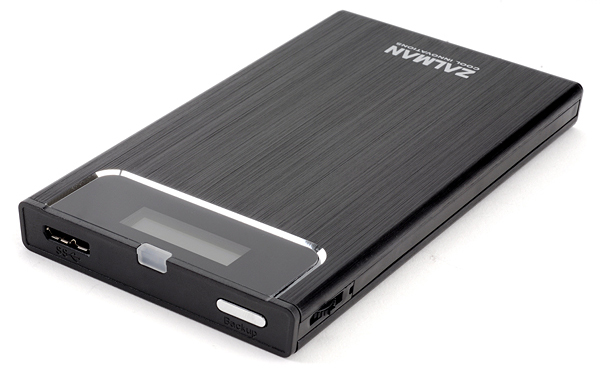 Overall, the ZM-VE300 is easy to use and we had no issues with the hardware or software. It's small, lightweight, looks great and having the bundled carrying case should keep it damage free inside of a bag. Adding and removing 2.5″ drives is easy enough for those not all that tech savvy and it's pretty much plug and play after that. Navigating the menus with the jog switch can be a bit clumsy and it certainly helps to have the reference to all of the menus to find exactly what you need the first time since there are quite a few options. The jog switch takes some getting used to but it does a competent job and avoids the need for three separate buttons.
By far the best feature is the drive virtualization and one we can certainly take advantage of often. Installing software from a CD/DVD is limited by the paltry speeds they are capable of and this allows for a faster interface. Having a cache of ISOs available on one drive that mimics an optical drive (or even a floppy drive) is great if you do a lot of repetitive software installs, including Windows. For $43.16 shipped (in silver), it does cost a bit more than a typical enclosure but worth it for the extra features assuming you find them useful. System administrators and technicians will find this an invaluable tool in their kit and it earns our Recommended Award!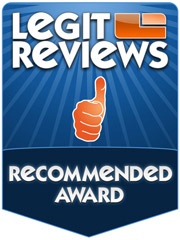 Legit Bottom Line: There are many drive enclosures on the market but what sets apart the Zalman ZM-VE300 from others is the drive virtualization, making it a much more robust tool.