Zalman ZM-VE300 USB 3.0 External Drive Case Review
By
A Closer Look At the ZM-VE300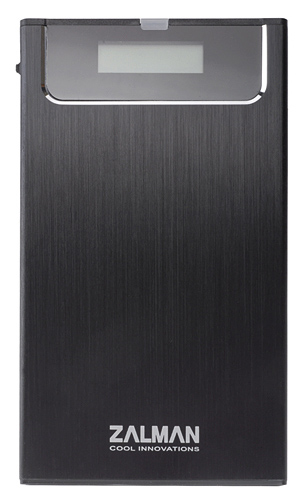 Taking a look at the exterior, we see that it's a brushed aluminum case, which is black in this instance, but also comes in silver. The front of the device features an LCD display behind some transparent plastic along with an activity indicator light. The LED is white when utilizing a USB 3.0 connection and blue when using SuperSpeed USB 3.0. At the bottom we find the Zalman logo.

On the top of the device you can still see the activity indicator light which is straddled be the USB 3.0 port on the left and the one touch back-up button on the right which calls to action the included backup software. Each are appropriately labeled underneath. Our USB 3.0 micro B connector and USB 3.0 cable worked flawlessly, but we have seen reports of that people were having issues with the connector breaking or becoming loose. Some of these reports advised removing the USB 3.0 cable from the device when transporting it as hitting or bumping the cable/connector appears to be causing the solder joints to break on the circuit board.

On the left side is a rocker "jog" switch which is used for user input into the device which we'll cover later.

The bottom simply features the product sticker and around the back side is featureless, hence no corresponding image.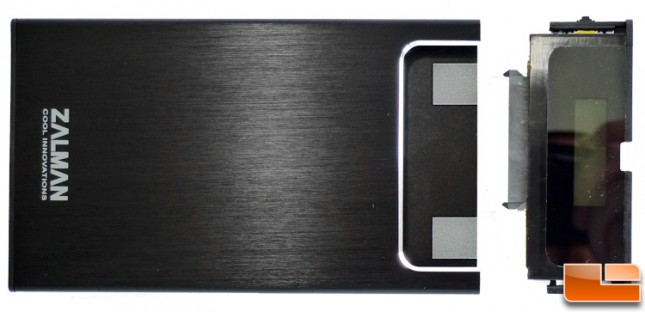 Drives are inserted at the top by sliding out the top portion of the device revealing a PCB.

This PCB has a combination SATA power and data connector. It simply attaches to a 2.5″ drive and then the drive slides into the case until the PCB is secured back into the original position. The small screws provided can be utilized to secure the drive in place.