Zalman Reserator 3 Max Dual Ultimate Liquid CPU Cooler Review
By
Zalman Reserator 3 Max Dual Final Thoughts and Conclusion
Zalman designed a quite the unique liquid CPU cooler, named the Reserator 3 Max Dual. This cooler is essentially a modified version of the Reserator 3 Max, combining two of these coolers into one. The Reserator 3 introduces is also the world's first nanofluid cooling solution, which is supposed to aide in heat transfer. In our testing, it's really tough to say how much this technology helped the cooler out.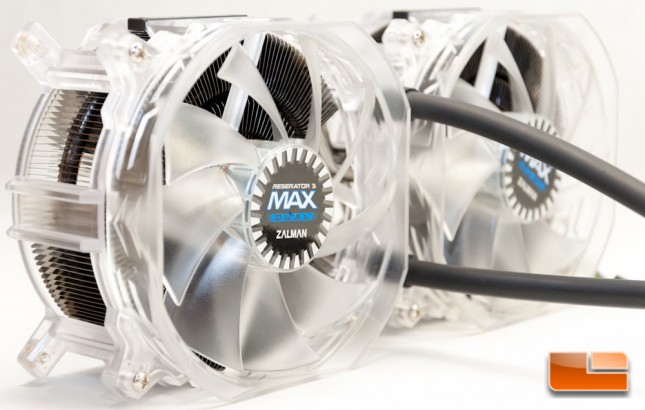 Installing the Reserator 3 Max Dual was rather interesting, as there are a number of parts included to make it work. It's a very versatile liquid CPU cooler and supports many different CPUs, so with that one can only expect a little assembly to get it working. The overall experience from the install was a little tedious but not too time consuming.
Overall the aesthetics of this cooler are quite pleasing, despite the plastic nature. The blue LEDs on the pump and fans were a nice touch and are not so bright that they blind you – They accented the cooler nicely.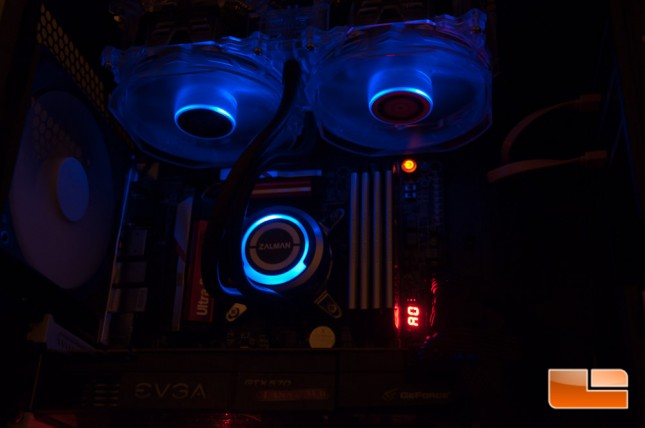 Speaking of fans, the fans are very quiet when the system is just doing its thing, but when you command more out of your processor these things scream! They're rated at 46.6dbA at 2300RPM, which is definitely pretty noisy.
Performance of this cooler was overall pretty decent, but not as good as the competition. The Zalman Reserator 3 Max Dual came in right in the middle in most tests, which I honestly didn't completely expect based on the cost of this cooler. Some other tests it did significantly better or worse.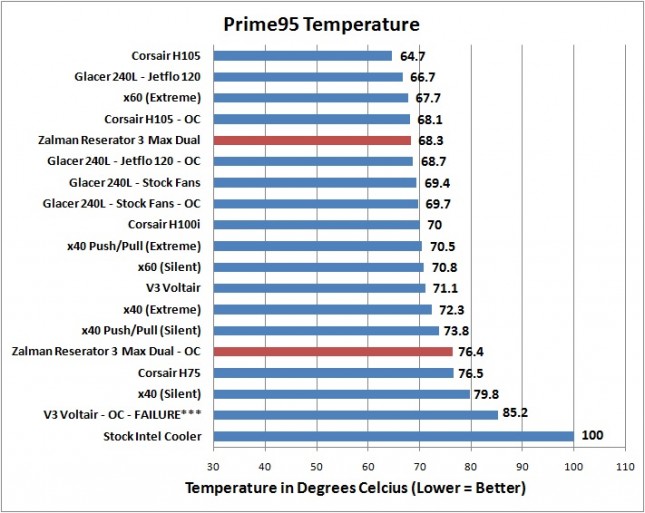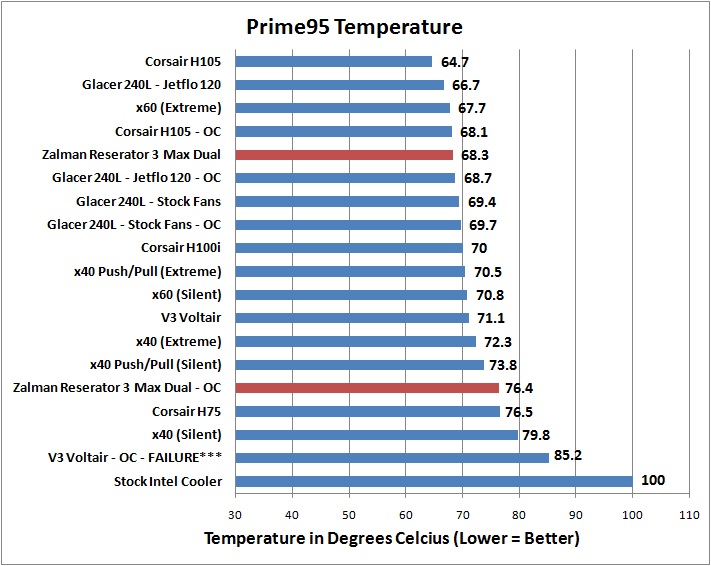 This cooler can be picked up via Newegg for $139.99 shipped and it includes a 1 year warranty. Unfortunately that means this cooler is priced higher than the competition, in which we can only hope the price comes down a bit.
Legit Bottom Line: Zalman's Reserator 3 Max Dual performed fairly well, coming in about middle of the road of our previous cooler tests. The price tag per performance may be a little hard to swallow, though.