Zalman Reserator 3 Max Dual Ultimate Liquid CPU Cooler Review
By
Zalman Reserator 3 Max Dual Introduction
Zalman, a Korean company founded in 1999, set a mission to silence the world's noisy computers with its "silent" cooling solutions. With so many noisy computers out on the market then, end users seeking out quiet solutions helped Zalman successfully grow into the world's leader of quiet PC cooling solutions. Zalman isn't limited to just coolers, though, as they continue to innovate with items including but not limited to: monitors, PC cases, headphones, keyboards & mice, and more recently power supplies. Today we are going to take a look at their latest liquid CPU cooler – the Reserator 3 Max Dual.
The Reserator 3 Max Dual, if you didn't catch by the name, is essentially a dual version of the Reserator 3 Max combined into a single solution. With more cooling surface, we now have more room to dissipate heat that our CPU may be throwing off, also giving overclockers an added benefit to push their processor to the limits with little worry.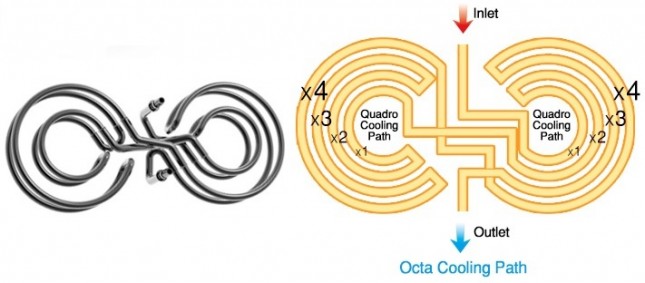 Zalman's design for the Reserator 3 line is different from what you'd find in a traditional liquid cooler. Not only is the Reserator 3 Max Dual very versatile with its compatibility, but it has a unique design for the radiator. Zalman uses what they call an Octa Cooling Path (seen above…), which basically allows the liquid to pass through the radiator eight times (four times per fan). Not only that, but it also uses a quad radial radiator design (seen below…) for a better cooling solution and is optimized for air flow.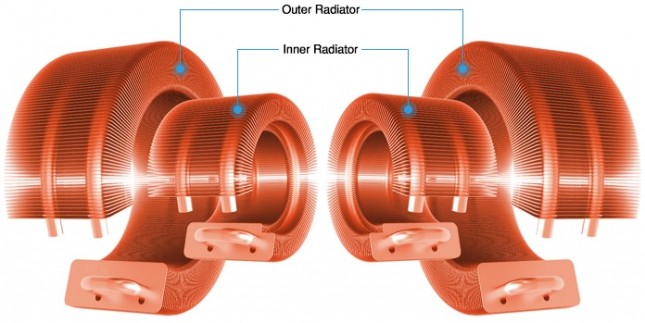 Zalman also designed the Reserator 3 Max Dual to be the world's first liquid CPU cooler to utilize a nanofluid. Nanoparticles can be a number of different things, such as aluminum oxide or carbon nanotubes. These particles are added to a base refrigerant fluid, such as water, ethylene, glycol, and oil, all to increase the efficiency of heat transfer. So basically Zalman is looking to increase the efficiency of the cooler one step above their competition with this technology. If you want to read more of the finer details of nanofluid technology and what it was designed for, you can check out the patent on Google or catch more information on Wikipedia.
Overall the Reserator 3 Max Dual is a powerful liquid CPU cooler designed to be quiet and efficient; well, quiet when your system isn't pounding away at 1's and 0's.
If you're already in love with the cooler based on the information presented before you, you can grab this cooler on Newegg for $139.99 shipped. The cooler also includes a 1 year warranty through Zalman.
Reserator 3 Max Dual Technical Specifications:
Radiator Material: Pure Copper & Black-Nickel Plated
Water Block Material: Pure Copper Base
Weight: 1,426g (Approx. 3.14 lbs)
Radiator Dimensions (LxWxH): 276x122x73mm
Pump Dimensions (LxWxH): 70x85x37mm
Pump: Embedded Pump
Fan:

Dimensions: 120 x 25(H)mm
Speed: 1,000~2,300rpm 10%
Noise Level: 23.2~46.6dBA 10%
Bearing: Long Life Bearing
Speed Control: PWM (Pulse Width Modulation)
Extra Features: Blue LED

Connector:

Radiator: 4-Pin x 2EA
Pump: 3-Pin
Input Voltage: 12V

Thermal Grease (ZM-STG2M):

Contents:

1g

Temperature Range:

-40C ~ +150C (-40F ~ +302F)

Socket Compatibility:

Intel: 2011, 1366, 1155/1156, 1150, 775
AMD: FM2, FM1, AM3+, AM3, AM2+, AM2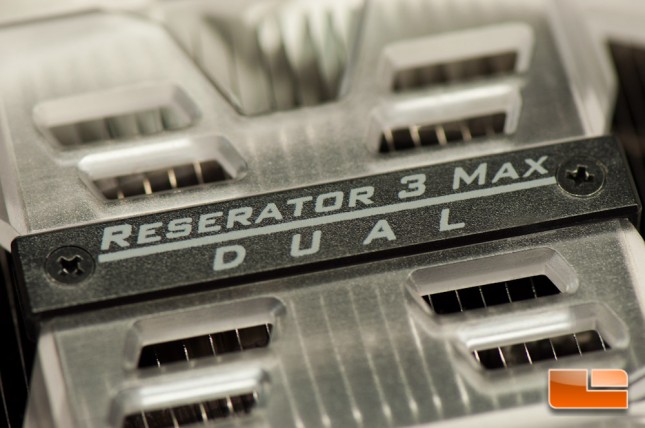 In the coming pages we'll take a look at how easy or difficult Zalman's Reserator 3 Max Dual is to install, how it stacks up against the competition, and see exactly how much electricity it consumes compared to the stock Intel cooler. But first, let's take a look at the retail packaging and see what this cooler looks like!