XFX Pro Series 850W Black Edition PSU Review
By
External Design of the XFX Pro Series 850W Black Edition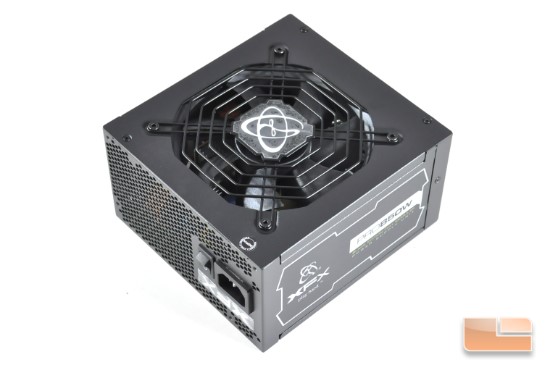 The XFX Pro Series 850W Black Edition is physically similar to any other ATX-compliant power supply; with the exception that it has not a single cable hardwired to it. At 160mm deep, it is a little bit longer than the ATX design recommendation limit but should fit inside almost every ATX tower case currently available, unless it is a very old or proprietary design. The chassis is sprayed with a satin black paint and the fan grill is octagonal.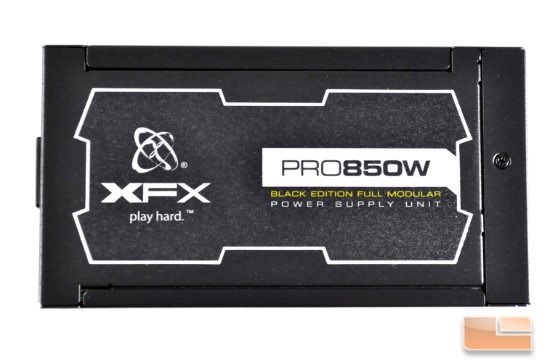 Decorative stickers cover both sides of the power supply. The black stickers only feature the company and series logos, however their shape makes them far more attractive than simple rectangular stickers.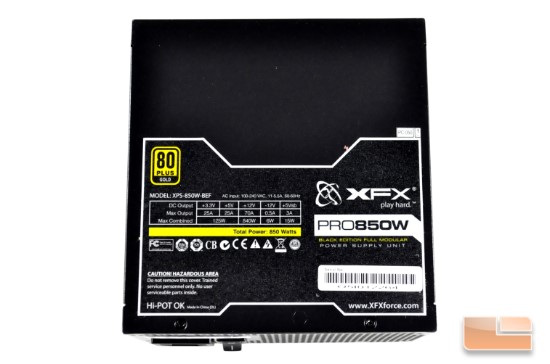 XFX must have a thing for geometric shapes with sharp edges, as even the sticker with the electrical specifications at the top side of the chassis is not a simple rectangle. This sticker will be visible through a windowed side panel if the case has the PSU compartment at its bottom; however, the sticker will be facing the rear of the case, away from the spectator.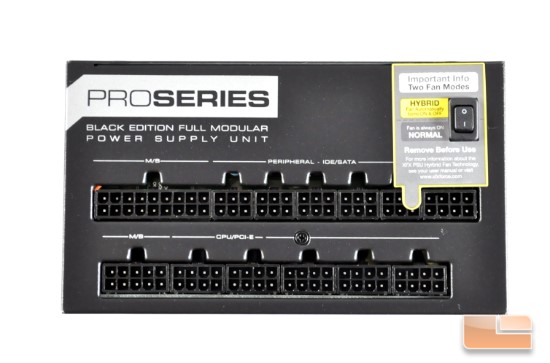 As this is a fully modular design, it was expected that the rear side of the chassis would be littered with connectors for the modular cables. The connectors are split into two levels: the top level consisting of five Molex/SATA connectors and a single PCI Express/EPS 12V connectors, while the bottom level only has five PCI Express/EPS 12V connectors. The 24-pin ATX cable is split between both levels. If all of the cables are connected, the XFX Pro Series 850W Black Edition provides a total of two 12V connectors (one 8-pin EPS and one 4+4 pin ATX), six 6+2 pin PCIe connectors, five Molex connectors and ten SATA connectors. Two Molex-to-floppy adapters are also included.
One of the most important features of this power supply is the small switch which can be seen at the top right corner. This switch can be used to set the fan control to either "normal" or "hybrid". When in hybrid mode, the fan is generally quieter and will even stop when the unit's load is very low, while the normal mode sets a profile more aggressive towards cooling.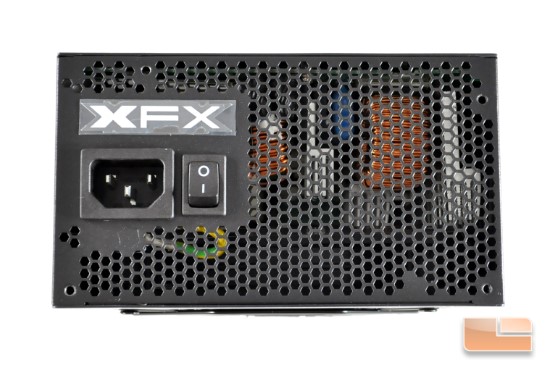 The front side of the XFX Pro Series 850W Black Edition power supply is based on the standard perforated honeycomb mesh design, with only the standard on/off switch and power plug receptacle to be found. A sticker with the company logo has been attached right over the AC plug and switch.