WD My Cloud EX4 8TB Personal Cloud Storage NAS Review
By
Power Consumption and Final Thoughts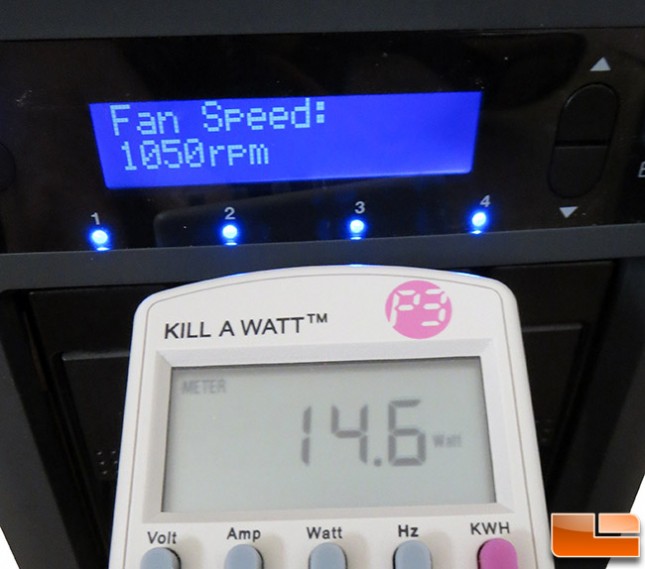 When it comes to power consumption the WD My Cloud EX4 8TB isn't too bad. We found that it uses around 15 Watts at idle when power saver mode is enabled. When the drives come out of their low power state they spike up to ~50 Watts during the few seconds it takes for them to spin back up to operational speeds.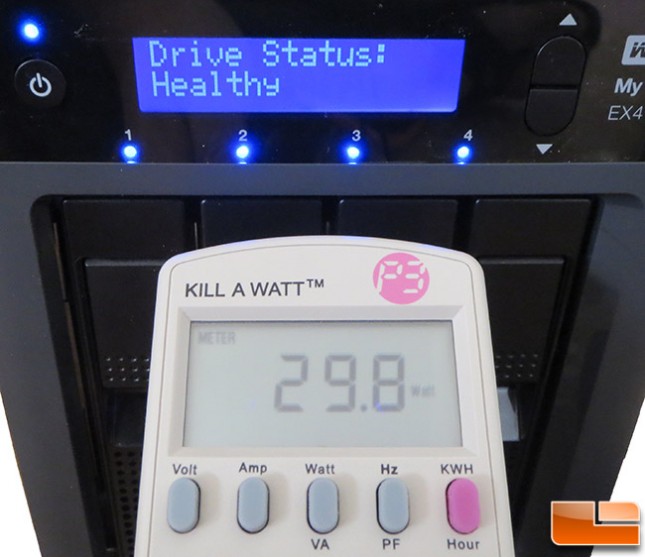 During a single user file transfer we found the WD My Cloud EX4 to use right around 30 Watts of power, which is pretty good considering there are four WD Red 2TB hard drives inside along with the internal motherboard.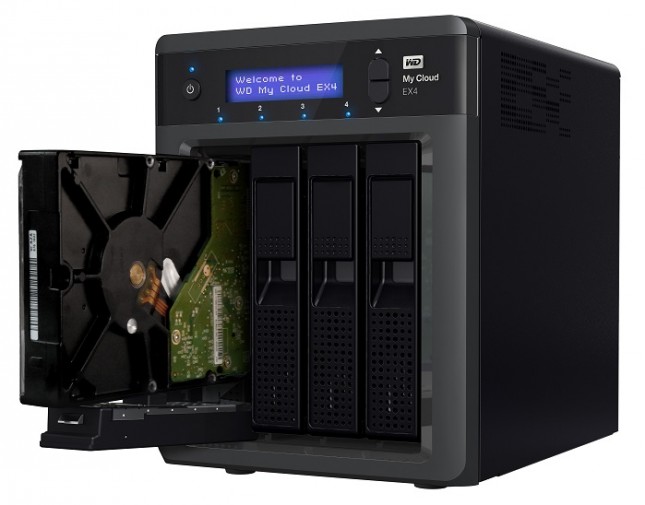 Final Thoughts and Conclusions:
The My Cloud EX4 is WD's first 4-bay NAS solution and we have to say it is a very solid device. This is by far the easiest NAS that we have ever used with the exception of figuring out how to restart or power the unit down from the desktop. From a cost perspective the WD My Cloud EX4 was found to be very affordable and competitive with what is available in the market.
The My Cloud EX4 drive-less 0TB model runs $379.99 and you can populate it with any drives that you like. WD will be posting an expansive whitelist of compatible drives from themselves as well as Seagate, HGST (Hitachi) and Toshiba in the near future. This is nice as you aren't forced to use WD drives. The WD My Cloud EX4 has been optimized for WD Red Drives though, so you can imagine that is the preferred drive choice by WD. The WD My Cloud EX4 that we reviewed today is sold under part number WDBWWD0080KBK for $799.99. Can you save some money by buying the empty housing and populating it yourself? A quick look online discovered we could get WD Red 2TB drives for $98.95 shipped each. This means that you could 'build' your own for right at $775.79, which is $24.20 less than buying it configured and ready to go. Is it worth piecing your own NAS together and building the RAID array for about $25? You'll have to be the one to decide that.
At the end of the day the My Cloud EX4 shows that WD is now a serious contender in the 4-bay NAS market. It is highly likely that in the months to come that WD will expand into other bay sizes and hopefully more powerful models. The My Cloud EX4 had acceptable performance for the price point, but we've used and reviewed other NAS devices that cost hundreds more and offer much faster performance. The WD My Cloud EX4 isn't really an enthusiast NAS as it was designed for the mainstream consumer. If you've never owned a NAS before and want to try one out the My Cloud EX4 is a great place to start. We highly recommend the My Cloud EX4 for a starter NAS as it is simple to use and backed by a 2-year warranty with support from WD.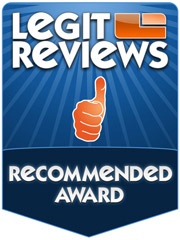 Legit Bottom Line: The WD My Cloud EX4 is a solid performing 4-bay NAS that is easy to setup for use in a home or small office!