WD My Cloud EX4 8TB Personal Cloud Storage NAS Review
By
WD's First 4-Bay NAS Server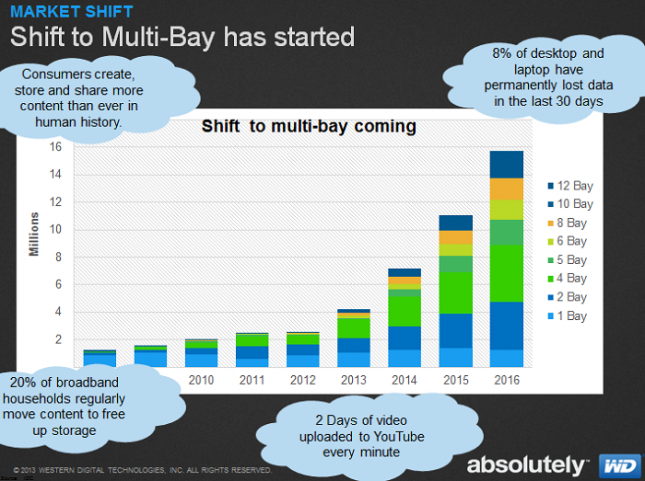 Western Digitals My Cloud network-attached storage devices are great for storing your data, but they are single-bay devices that can't offer capacity benefits or mind assuring redundancy of having a RAID array for your data. Millions of people around the world have relied on single-bay or single-drive devices to backup their data. WD has noticed that there has been a major shift to multi-bay network attached storage (NAS) devices this year and market research shows that trend will continue in the years to come. Businesses long ago embraced multi-bay NAS devices for maintaining backup copies of primary data, but now home users are finding that they have tons of data to backup. You could put all that data into the cloud, but you'll end up having to pay storage fees. Those fees might be minimal now, but think ahead a few years and look at how rapidly you are adding pictures and videos to your current backup solution. Sure, the cost of storage will go down over time, but most are generating more data now than ever. WD realized that they did not offer any multi-bay NAS devices for the consumer market, so they decided to come up with one. WDs announcement of the My Cloud EX4 today is the answer to this market shift and hopefully the continued growth of the WD brand.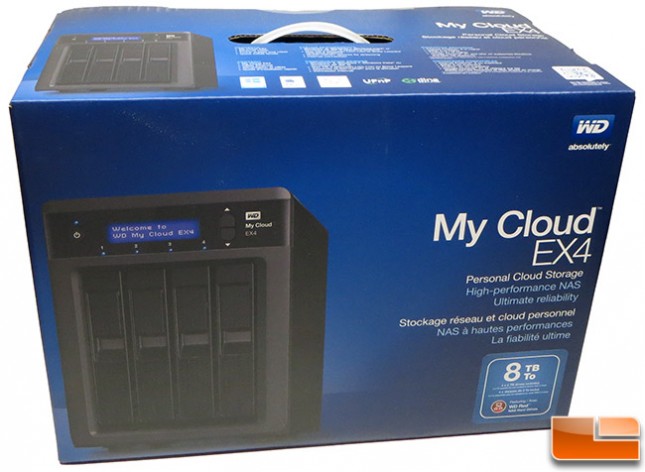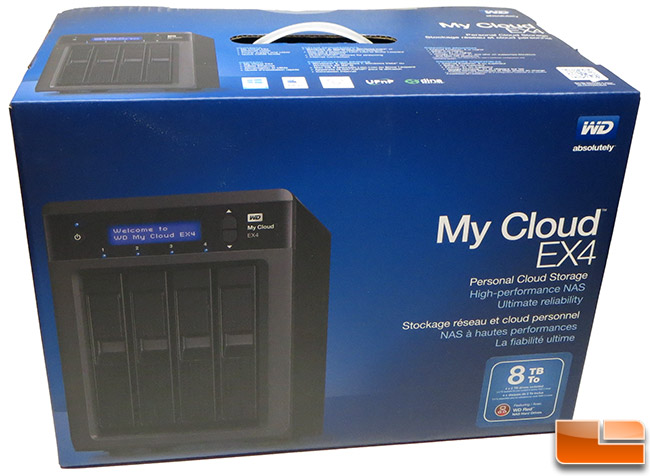 The WD My Cloud EX4 is available in four different storage capacities to help fit the storage criteria of various business and home user capacity needs. You start out with a drive-less 0TB model for $379.99 and then jump up to an 8TB version for $799.99, 12TB for $949.99 and a 16TB model for $1149.99. All of the My Cloud EX 4 Personal Cloud Storage servers use WD Red hard drives that are optimized for high-performance NAS devices. We were shocked to hear that WD would be coming out with a diskless option as they are a hard drive maker. They noted to Legit Reviews that roughly 70% of the NAS servers sold today are diskless, so they felt that they had to offer a solution for the Do-It-Yourself (DIY) crowd as well. At $379.99, the diskless WD My Cloud EX4 is competitively priced as it is lower than many 4-bay diskless solutions from companies like Synology, QNAP, Buffalo and Thecus. We'll be taking a look at the WD My Cloud EX4 8TB version that is sold under part number WDBWWD0080KBK and has an MSRP of $799.99.
WD My Cloud EX4 General Specifications:
Processor: Marvell ARMADA 300 SoC at 2.0GHz
Memory: 512MB DDR3 (not upgradable)
RAID Options: RAID 0, 1, 5, 10 or JBOD
Robust: Twonky 7.2 DLNA-certified, 1.5 media server and iTunes support
LAN Interface: 10/100/1000 MB Gigabit Ethernet
USB 3.0 Ports: Two (rear)
Height: 8.21 in (208.6 mm)
Length: 8.67 in (220.2 mm)
Width: 6.30 in (160.1 mm)
Weight: 7.2 lbs (3.3 kg) without hard drives
Warranty: 2-years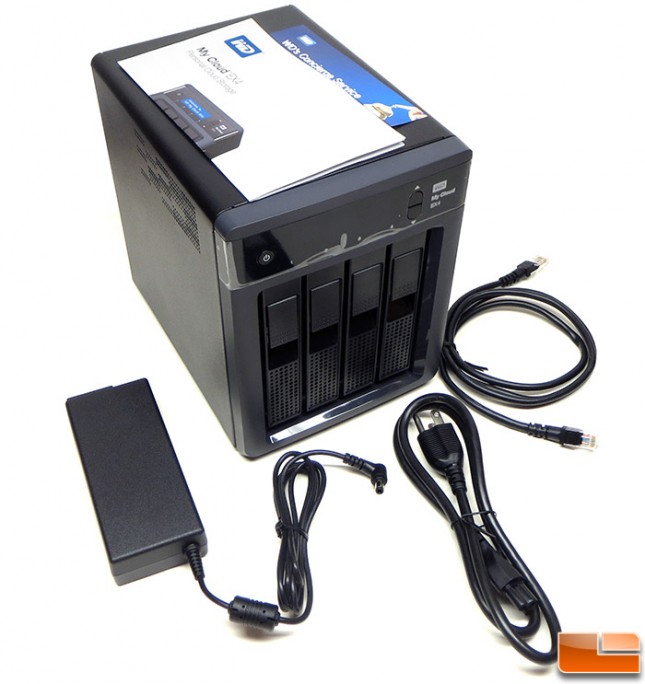 Inside the retail box you'll find the four-bay My Cloud EX4, Ethernet cable, quick install guide and the power supply brick and mickey mouse style power cord. Notice that all the colors are matched, which is nice and not often seen.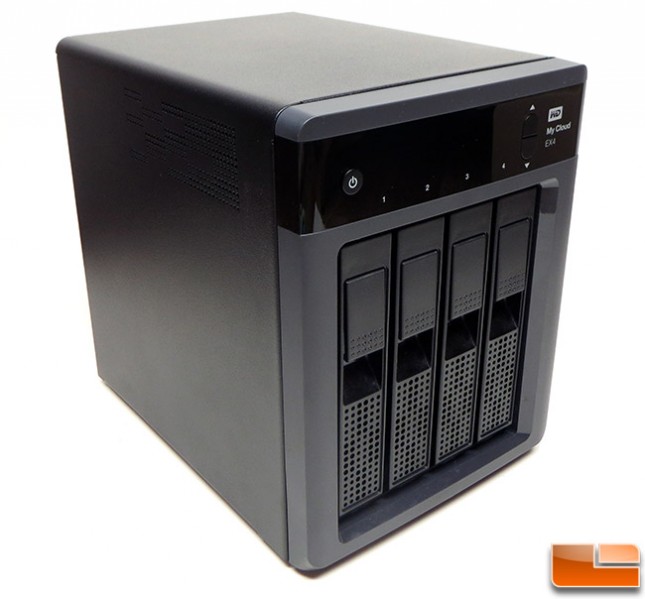 For starters the WD My Cloud EX4 looks great. The black and gun metal color combination are a perfect match for one another and will keep the NAS from looking 'old' in the years to come. The body of the enclosure is made from metal and it feels like it is really well built.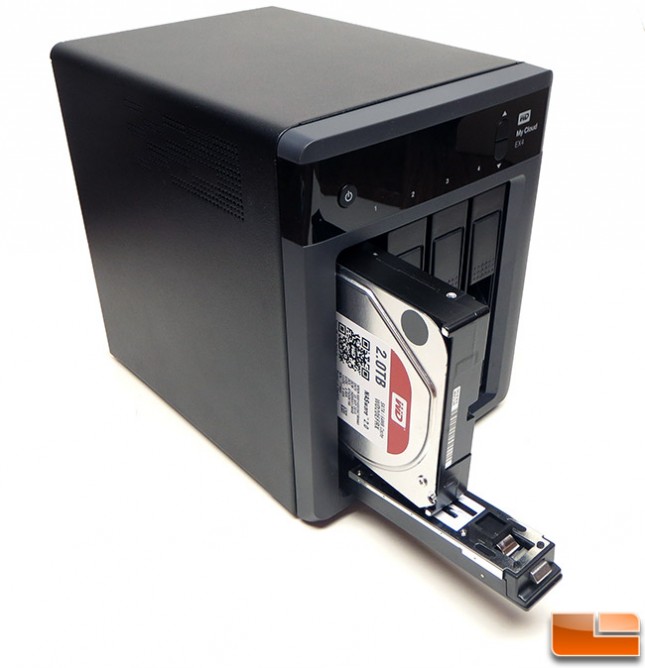 Since we are looking at the 8TB model it shouldn't come as a shock to anyone that it is populated with four WD Red 2TB hard drives. WD ships all the models with a standard RAID 5 array (block-level striping with distributed parity.) A RAID 5 array distributes parity along with the data and can handle a single drive failure. This means that it has 6TB of usable storage space as one drive is used for parity. One of the really nice features of the WD My Cloud EX4 is that all of the hot swappable hard drive bays are trayless and tooless! This means that when a drive fails that you just open the drive bay door swap the drive and close it. The entire drive swapping process takes around five seconds per drive.
On the back of the WD My Cloud EX4 you have dual power ports, a recessed reset button, dual USB 3.0 expansion ports (the EX4 is not bootable off USB 3.0) and dual Gigabit Ethernet ports. This is the first NAS device that we have ever seen that had both dual power and network redundancy. Only one power brick is included, but should one power or Ethernet port on the board go bad, you can quickly switch it to the other. You can also enable Ethernet bonding if you'd like. Having the pair of USB 3.0 ports is also nice as you can back up your most critical data again to external hard drives or use them to expand your data storage capabilities.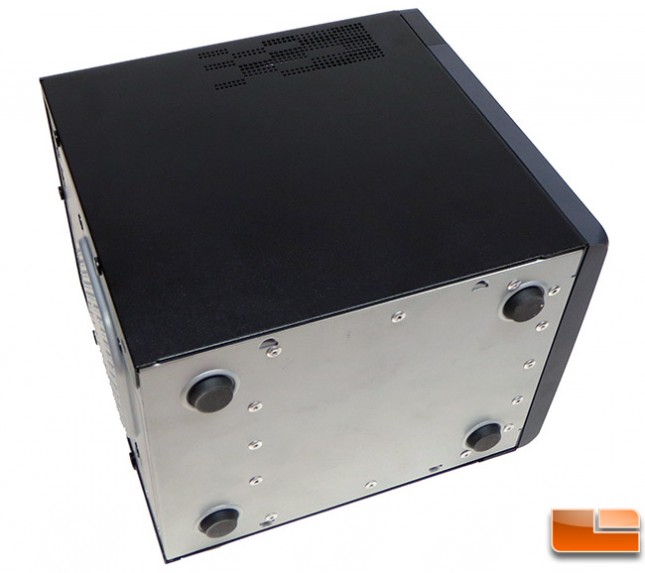 The sides of the WD My Cloud EX4 have some small ventilation holes located along the top edge and the bottom of the enclosure has thick rubber feet to keep from scratching whatever it will be placed on. Overall the WD My Cloud EX4 appears to be well designed and built, so let's take a peak inside and see what it looks like.