WD My Cloud EX2 Ultra NAS Review
By
WD My Cloud EX2 Ultra Performance Benchmarks
To check the performance of the WD My Cloud EX2 Ultra 8TB we ran CrystalDiskMark 5.1.2 x64 with the default settings. This is a quick and easy storage drive benchmark utility that shows the peak sequential and random read/write speeds.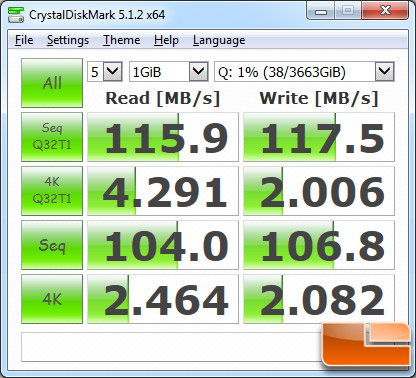 The WD My Cloud EX2 Ultra 8TB topped out at 116 MB/s sequential read and 118 MB/s sequential write. These are the fastest speeds that we have ever seen for a 2-bay prosumer NAS!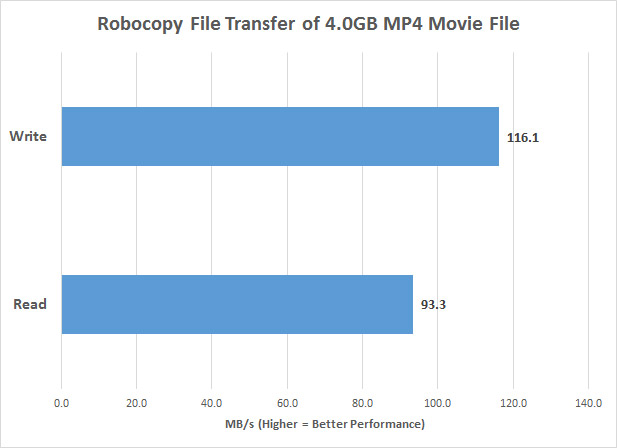 Dragging files between folders with Windows Explorer is fine for some tasks, but when it comes to heavy-duty file management you can do better with something called Robocopy. Robocopy (the name is short for Robust File Copy) was introduced with the Windows Server 2003 Resource Kit and is included in all editions of Windows since. We used Robocopy to move a folder containing a 4.0GB MP4 movie from our desktop PC over to the WD My Cloud EX2 Ultra 8TB 2-bay NAS and found we had 93.3 MB/s read speeds and 116.1 MB/s write speeds. These numbers are fairly close to standard sequential read/write speeds shown in CrystalDiskMark and we are excited to see such high numbers from an affordable 2-bay NAS!