WD My Cloud EX2 Ultra NAS Review
By
WD Upgrades The My Cloud EX2 With Faster Processor
WD launched their My Cloud EX2 dual-bay network-attached storage (NAS) series back in March 2014 and just last month announced that they were updating this popular model by releasing the My Cloud EX2 Ultra, a high-performance, two-bay network attached storage (NAS) system. The original My Cloud EX2 featured a Marvell A370 1.2GHz single-core SoC and 512MB of DDR3 RAM. That was respectable at the time, but prosumers today are looking for more power for multitasking and smooth HD video streaming. WD saw this coming though and upgraded the processor and memory while also introducing a larger capacity 16TB model. The new My Cloud EX2 Ultra features a newer Marvell ARMADA 385 1.3GHz Dual-Core SoC along with 1GB of DDR3 RAM. By doubling the number of available CPU cores and the amount of memory, the My Cloud EX2 Ultra should be ready to handle the content you need to store and allow you to connect it to your PCs, smartphones and TVs with ease. It also supports Plex Media Server, so all your HD content can be organized and ready to stream on and of your connected devices.

We are excited that the new model is more powerful than the old as the form factor and functionality of the My Cloud EX2 were great. WD is able to offer the the My Cloud EX2 Ultra at various price points due to having different capacity models. Those models include diskless, 4TB, 8TB, 12TB or a massive 16TB version that is coming in April 2016. Pricing is $159.99, $349.99, $449.99, $599.99 and $849.99, respectively. Legit Reviews took a look at the WD My Cloud EX2 back in 2014 and found it to be a very easy to use 2-bay NAS that won't break the bank and leaves you with no excuse for not backing up and losing data.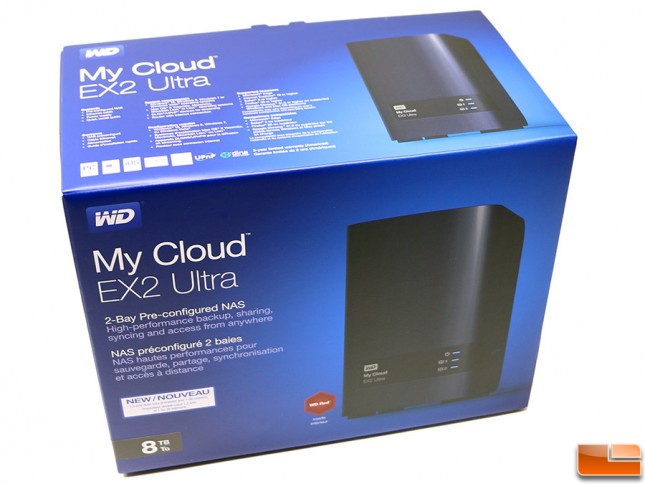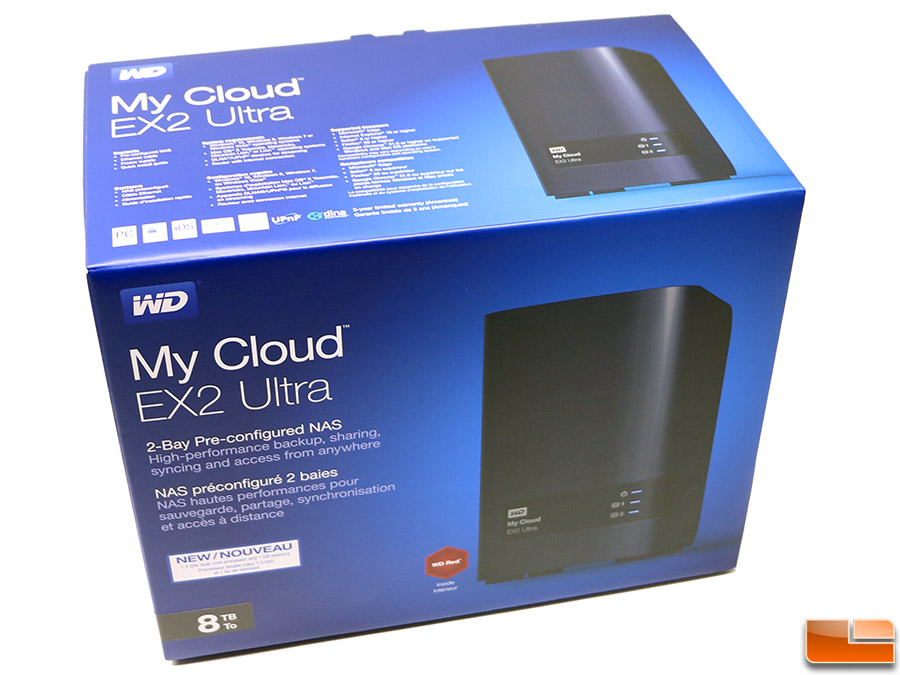 Legit Reviews will be looking the WD My Cloud EX2 Ultra 8TB version that is sold under part number WDBVBZ0080JCH and is available from Amazon for $449.99 shipped. This particular 8TB model comes populated with 2 x 4TB WD Red drives and comes configured with a RAID 1 array out of the box.
WD My Cloud EX2 Ultra General Specifications:
Processor: Marvell ARMADA 385 Dual-Core at 1.3GHz
Memory: 1GB DDR3 (not upgradeable)
RAID Options: JBOD, spanning, RAID 0/1
Robust: Twonky 7.2 DLNA-certified, 1.5 media server and iTunes support
LAN Interface: 10/100/1000 MB Gigabit Ethernet
Security: Volume Encryption (256 bit AES)
Remote Access: My Cloud Mobile App or Web access
USB 3.0 Ports: Two (0 front, 2 rear)
Height: 6.50 in (165 mm)
Length: 6.20 in (157 mm)
Width: 3.90 in (99 mm)
Weight:

1.8 lbs (0.8 kg) without hard drives
3.4lbs (1.6kg) for the 4TB model
5.0lbs (2.3kg) for the 8TB model
5.2lbs (2.4kg) for the 12TB model
5.0lbs (2.3kg) for the 16TB model

Warranty: 3-years pre-configured or 2-years on the diskless model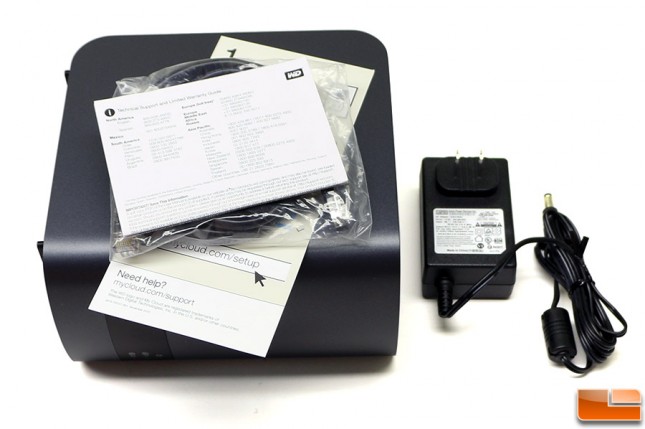 Inside the retail box you'll also find a CAT 5e Ethernet cable, power supply brick (AC-DC Adapter), quick setup guide and the warranty information. All of the cables that are included are color matched, which is nice for those that don't like to have a million different colors. The My Cloud EX2 Ultra AC adapter is rated at 36 Watts (12V @ 3.6A) and that is a sign that this should be a pretty energy efficient NAS. If you want to install two 8TB capacity or larger hard drives in the future it should be noted that the 36W adapter won't be enough and that you need to replace it with a 48W adapter that WD sells direct.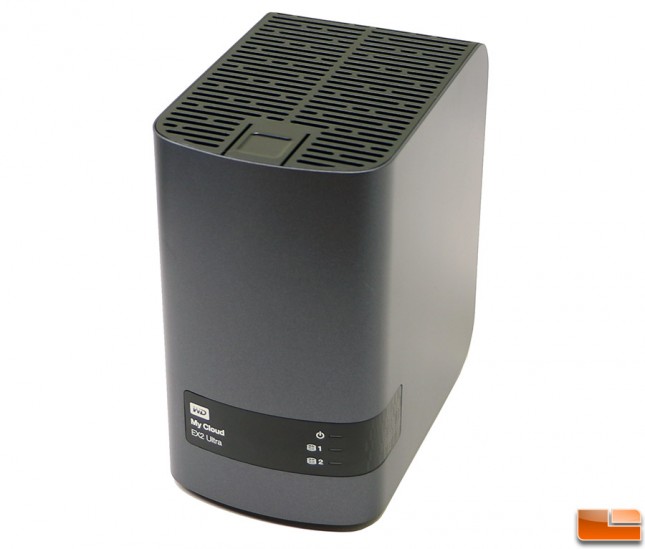 From the outside the WD My Cloud EX2 Ultra looks damn near identical to the EX2. It has the same two tone color combination (black and gun metal) that are are a perfect match for one another and will keep the NAS from looking 'old' in the years to come. The body of the enclosure is made from plastic and while it has some give, it doesn't feel too cheap or like it will fall apart on you. There is a small fan inside the housing to help keep the drives cool, but thankfully it isn't that loud.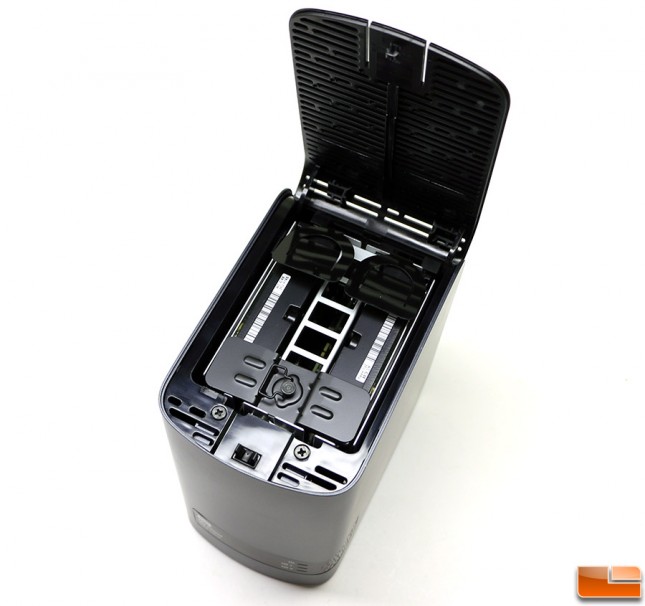 Since we are looking at the 8TB model it shouldn't come as a shock to anyone that it is populated with two WD Red 4TB NASware 3.0 hard drives. WD ships all the models with a standard RAID 1 array (an exact copy of a set of data on two disks.) This means that it has 4TB of usable storage space as one drive is just a mirror of the other.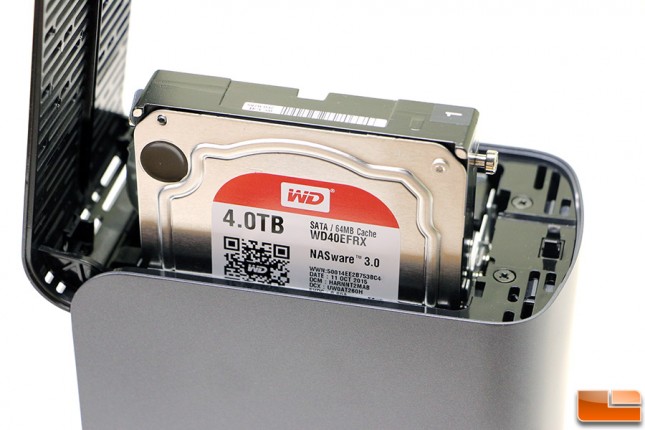 One of the really nice features of the WD My Cloud EX2 Ultra is that all of the hot swappable hard drive bays are trayless! This means that when a drive fails that you just unscrew the top drive plate with your fingers and slide the drive out. To replace the drive you do need a screwdriver though as there are a couple stand-offs and a pull tab that need to be swapped over to the new drive. If you are concerned with drive failures you might want to purchase a spare drive to quickly rebuild the RAID 1 array should a drive failure occur in the years to come. The WD Red 4TB NAS Hard Disk Drive WD40EFRX is currently priced at $154.99 shipped.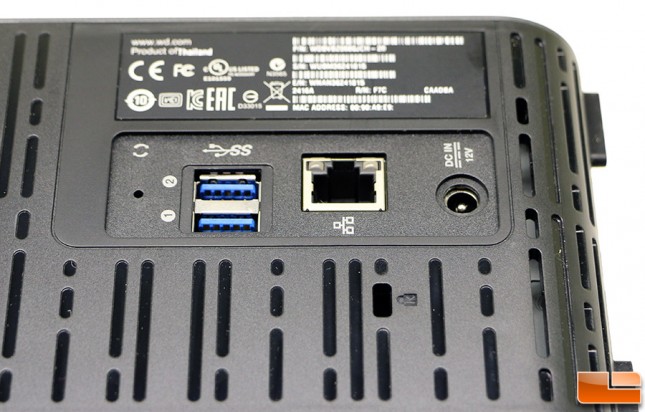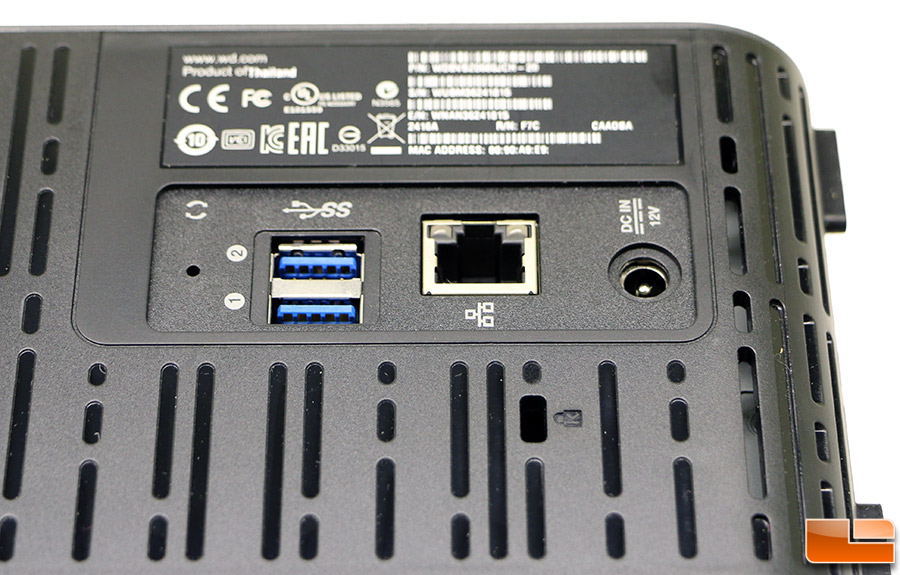 On the back of the WD My Cloud EX2 Ultra you have a recessed reset button (restores settings such as the administrator user name and password for the device), dual USB 3.0 (up to 5 Gb/s) expansion ports (the EX2 Ultra is not bootable off USB 3.0), RJ-45 100/1000 Gigabit Ethernet port and the DC power port. There are four rubber feet on the bottom of the WD My Cloud EX2, so it shouldn't slide around or scratch the surface you place it on.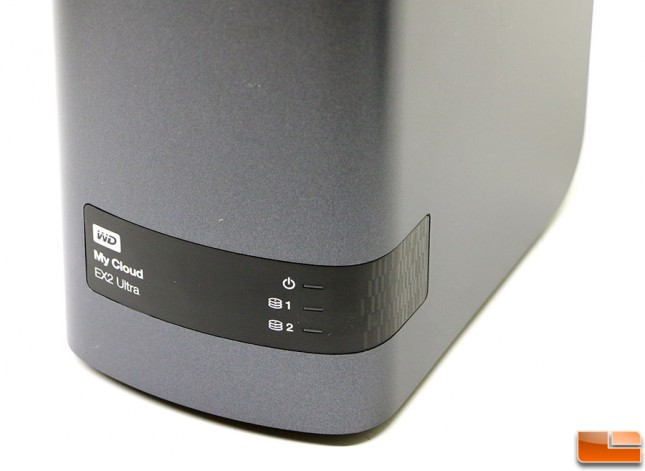 The front of the WD My Cloud EX2 has three blue LED lights on it that show power and the status for each drive. Note that neither side has any ventilation holes located along the top edge and the bottom of the enclosure has thick rubber feet to keep from scratching whatever it will be placed on. Overall the WD My Cloud EX2 looks good and has some cool features, so let's take a peek inside and see what it looks like.