WD My Cloud EX2 Ultra NAS Review
By
WD My Cloud EX2 Ultra Admin Panel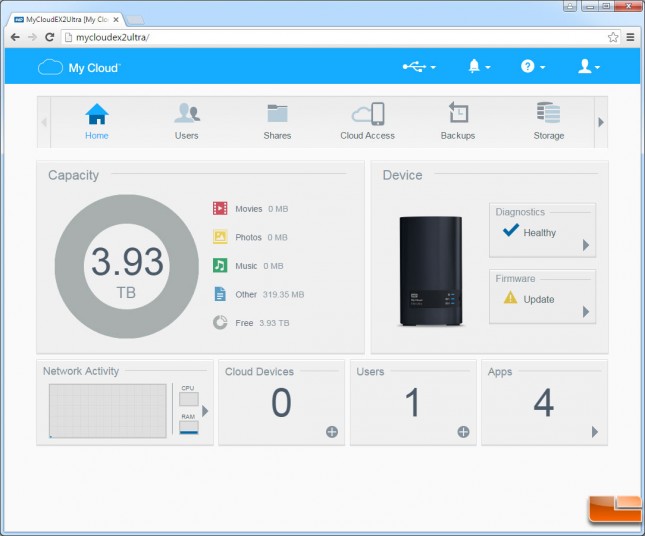 The My Cloud EX2 Ultra dashboard is super simple to use and has a user interface that is easy to learn and navigate. The My Cloud OS 3 home menu clearly shows the free capacity, drive status, firmware version, network activity, cloud devices, users and apps. Basically, all the essentials are covered here. Notice that our firmware has yellow triangle next to it with an exclamation point inside. That is because our firmware needed to be updated out of the box.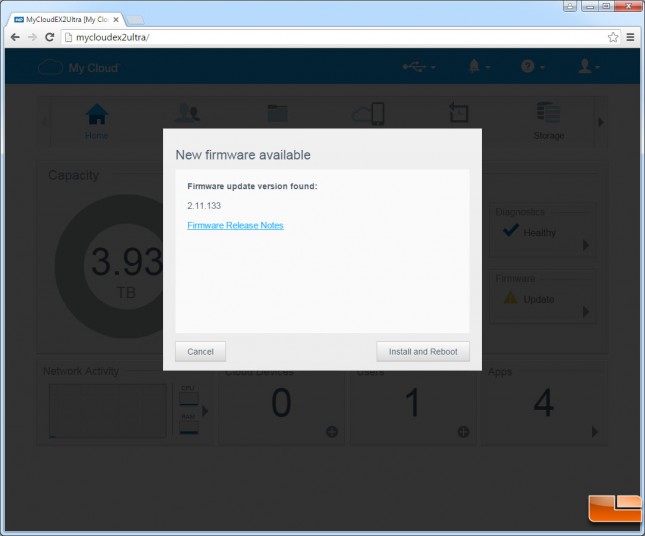 We clicked update and it found the latest version and installed it.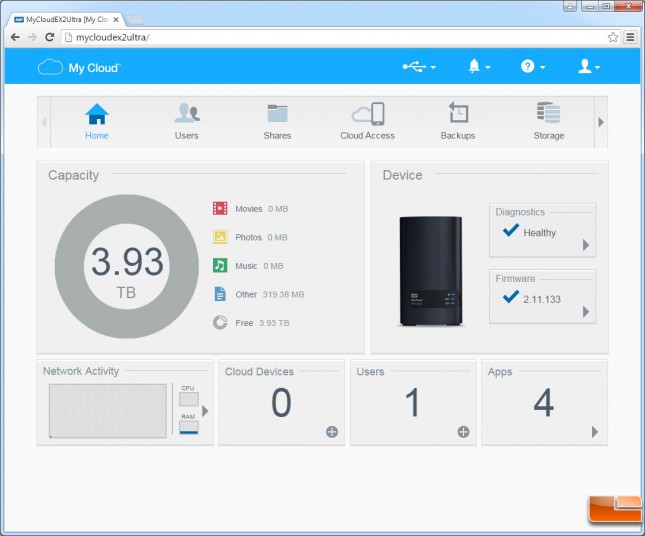 We needed to reboot the system, but a few minutes later we were back up and running with the latest firmware installed. Now there is a checkmark next to the firmware showing that we are running the latest version. Firmware updates on the My Cloud EX2 Ultra are simple to do and should be safe as long as the power stays on!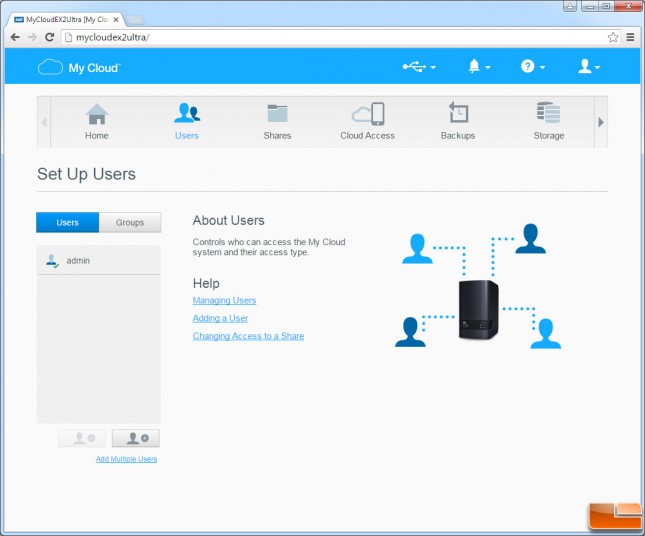 The EX2 Ultra comes with a single account for the admin, but you can easily come into the users menu and add individual users and then even cluster select users together to form groups.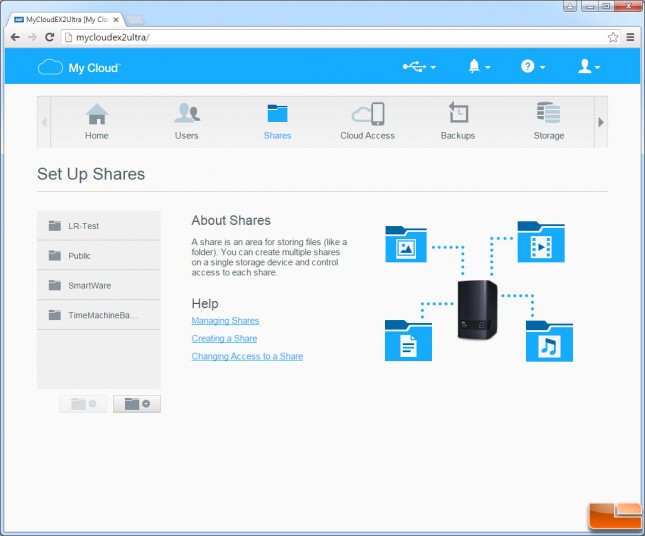 The WD My Cloud EX2 Ultra comes with public shared folders for pictures, videos and music. You can setup more shared folders and control access to each shared item. So, if a family wanted to share the My Cloud EX2 Ultra the parents can have a shared folder between themselves, but have it to where the other family members can access it.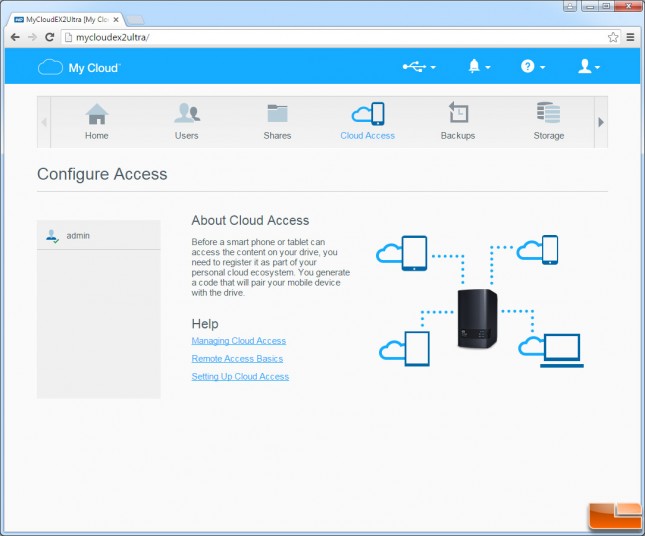 If you want to be able to access your data from anywhere in the world through an internet connection you can do so with WD Cloud Access, but you must have it activated first. It should be noted that the WD My Cloud, My Cloud EX2 and My Cloud EX4 all do not have the ability to sync folders via the cloud. This is a bit disappointing as if a group of people or a business is using the EX2 from computers, tablets and smartphones on a regular basis some updates might get missed.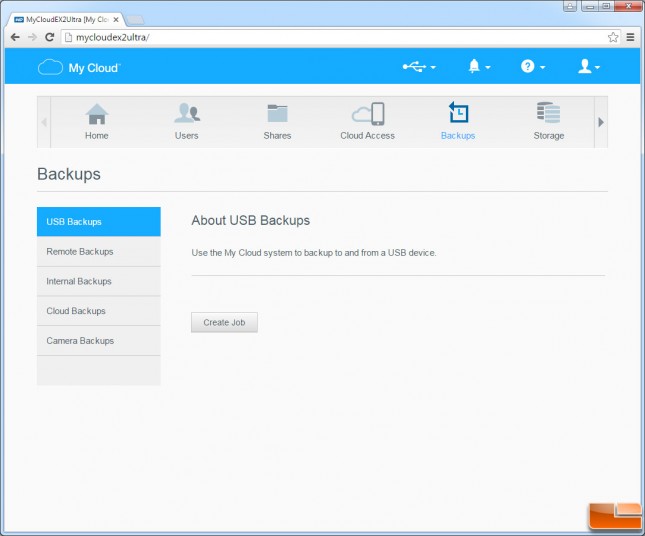 From the backups menu you can backup USB to/from USB drives, remote Backup and Restore to another My Cloud, backup internal volumes, do cloud backups with Amazon S3 and Elephant Drive and camera backups. You can of course back up things manually and it has integrated Apple Time Machine support. You can also do NAS to NAS backups with this model.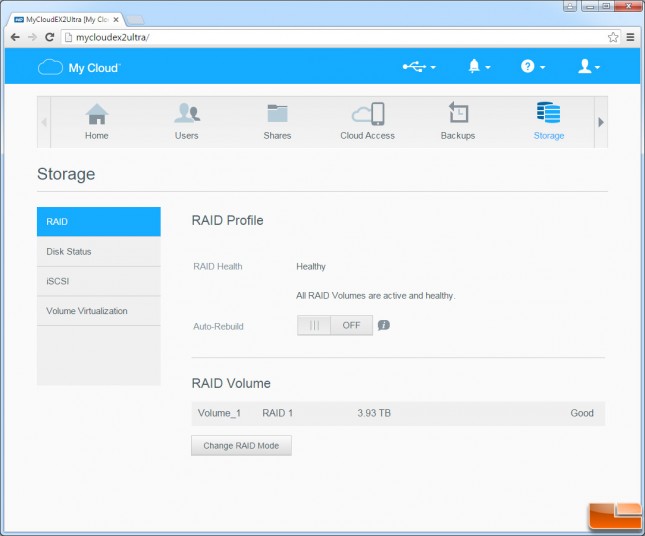 If you get a drive populated version of the WD My Cloud EX2 Ultra it comes in RAID 1 mode, but you can change that to RAID 0 by visiting the storage tab and changing the raid mode. You can also check the disk status adjust the iSCSI settings and other drive related things in this menu. Small Office/Home Office users looking for iSCSI, volume encryption, virtual folders (DFS) and active directories will be happy to know that the My Cloud EX2 Ultra supports them all. It should be noted that the stripe size (called chunk size by WD for some odd reason) is set to 48Kbytes by default and there is no way to change that value when configuring a new RAID setup.
If you want to enabled AES 256 encryption on the drive you'll need to head to change the RAID mode under the storage tab. This means you'll need to rebuild the RAID array, but you'll have encrypted data.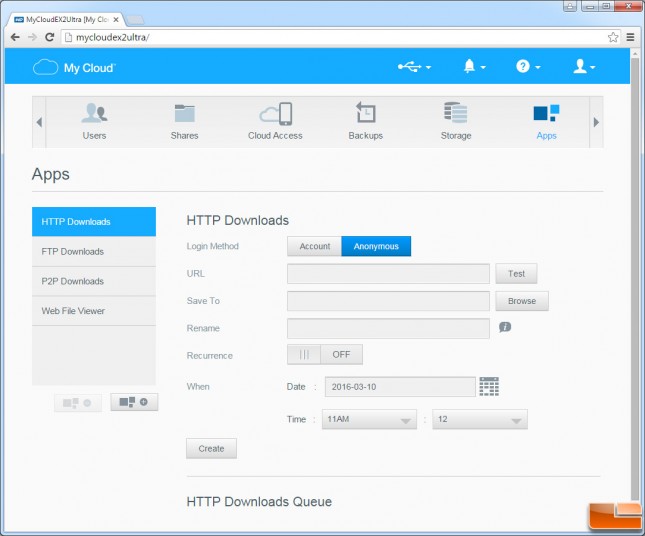 When it comes to applications we were happy to see that WD supports a good number of them. For starters there are built in downloader Apps for Torrent, FTP and HTTP needs as well as a web file viewer. The WD My Cloud EX2 Ultra also supports a number of third party Apps like:
aMule – peer to peer download application
Transmission – peer to peer download application
WordPress – blogging tool
Joomla – Content Management System
phBB – Internet Forum package
phpMyAdmin – MySQL admin tool
SqueezeCenter – Logitech media Server for Logitech hardware products
Anti-Virus Essentials – Simple antivirus software
PLEX – Media server
Dropbox – File sharing and storage
Acronis – Backup and Data Recovery
You can see all the Apps supported on the WD My Cloud EX 2 Ultra here – http://www.wdc.com/en/products/products.aspx?id=1650#Tab90&Tabmcapps.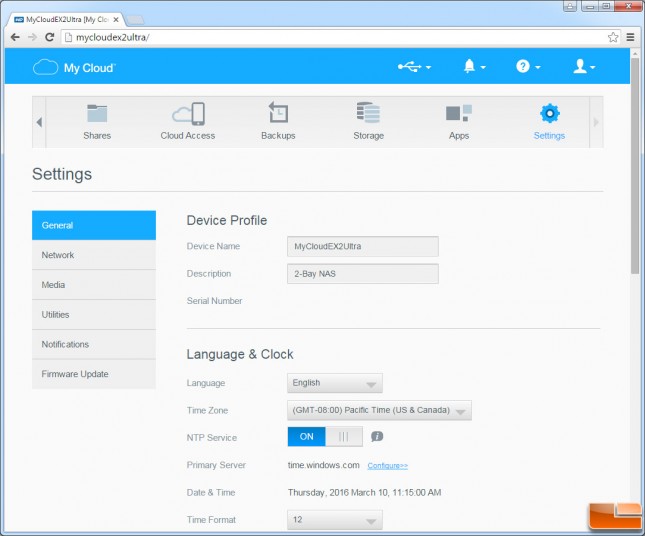 The last tab is the settings menu, which appears to be the dump area for a number of things as there is a sub menu with general and network settings, ISO mounting details, media, utilities, notifications and firmware updates (auto and manual updates are available).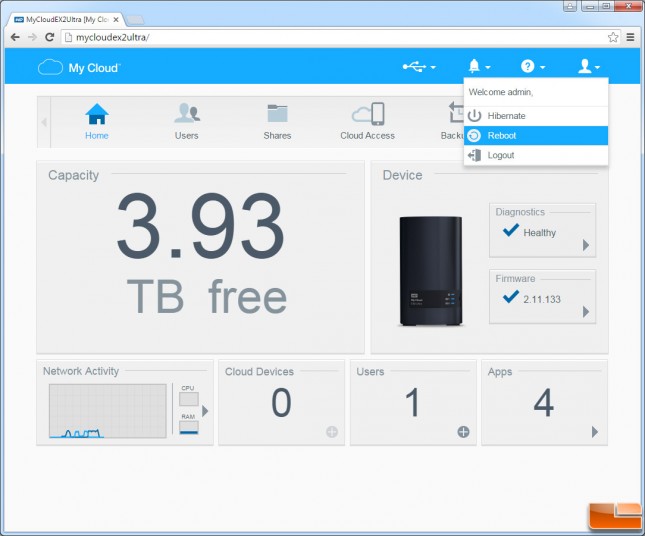 To reboot the system, place it in Hibernate or logout, you'll need to click on the profile button on the upper right hand corner and make the proper selection. The Shutdown option on the Dashboard of multi-bay My Cloud products has been renamed to Hibernate. This is confusing, but just what WD has done starting with firmware version 2.11.133 for multi-bay My Cloud products.
Let's take a look at performance!