WD My Cloud EX2 Ultra NAS Review
By
Setting Up The WD My Cloud EX2 Ultra
WD is trying to make personal storage easy and this product is aimed at first time NAS users. In fact, WD never calls this a networked attached storage server. They keep it simple and call it personal cloud storage. The first thing that you need to do is to power up the My Cloud EX2 and connect it to your network. To do this you simply give it power and plug it into your wired network, which most likely means plugging it into your wireless router. Once that is done you should be able to find the My Cloud EX2 on your local network.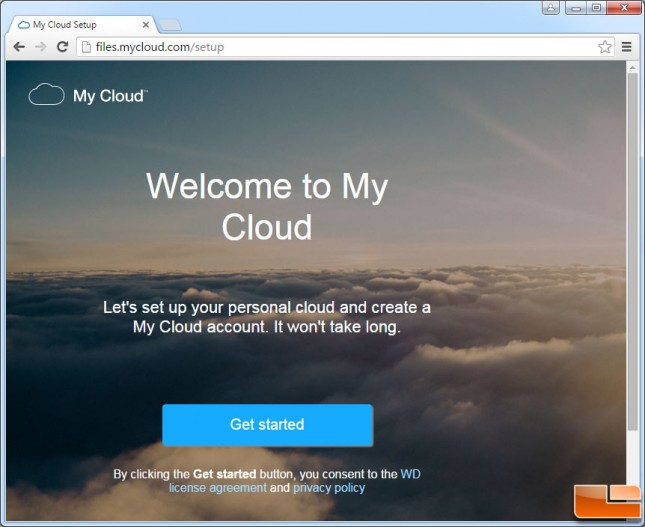 The small setup guide that comes with the WD My Cloud EX2 Ultra tells you to plug it in, connect it to your wireless router and then after the front LED lights are solid blue to visit mycloud.com/setup. We did that and found that it takes us to the above site. The 3-step instructions that are supposed to get you started are really getting you setup for off site cloud storage. If you don't need external access and want a closed or private NAS you don't really need to do this. By doing this setup the My Cloud EX2 Ultra will be accessible from the MyCloud.com and the My Cloud mobile app for smartphone access, allowing for remote dial management on any device with Internet access. The WD My Cloud mobile app is available for download for free from the Apple App Store and Google Play if you go ahead and setup a My Cloud Acount.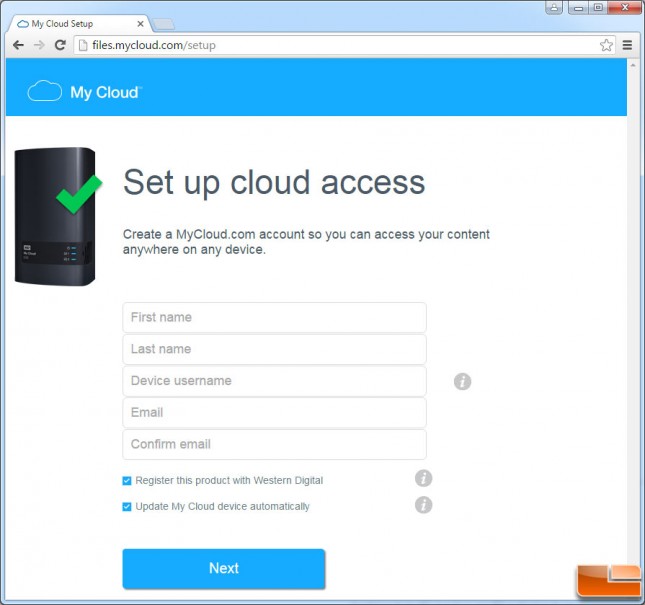 This is the information that is requested when you follow the instructions.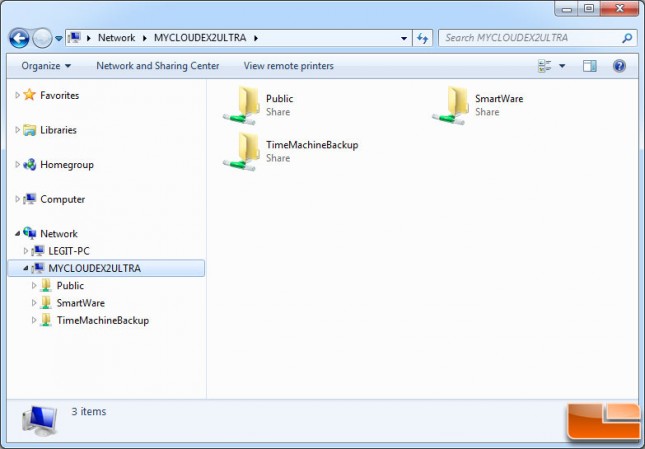 If you don't need online My Cloud access you can just skip that step. Our Windows 7/8.1 and 10 office systems had no issues finding the WD My Cloud EX2 Ultra on our network without having to set anything up.
To login into the My Cloud EX2 Ultra locally you can just point your browser to 'mycloudex2ultra' and from there just follow the prompts after you agree to the WD End User License Agreement (EULA) that you must accept before being able to continue.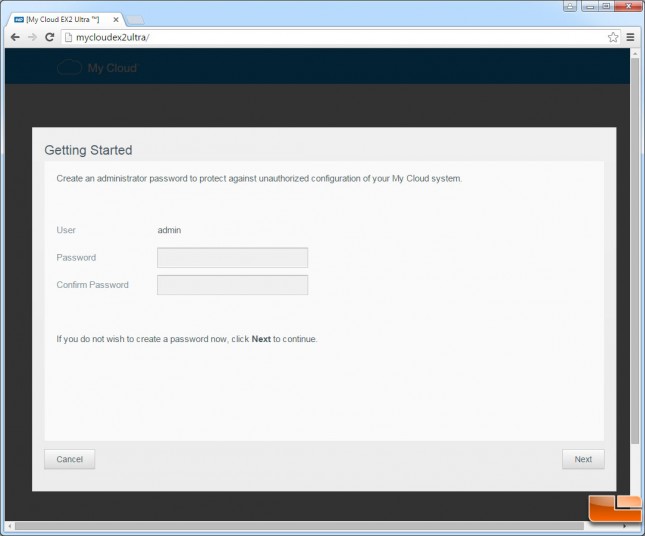 The next step is setting up your password. You can leave it blank or create one.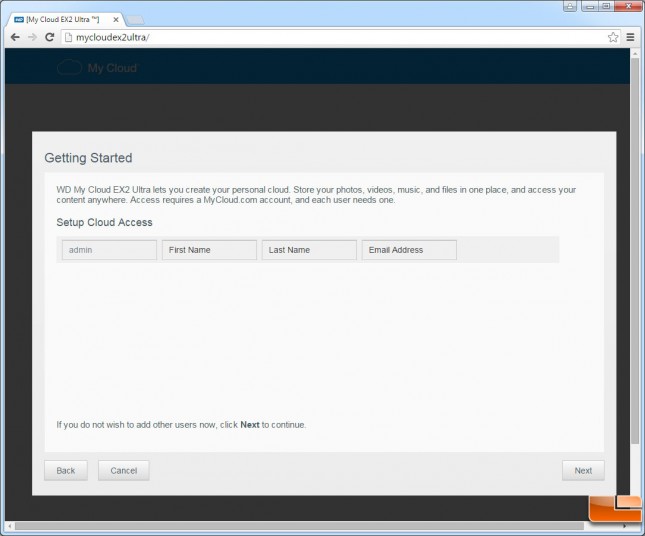 The next step is setting up your personal cloud. If you want to be able to access your files from outside your home you must fill in this information as you need that account to login remotely. This is something you'll want to enable if you want to use the WD My Cloud mobile app on your iOS or Android smartphone and tablet.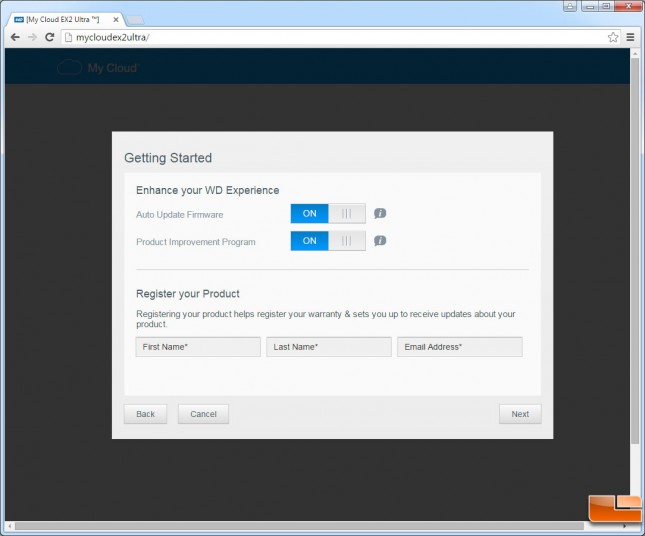 You can also enabled auto update of the firmware and opt into a WD product improvement program if you so desire.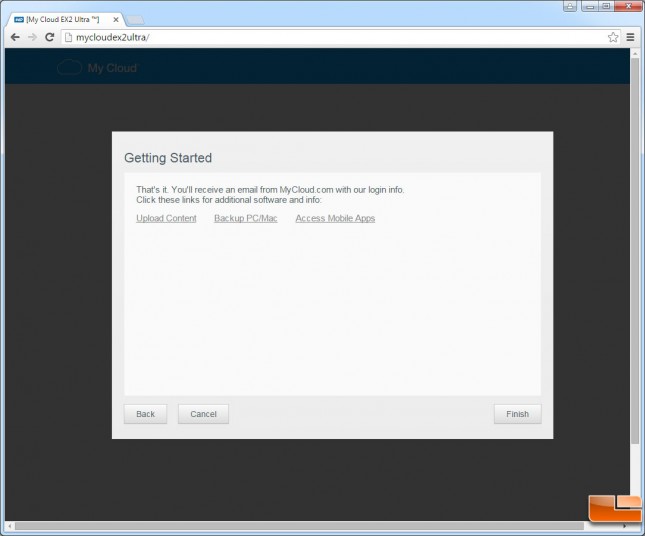 After that you are finished with the setup. No drive letters are mapped at this point, so if you wanted to map drive letters you need to restart your PC and then you can right click the EX2 Ultra under storage devices and map a drive letter for it.
Some users that plan on traveling with the My Cloud EX2 Ultra might want to download and install WD Sync software on their laptop computer to allow that system to link with the My Cloud when you are away from the network. This will allow you to synchronize your files with the drive while locally or remotely using that computer. This is an added convenience to keep your files current and in line with what is on the computer automatically, without the need to copy or backup your data otherwise on that particular system.